---
Going All City
Struggle and Survival in LA's Graffiti Subculture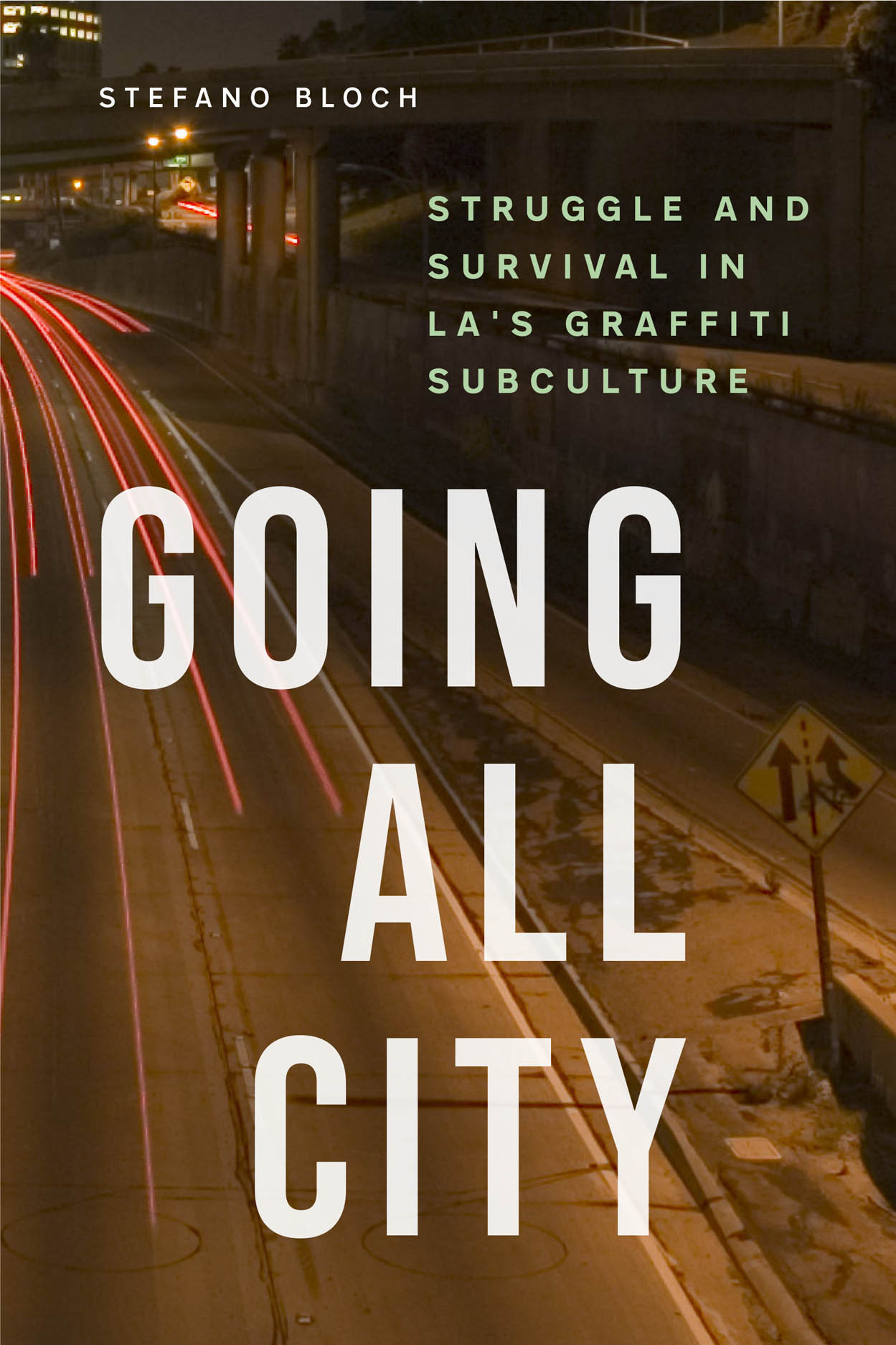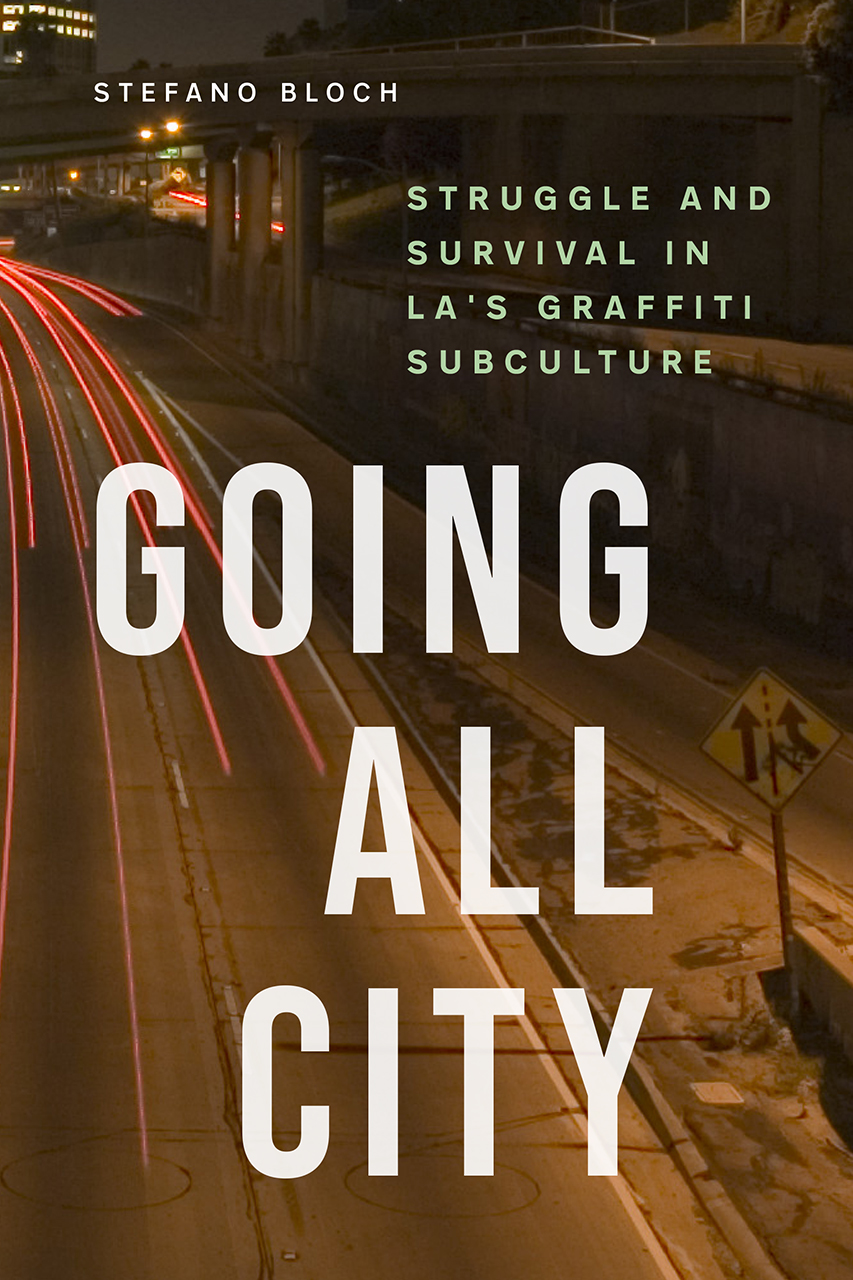 240 pages | 19 halftones | 6 x 9 | © 2020
"We could have been called a lot of things: brazen vandals, scared kids, threats to social order, self-obsessed egomaniacs, marginalized youth, outsider artists, trend setters, and thrill seekers. But, to me, we were just regular kids growing up hard in America and making the city our own. Being 'writers' gave us something to live for and 'going all city' gave us something to strive for; and for some of my friends it was something to die for."
 
In the age of commissioned wall murals and trendy street art, it's easy to forget graffiti's complicated and often violent past in the United States. Though graffiti has become one of the most influential art forms of the twenty-first century, cities across the United States waged a war against it from the late 1970s to the early 2000s, complete with brutal police task forces. Who were the vilified taggers they targeted? Teenagers, usually, from low-income neighborhoods with little to their names except a few spray cans and a desperate need to be seen—to mark their presence on city walls and buildings even as their cities turned a blind eye to them.
 
Going All City is the mesmerizing and painful story of these young graffiti writers, told by one of their own. Prolific LA writer Stefano Bloch came of age in the late 1990s amid constant violence, poverty, and vulnerability. He recounts vicious interactions with police; debating whether to take friends with gunshot wounds to the hospital; coping with his mother's heroin addiction; instability and homelessness; and his dread that his stepfather would get out of jail and tip his unstable life into full-blown chaos. But he also recalls moments of peace and exhilaration: marking a fresh tag; the thrill of running with his crew at night; exploring the secret landscape of LA; the dream and success of going all city.
 
Bloch holds nothing back in this fierce, poignant memoir. Going All City is an unflinching portrait of a deeply maligned subculture and an unforgettable account of what writing on city walls means to the most vulnerable people living within them.
Table of Contents
Contents
Introduction
1 A Night Out
2 The Under Ground Kings
3 Getting In
4 Factions
5 Where We Stayed
6 Left Behind
7 Players
8 Small World
9 Kids Rulin' Society
10 Freedom
11 All City
12 Can't Be Stopped  
Epilogue

Author's Note
Acknowledgments
List of Gangs, Crews, and Groups
Glossary
Notes
Bibliography
Index
Review Quotes
Booklist
"Intensely personal. . . . Bloch blends resonant memoir, academic scholarship, and streetwise storytelling in a truly unique urban study."
Noam Chomsky
"This vivid autoethnography provides a shattering account of life in the LA 'gang hoods'—and the warmth and companionship that somehow survive the horrors. A remarkable picture, presented with insight and sympathetic understanding."
Los Angeles Review of Books
"[Bloch] is the ultimate insider in an outsider subculture, a legend for his productivity and tirelessness; and his insight into this world is frank, compelling, and enlightening all at once. . . . Few works explore L.A. with the depth that Going All City accomplishes—and, at 240 pages, so economically—while also touching on the importance of art, the difficulties of family, and the struggle to belong. . . . It is a work not simply of insight and gravity, but also of unflinching wisdom regarding those deemed to be the least of society—those who are not nothing—and what they have to offer all of us when given a platform to speak."
LA Weekly
"A brave portrait of a highly criticized subculture and a look inside the reality of growing up in low-income Los Angeles."
The Star Tribune
"A surprising and intimate look inside the life of a graffiti writer. . . . His descriptions of how he created the graffiti—the way he controlled the paint spray, the little tilt and sway of his body as he wrote—are pure poetry. . . . [Bloch tells] the story in a measured way, with context that gives it scope and meaning."
L.A. Taco
"Bloch's book is a people's history of the San Fernando Valley and one of the best memoirs of someone growing up in the 818. From being hit by a car on the freeway to being chased by police to narrowly escaping getting shot, there's never a dull moment in this one."
Times Higher Education
"This tensely engaging memoir documents Bloch's elaborate, daily remapping of streets, blocks and neighbourhoods along shifting coordinates of physical access, subcultural status, public visibility and the daily dangers offered up by street gangs and the police. . . . His was a street cartography of consequences." 
Hyperallergic
"Going All City is that rarest text, both a gripping memoir of life on the street, as well as an academic treatise. . . . Bloch's story is personal, but also a primer on graffiti's history and technique, as well as its artistic and social import."
Times Literary Supplement
"Riveting, eye-opening. . . . Going All City is a valuable and enlightening means of better understanding the dynamics behind [tagging]."
AAG Review of Books
"It would be difficult to find an author better credentialed than Bloch to write about subverting urban geography. . . . Going All City is a refreshing piece of modern geography, and an excellent addition to the still growing conversations on spatial justice in the United States."
Alex S. Vitale, author of The End of Policing
"Bloch unflinchingly peels back all the layers of artifice, hype, and sensationalism to reveal a stark portrait of struggling to survive and make meaning in a landscape of disorder and deprivation."
Luis J. Rodriguez, author and former LA Poet Laureate
"Bloch knows how dangerous art can be for aerosol warriors: their imaginations arrested and expressions pathologized. He also elucidates the undeniable brilliance exploding on walls, utility poles, and underpasses."
Susan Phillips, author of The City Beneath: A Century of Los Angeles Graffiti
"Going All City is an amazing read that is impossible to put down. A cutting-edge geographical exploration of under-examined Los Angeles landscapes, this poignant, insightful book is unique within graffiti scholarship and expansive in our understanding of the city. Depicting the pain of a childhood spent in poverty, the ambiguity of race, and the subjective experience of policing and gangs, this is the remarkable story of just one of thousands of young people who have found power in the clandestine practice of graffiti."
Chaz Bojórquez, artist and LA graffiti writer
"Tagging graffiti is a voyage of self discovery mixed with the danger of street gangs, police, and vandalism. Through his book, CISCO is still tagging his story and name on the walls inside your mind."
KCET
"Bloch's autoethnography is not only one of the most compelling books ever written about writing graffiti, it is one of the best memoirs of someone growing up in the San Fernando Valley."
Eric J. Iannelli | Times Literary Supplement
"Stefano Bloch offers a riveting, eye-opening insight into the formative years of Cisco, one of the most prolific taggers in Los Angeles during the 1990s. These days Cisco is better known in the rarefied circles of academia: Cisco is Bloch himself, now a distinguished ethnographer and professor of cultural geography. As a teenager, however, he was obsessed with the phrase that lends the book its title. To go all city is to saturate visible surfaces with one's tag throughout a conurbation – a challenging but effective way of gaining the admiration of other graffiti writers (aka "bombers" or simply "writers") and even the tacit respect of hostile gangs…a valuable and enlightening means of better understanding the dynamics behind [tagging]."
For more information, or to order this book, please visit https://press.uchicago.edu
Google preview here