---
A Descriptive Catalogue of Early Editions of the Works of Frederic Chopin in the University of Chicago Library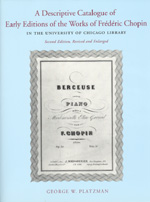 Second Edition, revised and enlarged
356 pages | 8-1/2 x 11 | © 2003
This catalogue of the University of Chicago Library's Chopin Collection provides detailed descriptions of over 400 first and early editions of musical works by Chopin—information important to scholars and bibliographers, given that Chopin's works were often published concurrently in several countries with variant texts. Each description has a wealth of data, including title-page transcription, details of printing and publishing histories, and notes on the individual copy. Appendices provide comparisons of variant works and collect chronologies, plate numbers, and data on publishers.

This second edition of the catalogue expands significantly on the first, adding descriptions of approximately 130 additional scores and several new features, including descriptions of title-page stamps and an index presenting a consolidated quick-reference view of the collection.

This trove of information forms an ideal accompaniment to the University of Chicago Library's digital collection, Chopin Early Editions at chopin.lib.uchicago.edu. This site contains digitized images of the collected scores, with data searchable by title, genre, plate number, publisher, and other elements.

For more information, or to order this book, please visit https://press.uchicago.edu
Google preview here