---
Recent Vertebrate Carcasses and Their Paleobiological Implications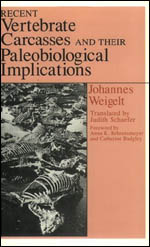 204 pages | 128 halftones, 41 line drawings, 1 map | 6.00 x 9.00 | © 1989
The first English translation of Johannes Weigelt's 1927 classic makes available the seminal work in taphonomy, the study of how organisms die, decay, become entombed in sediments, and fossilize over time. Weigelt emphasized the importance of empirical work and made extensive observations of modern carcasses on the Texas Gulf Coast. He applied the results to evidence from the fossil record and demonstrated that an understanding of the postmortem fate of modern animals is crucial to making sound inferences about fossil vertebrate assemblages and their ecological communities.

Weigelt spent sixteen months on the Gulf Coast in the mid-1920s, gathering evidence from the carcasses of cattle and other animals in the early stages of preservation. This book reports his observations. He discusses death and decomposition; classifies various modes of death (drowning, cold, dehydration, fire, mud, quicksand, oil slicks, etc.); documents and analyzes the positions of carcasses; presents detailed data on carcass assemblages at the Smither's Lake site in Texas; and, in a final chapter, makes comparisons to carcass assemblages from the geologic past. He raises questions about whether much of the fossil record is a product of unusual events and, if so, what the implications are for paleoecological studies.

The English edition of Recent Vertebrate Carcasses includes a foreword and a translator's note that comment on Weigelt's life and the significance of his work. The original bibliography has been brought up to date, and, where necessary, updated scientific and place names have been added to the text in brackets. An index of names, places, and subjects is included, and Weigelt's own photographs of carcasses and drawings of skeletons illustrate the text.

Table of Contents
Contents
Foreword by Anna K. Behrensmeyer and Catherine Badgley
Translator's Note
Publisher's Note
Preface
Introduction

Chapter 1: Death and Its Aftermath
1. Death
2. Decomposition
3. Preservation
4. The Role of Insects
5. What Happens to Carcasses Lying on the Surface of the Ground
6. The Embedding Media

Chapter 2: Modes of Death
1. Death Due to Volcanic Activity
2. Death Due to Gases
3. Death Due to Grass, Prairie, and Forest Fires
4. Death by Drowning
5. Bogging Down in Mud
6. Stomach Contents
7. Death in Quicksand
8. Becoming Mired in Tidal Slits
9. Death in Crude Oil and Asphalt
10. Death Due to Flooding
11. Death Due to Fluctuations in Salinity
12. Death When Bodies of Water Dry Up
13. Overcrowding of Animals during Drought
14. Death Due to Hunting
15. Death Due to Cold
16. Death on Ice
Chapter 3: Laws Governing Positions of Recent and Fossil Vertebrate Carcasses
1. Burial of Land Vertebrates in Marine Strata
2. The Law of the Lower Jaw
3. The Passive Position of "Water Carcasses"
4. Displacement of Carcasses
5. Feeding Grounds
6. Partial Burial
7. Carcasses on Facies Boundary Lines
8. The Formation of Faceted Remains by Flowing Water
9. The Law of the Ribs
10. Desiccation of the Carcass
11. Hooked, Bent, and Curved Carcasses

Chapter 4: The Carcass Assemblage at Smithers Lake and Its Origin
1. The Significance of the Climate
2. The Landscape at Smithers Lake
3. Laws Governing Formation of Strandlines
4. Ganois Fishes at Smithers Lake
5. Turtle Carcasses at Smithers Lake
6. Alligator Carcasses at Smithers Lake
Chapter 5: Carcass Assemblages and Concentrations in the Geologic Past

Conclusion
Figures and Plates
References
Index
For more information, or to order this book, please visit https://press.uchicago.edu
Google preview here