---
Fermi Remembered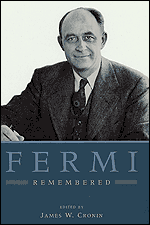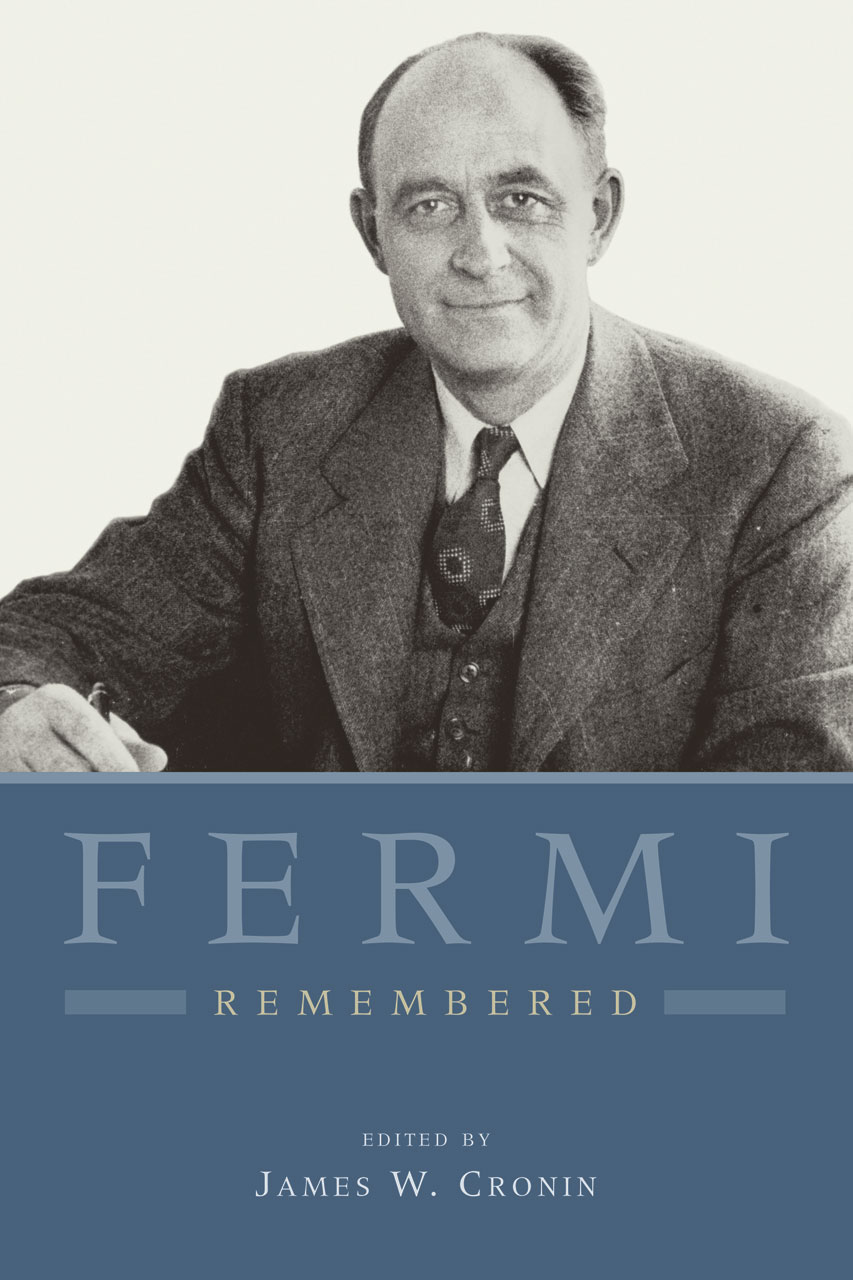 296 pages | 34 halftones, 84 line drawings | 6 x 9 | © 2004
Nobel laureate and scientific luminary Enrico Fermi (1901-54) was a pioneering nuclear physicist whose contributions to the field were numerous, profound, and lasting. Best known for his involvement with the Manhattan Project and his work at Los Alamos that led to the first self-sustained nuclear reaction and ultimately to the production of electric power and plutonium for atomic weapons, Fermi's legacy continues to color the character of the sciences at the University of Chicago. During his tenure as professor of physics at the Institute for Nuclear Studies, Fermi attracted an extraordinary scientific faculty and many talented students—ten Nobel Prizes were awarded to faculty or students under his tutelage.

Born out of a symposium held to commemorate the hundredth anniversary of Fermi's birth, Fermi Remembered combines essays and newly commissioned reminiscences with private material from Fermi's research notebooks, correspondence, speech outlines, and teaching to document the profound and enduring significance of Fermi's life and labors. The volume also features extensives archival material—including correspondence between Fermi and biophysicist Leo Szilard and a letter from Harry Truman—with new introductions that provide context for both the history of physics and the academic tradition at the University of Chicago.

Edited by James W. Cronin, a University of Chicago physicist and Nobel laureate himself, Fermi Remembered is a tender tribute to one of the greatest scientists of the twentieth century.

Contributors:
Harold Agnew
Nina Byers
Owen Chamberlain
Geoffrey F. Chew
James W. Cronin
George W. Farwell
Jerome I. Friedman
Richard L. Garwin
Murray Gell-Mann
Maurice Glicksman
Marvin L. Goldberger
Uri Haber-Schaim
Roger Hildebrand
Tsung Dao Lee
Darragh Nagle
Jay Orear
Marshall N. Rosenbluth
Arthur Rosenfeld
Robert Schluter
Jack Steinberger
Valentine Telegdi
Al Wattenberg
Frank Wilczek
Lincoln Wolfenstein
Courtenay Wright
Chen Ning Yang
Gaurang Yodh
Table of Contents
Contents
Preface
Chapter 1 Biographical Introduction
Editor's comment
Emilio Segrè Biographical Introduction
Chapter 2 - Fermi and the Elucidation of Matter
Editor's comment
Frank Wilczek Fermi and the Elucidation of Matter
Chapter 3 Letters and a Speech Relating to the Development of Nuclear Energy
Editor's introductory comments
To Harry M. Durning, January 16, 1939
From George B. Pegram to S. C. Hooper, March 18, 1939
From Leo Szilard, July 3, 1939
From Leo Szilard, July 5, 1939
From Leo Szilard, July 8, 1939
To Leo Szilard, July 9, 1939
From Leo Szilard, July 11, 1939
From Vannevar Bush, August 15, 1941
From Harry S. Truman, August 11, 1950
Outline for the speech "The Genesis of the Nuclear Energy Project," January 30, 1954
Text of the speech "The Genesis of the Nuclear Energy Project," November 1955
Chapter 4 Correspondence between Fermi and Colleagues: Scientific, Political, Humorous
Editor's comments on letters
To James F. Byrnes, October 16, 1945
From C. N. Yang, January 5, 1950
To C. N. Yang, January 12, 1950
From Erwin Schrödinger, February 10, 1951
To Erwin Schrödinger, Februay 27, 1951
From Fred Reines and Clyde Cowan, October 4, 1952
To Fred Reines, October 8, 1952
To Dean G. Acheson, May 22, 1952
From Linus Pauling, June 16, 1952
From George Gamow, March 13, 1953
To George Gamow, March 24, 1953
From Samuel Goudsmit, March 11, 1953
To Samuel Goudsmit, March 24, 1953
From George Kistiakowsky, September 29, 1953
To George Kistiakowsky, September 30, 1953
From Arthur Compton, December 2, 1953
To Arthur Compton, December 14, 1953
From Owen Chamberlain, February 2, 1954
Chapter 5 Research and Teaching: Selections from the Archives
International House application, June 10, 1940
To Walter Bartky, December 3, 1945
Participants at the inauguration of the research institutes at the University of Chicago, August 1945
Staff of the Institute for Nuclear Studies members, 1950
Genesis of theory of cosmic ray acceleration, 1948-1949
To Hannes Alfvén, December 24, 1948
Abstract for Fermi's paper on cosmic radiation, April 15, 1949
Comments by Herbert Anderson and Edward Teller on Fermi's paper on cosmic rays
Summary page from data book on meson-nucleon scattering, February 1952
Program for calculation of cyclotron orbits on the Maniac computer, 1951
Equations for a charged particle in a cylindrically symmetric magnetic field
The instruction set for the Maniac computer
Fermi's flowchart for a program to calculate the orbits emanating from a target
Notes for setting up the calculation of the orbits
Program for calculating initial direction cosines
Quantum mechanics exam, spring quarter 1954
Outline for the speech "The Future of Nuclear Physics," Rochester, January 10, 1952
Chapter 6 Reminiscences of Fermi's Faculty and Research Colleagues, 1945-1954
Richard Garwin Working with Fermi at Chicago and Postwar Los Alamos
Murray Gell-Mann No Shortage of Memories
Marvin Goldberger Enrico Fermi (1901-1954): The Complete Physicist
Roger Hildebrand Fermi's Classrooms
Darragh Nagle With Fermi at Columbia, Chicago, and Los Alamos
Valentine Telegdi Reminiscences of Enrico Fermi
Albert Wattenberg Fermi as My Chauffeur (Fermi at Argonne National Laboratory and Chicago, 1946-1948)
Courtenay Wright Fermi in Action
Chapter 7 Reminiscences of Fermi's Students, 1945-1954
Harold Agnew A Snapshot of My Interaction with Fermi
Owen Chamberlain A Brief Reminiscence of Enrico Fermi
Geoffrey Chew Personal Recollections from 1944-1948
George Farwell Reminiscences of Fermi
Uri Haber-Schaim Fermi in Varenna, Summer 1954
T. D. Lee Reminiscences of Chicago Days
Jay Orear My First Meetings with Fermi
Arthur Rosenfeld Reminiscences of Fermi
Robert Schluter Some Reminiscences of Enrico Fermi
Jack Steinberger Fermi and My Graduate Years at Chicago: Happy Reminiscences
Chapter 8 Reminiscences of Students of the Fermi Period, 1945-1954
Nina Byers Fermi and Szilard
Jerome Friedman A Student's View of Fermi
Maurice Glicksman Enrico Fermi: Teacher, Colleague, Mentor
Marshall Rosenbluth A Young Man Encounters Enrico Fermi
Lincoln Wolfenstein Fermi Interactions
C. N. Yang Reminiscences of Enrico Fermi
Gaurang Yodh This Account Is Not According to the Mahabharata!
Chapter 9 What Can We Learn with High Energy Accelerators?
James W. Cronin Fermi's Look into His Crystal Ball
Further Reading
List of Contributors
Index
Review Quotes
David Kaiser | American Scientist
"The book will be of interest to those who knew Fermi and to younger physicists who still live with his scientific legacy, as well as to historians interested in the life and work of one of the most famous members of the Los Alamos generation."
Marcus Chown | New Scientist
"A lively collection of reminiscences about the greatest Italian scientist of the 20th century by students and collaborators such as Leo Szilard, T. D. Lee and Murray Gell-Mann. They knew him as 'the Pope', editor James Cronin informs us, because he was 'the supreme authority on all matters.'"
Guilio Maltese | Nature
"This book will interest both specialists and general readers, as it provides valuable archive material and sketches of Fermi's life, as well as personal reminiscences from his former students and collaborators."
Eugenio Cocci | Physics World
"This book, which describes Fermi's contributions to physics and the US period of his life, originated from a symposium that was held in Chicago in 2001 to commemorate the centenary of his birth. But it is not merely a volume of reminiscences. It combines essays, specially commissioned articles, as well as private material from Fermi's research notebooks, correspondence and speeches. Together the material highlights the breadth of his impact on physics. . . . What emerges from this book is the gratitude of so many extraordinary physicists to their master, who instilled in them a passion that has lasted a lifetime: the passion for physics."
Chris Llewellyn Smith | Times Higher Education Supplement
"Fermi Remembered provides fascinating insights into Fermi's style and the beginning of the Manhattan Project."
For more information, or to order this book, please visit https://press.uchicago.edu
Google preview here