---
Dangerous Work
Diary of an Arctic Adventure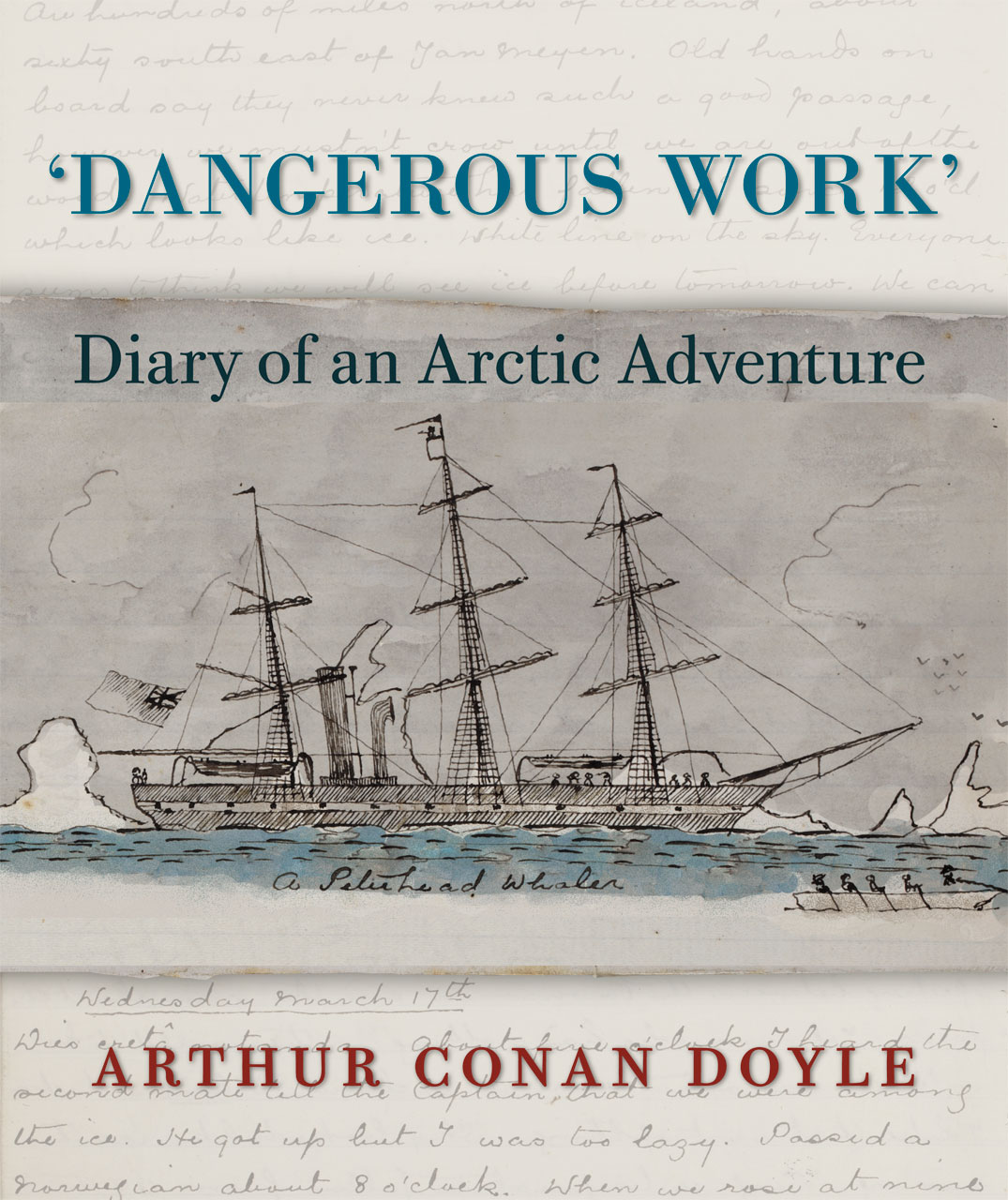 368 pages | 60 color plates, 12 halftones | 8 1/2 x 10 | © 2012
In 1880 a young medical student named Arthur Conan Doyle embarked upon the "first real outstanding adventure" of his life, taking a berth as ship's surgeon on an Arctic whaler, the Hope. The voyage took him to unknown regions, showered him with dramatic and unexpected experiences, and plunged him into dangerous work on the ice floes of the Arctic seas. He tested himself, overcame the hardships, and, as he wrote later, "came of age at 80 degrees north latitude."
Conan Doyle's time in the Arctic provided powerful fuel for his growing ambitions as a writer. With a ghost story set in the Arctic wastes that he wrote shortly after his return, he established himself as a promising young writer. A subsequent magazine article laying out possible routes to the North Pole won him the respect of Arctic explorers. And he would call upon his shipboard experiences many times in the adventures of Sherlock Holmes, who was introduced in 1887's A Study in Scarlet.
Out of sight for more than a century was a diary that Conan Doyle kept while aboard the whaler. Dangerous Work: Diary of an Arctic Adventure makes this account available for the first time in a beautiful facsimile edition that reproduces Conan Doyle's notebook pages in his own elegant hand, accompanied by his copious illustrations. With humor and grace, Conan Doyle provides a vivid account of a long-vanished way of life at sea. His careful detailing of the experience of arctic whaling is equal parts fascinating and alarming, revealing the dark workings of the later days of the British whaling industry. In addition to the facsimile and annotated transcript of the diary, the volume contains photographs of the Hope, its captain, and a young Conan Doyle on deck with its officers; two nonfiction pieces by Doyle about his experiences; and two of his tales inspired by the journey.
To the end of his life, Conan Doyle would look back on this experience with awe: "You stand on the very brink of the unknown," he declared, "and every duck that you shoot bears pebbles in its gizzard which come from a land which the maps know not. It was a strange and fascinating chapter of my life." Only now can the legion of Conan Doyle fans read and enjoy that chapter.
A special limited, numbered edition of the clothbound book is also available. In addition, a text-only e-book edition is published as Dangerous Work: Diary of an Arctic Adventure, Text-only Edition.
Table of Contents
Contents
1: Introduction
2: Facsimile of the diary (c.180 pages)
3: Transcript of the diary
4: Two non-fiction pieces by Arthur Conan Doyle about his experiences: 'The Glamour of the Arctic' (The Idler, July 1892) and 'Life on a Greenland Whaler' (The Strand Magazine, January 1897)
5: Fiction pieces by Arthur Conan Doyle inspired by the voyage: 'The Captain of the Pole Star' (Temple Bar, 1883), 'J. Habakuk Jephson's Statement' (The Cornhill, 1884) and 'The Adventure of Black Peter', a Sherlock Holmes story of 1904.
Review Quotes
Bill Streever | New York Times Book Review
 "What does Dangerous Work have in common with Moby-Dick? A few of a hundred possible answers: Both books disguise great depth beneath the cloak of an adventure story. Both offer accounts of what was once a major industry, comparable in relative terms to today's oil industry. Both should be read from cover to cover, shared with friends and revisited in front of a warm fire. And both, for different reasons, are books to treasure, the kind that kindle and rekindle a love of words and a feeling of irredeemable debt to the men behind them."
Publishers Weekly
 "Even if this diary of the nineteenth-century whaling ship Hope's Arctic exploits didn't come from Sherlock Holmes's creator, it would still make fascinating reading, especially for Patrick O'Brian fans. . . . Though Doyle, a medical student serving aboard as ship's doctor, was just twenty at the time, his gifts for writing and observation are already much in evidence, as when he observes 'hillocks' of ice 'rising and falling with the waves, pure white above and of a wonderful green below.'. . . Similar to Christopher Tolkien's work on his father's unpublished writings, this diary's publication adds both to the still-growing body of Doyle's early work and to our understanding of what made him tick."
Philip Hoare | Daily Mail
"For 130 years, this amazing diary, written by the creator of Sherlock Holmes, has lain hidden. Only now have Sir Arthur's descendants consented to its publication. It is probably one of the most exciting literary finds of recent years, for it sheds an entirely new light on a writer we thought we knew so well."
Laura Marsch | New Republic
"[W]orthwhile not least for Conan Doyle's whimsical illustrations. . . . In books by and about Arthur Conan Doyle, all roads lead to Holmes, and this book is, not at all regrettably, no exception. . . . Dangerous Work is the richer for showing not just Conan Doyle's proto-Holmesian work, but also his tendencies to romanticize his experience and to enliven it with a well-chosen white lie. One of the most amusing things that emerges when all of his Arctic writings are brought together is just how often he revisited and revised his memories of the expedition."
Jan Gardner | Boston Globe
"[T]here is something thrilling about reading Doyle's observations almost straight from his own pen."
Arctic Book Review
"This visually very pleasing volume is sturdily bound, beautifully printed, and very reasonably priced. . . . [I]t gives us a truly singular and delightful insight into the mind and habits of a man who would, not long after, bring to life two of the most enduring characters in the history of literature."
Canadian Holmes
"[T]his is the perfect armchair volume for that looming Canadian winter—when thoughts of freezing gales and ice-strewn waters come naturally."
Guardian
"[A] rip-roaring account of [Conan Doyle's] adventures as ship's doctor on the Arctic whaler Hope."
Sherlock Holmes Journal
"Dangerous Work is not just an exciting new insight into the life of Arthur Conan Doyle: it is itself a thing of beauty. . . . [It] is an essential volume for any Doylean's collection, but it will also excite anyone with a taste for Victorian adventure and provide an inspiring source for scholars working on the life and times of Sherlock Holmes and his creator."
Colleen Mondor | Bookslut
"This reissue of Conan Doyle's original diary from his 1880 voyage on the whaling vessel Hope is fascinating both as a historical document and for its insight into the mind of a literary giant. . . . [Y]ou don't need to be a Conan Doyle scholar to enjoy the hell out of Dangerous Work. This is a title to read as literary and whaling history and, at its most basic, one young man's journey into a dangerous place and having his adventure. The University of Chicago Press rolls out the royal treatment for Conan Doyle with their design, providing an entire facsimile of the diary in the first half of the volume. The pages are sepia, Conan Doyle's drawings are crisp, his maps are clear, his renderings of the Hope, the animals they encountered and his crewmates are all gorgeously reproduced (this is the kind of diary we all dream of keeping), and he tells his story in perfect script, on straight lines, in a manner that begs to be read."
New York Reivew of Books
"[A]uthoritatively edited and annotated. . . . [A] lavish production, almost a coffee-table volume."
Michael Dirda, author of On Conan Doyle
"We revere Arthur Conan Doyle as the creator of Sherlock Holmes and Dr. Watson, but he was far more than just the great storyteller of his age: There was a streak of the adventurer in Conan Doyle's make-up, reflected in his passion for boxing matches, outdoor sports, and war zones. While still a medical student, a very young Arthur shipped out for six months on an Arctic whaler, turning twenty-one just 600 miles from the North Pole. His diary of this 'dangerous work' makes irresistible reading, especially when annotated by two of the most knowledgeable Conan Doyle scholars alive. As a supplement, Jon Lellenberg and Daniel Stashower include four magnificent pieces of writing inspired by this youthful adventure: Conan Doyle's reflections on 'The Glamour of the Arctic' and 'Life on a Greenland Whaler,' his most haunting ghost story, 'The Captain of the Polestar,' and one of the most dramatic of all Sherlock Holmes mysteries, 'The Adventure of Black Peter.' This is, in short, an important book for scholars, but also a tremendously exciting one for readers."
For more information, or to order this book, please visit https://press.uchicago.edu
Google preview here