---
The Chicagoan
A Lost Magazine of the Jazz Age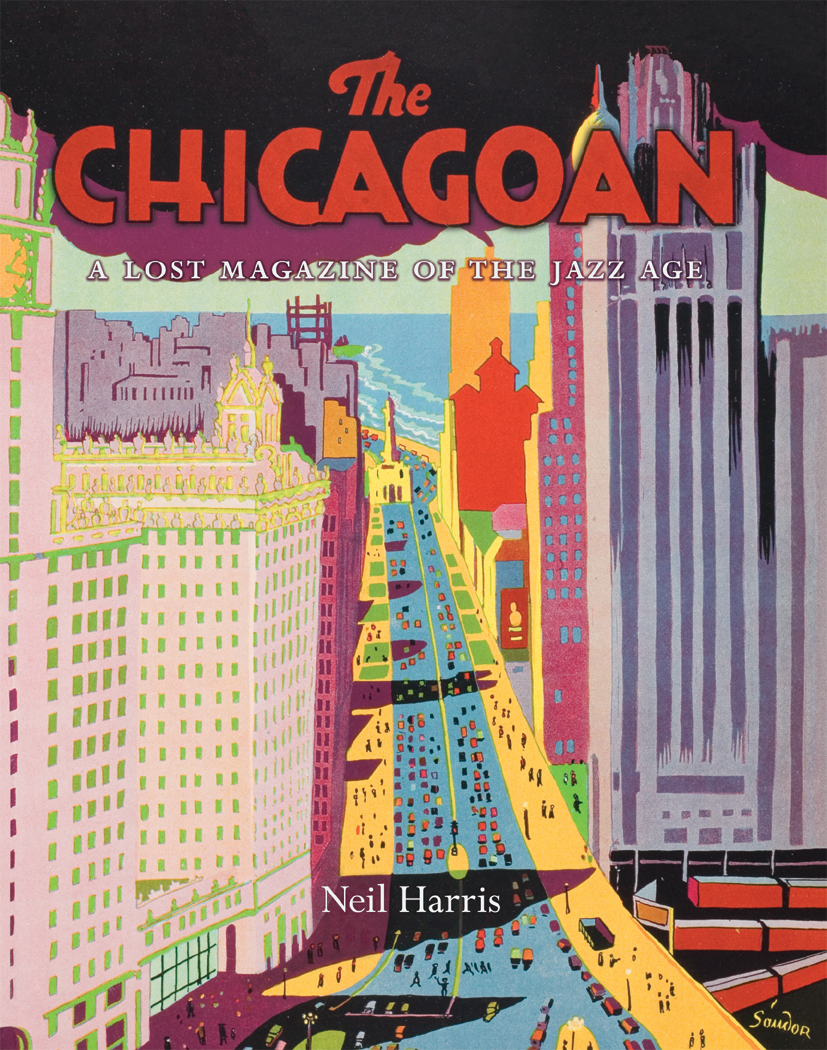 400 pages | 81 color plates, 301 halftones | 11 x 14 | © 2008
While browsing the stacks of the Regenstein Library at the University of Chicago some years ago, noted historian Neil Harris made a surprising discovery: a group of nine plainly bound volumes whose unassuming spines bore the name the Chicagoan.  Pulling one down and leafing through its pages, Harris was startled to find it brimming with striking covers, fanciful art, witty cartoons, profiles of local personalities, and a whole range of incisive articles.  He quickly realized that he had stumbled upon a Chicago counterpart to the New Yorker that mysteriously had slipped through the cracks of history and memory.
Here Harris brings this lost magazine of the Jazz Age back to life. In its own words, the Chicagoan claimed to represent "a cultural, civilized, and vibrant" city "which needs make no obeisance to Park Avenue, Mayfair, or the Champs Elysees." Urbane in aspiration and first published just sixteen months after the 1925 appearance of the New Yorker, it sought passionately to redeem the Windy City's unhappy reputation for organized crime, political mayhem, and industrial squalor by demonstrating the presence of style and sophistication in the Midwest.  Harris's substantial introductory essay here sets the stage, exploring the ambitions, tastes, and prejudices of Chicagoans during the 1920s and 30s.  The author then lets the Chicagoan speak for itself in lavish full-color segments that reproduce its many elements: from covers, cartoons, and editorials to reviews, features—and even one issue reprinted in its entirety.
Recalling a vivid moment in the life of the Windy City, the Chicagoan is a forgotten treasure, offered here for a whole new age to enjoy.
Table of Contents
Contents
Acknowledgments
Introduction
Issue of July 2, 1927
Covers
Self-Promotions
Editorials
Reviews
Profiles
Articles and Features
Cartoons and Caricatures
Photography
Appendix: Biographical Summaries
List of Illustrations
Index
Review Quotes
Michael Kammen, Cornell University
"How attractive to have this lively and short-lived magazine made accessible and brilliantly contextualized by Neil Harris. Harris is the ideal scholar to explain how the Chicagoan helped to define the city during this era, setting Prohibition and gangland notoriety in counterpoint to stylish innovations in music, art, and architecture. This handsome volume is invaluable to those intrigued by the growth of urban identity and self-awareness during the second quarter of the twentieth century. Although the word 'lifestyle' did not appear in a dictionary until 1961, The Chicagoan: A Lost Magazine of the Jazz Age demonstrates just how curious Americans were about matters of lifestyle more than a generation earlier."
Kenneth Jackson, Jacques Barzun Professor of History and the Social Sciences, Columbia University
"Founded in the 1920's, the New Yorker for almost a century has been one of the most vibrant and important magazines in America. Little did most of us know, however, that a similar periodical began at almost the same time and seemed to offer the same intellectual liveliness and cultural excitement of its East Coast counterpart. Neil Harris has recaptured the spirit and story of the Chicagoan in this fresh and colorful book."
Robert Loerzel | Chicago magazine
"Witty, artsy, and slightly snooty . . . . Despite [the editors'] frequent protests that [their] city was better than its Al Capone image, the magazine chronicled the doings of Scarface as often as it reviewed opera at Ravinia."
Julia Keller | Chicago Tribune
"It gleams. It glitters. It practically shouts, 'Sophistication!' except for the fact that the truly sophisticated never shout. A silky murmur will do. It was called The Chicagoan, and from 1926 to 1935 . . . it graced the coffee tables and guided the cultural choices of the city's elite. It was a magazine, but it was more than that, too: It was a mindset. An attitude. A lofty perspective on the passing show. Thanks to the archival detective work of Neil Harris, emeritus professor at the University of Chicago, we can glide our way back to an era when elegance mattered—not only in dress and deportment, but also in sentence and image. In The Chicagoan: A Lost Magazine of the Jazz Age . . . a hefty, gorgeous hunk of a book that reproduces one entire issue as well as 149 covers and many articles, a vanished era returns. It comes back in all of its fussy glory, its daffy humor, its gentle insistence that even a city best known for gangsters and stockyards could yearn for beauty and glamour.—Julia Keller, Chicago Tribune
The New Yorker
"From 1926 to 1935, a group of Midwestern writers, editors, and artists published a magazine strikingly similar to this one. The Chicagoan ran profiles, reviews, and editorials, interspersed with cartoons, and presented breezy dispatches on local events in a section that no one seemed embarrassed to call 'Talk of the Town.'"
Wall Street Journal Magazine
"Before the advent of microfiche and electronic records, many smaller-circulation periodicals were inevitably lost to trash heaps and poor preservation methods. The Chicagoan, a colorful Midwestern magazine that was published from 1926 to 1935, was luckily saved from this oblivion by the historian Neil Harris. . . . He has since compiled the periodical's greatest hits into th[is] beautiful and vibrant book."
Andro Linklator | Spectator
"A nine-year wonder. . . . As demonstrated by this elegant collection of covers, illustrations, and stories from the Chicagoan, in its heyday Chicago was the most stylish, exciting and quintessentially American of all the cities that encircle the United States. The Chicagoan lasted only nine years, but they were well chosen, from 1926 to 1935, straddling prohibition, the depression and the jazz age. Although deliberately aping the New Yorker, founded a year earlier, its cover design was entirely its own, a cocktail of art-deco design, slabby poster colours and mordant wit. The sinuous illustrations cascading across the inside pages made it visually far superior to the original . . . . Perhaps it was too beautiful to survive."
Matt Wieland | The New York Times Book Review
"Somehow this vibrant magazine was completely forgotten until a few years ago, when the distinguished cultural historian Neil Harris came upon a set of the magazine's run in the library of the University of Chicago. It has now been brought back into print, if not to life, by the University of Chicago Press. What a marvelous job they have done! This is a book you will want to own, a coffee-table book nicer and better than most coffee tables. The University of Chicago Press has swung for the fences, producing the book to the highest standards—a nearly 400-page oversize volume, designed with care and attentiveness, to period detail and featuring loads of full-color images. It's a pleasure to see the ball sail into the bleachers. . . .Thanks to Neil Harris's serendipitous discovery and the University of Chicago Press's superb effort, The Chicagoan takes its rightful place on the top shelf."
Robert Birnbaum | themorningnews.com
"A wonderful and lavish book. . . . well-reproduced and  well-illustrated. The only thing that could top this would be a Nelson Algren renaissance. —Robert Birnbaum, themorningnews.com
Jonathan Messinger | Time Out Chicago
"Reading the dusty old mag in this beautiful new book made us nostalgic for an urban culture that we never got to experience. The Chicagoan was civically engaged in a way publications nowadays rarely are. No compunction exists about taking shots at politicians, making hay about the naming of the Art Institute lions, or moaning about the difficulty of hailing a cab on Michigan Avenue. Though we hardly knew ye, Chicagoan, you're suddenly sorely missed."
Evan R. Goldstein | Chronicle Review
"A testament to serendipity. . . . Harris does a wonderful job of situating the magazine in the urban cacophony of 1920s Chicago, a city at the height of its power."
Teresa Budasi | Chicago Sun-Times
"The product of [Neil] Harris' years of thorough and thoughtful research, now fashioned into a fantastically hefty volume, a treasure-trove of our city's cultural history. . . . There were no stars at The Chicagoan. The Second City's scrappy reputation held firm with the magazine's hodgepodge of artists, journalists and academics who filled its pages twice a month (once a month in later years). They remain largely unknown, to this day, though Harris gives them their due, both in his eloquent historical analysis and in an appendix at the end of the book."
Micah Maidenberg | Chicago Journal
"Entrepreneurs and journalists dreaming of the next great Chicago magazine will find the Chicagoan compelling, the writing interesting, the mere fact of its existence perhaps providing succor."
F.J. Augustyn Jr. | CHOICE
"Social and cultural scholars will find [The Chicagoan] a joy, but this primarily pictorial book, with its witty textual nuggets and stylized Art Deco illustrations, will appeal to a nonacademic audience as well. . . . Highly recommended [for] all library collections."
Wendy Greenhouse | CAA Review
"Harris's work ably reinstates the Chicagoan and joins the essential literature on the cultural history of Chicago and the graphic art of the period."
Choice Magazine: CHOICE Outstanding Academic Title Awards
Won

Illinois State Historical Society: Illinois State Historical Society Award
Won

Association of American Publishers: PROSE Book Award
Won
Media and Cultural Studies category
View
Recent Awards
page for more award winning books.
For more information, or to order this book, please visit https://press.uchicago.edu
Google preview here