---
Cut Time
An Education at the Fights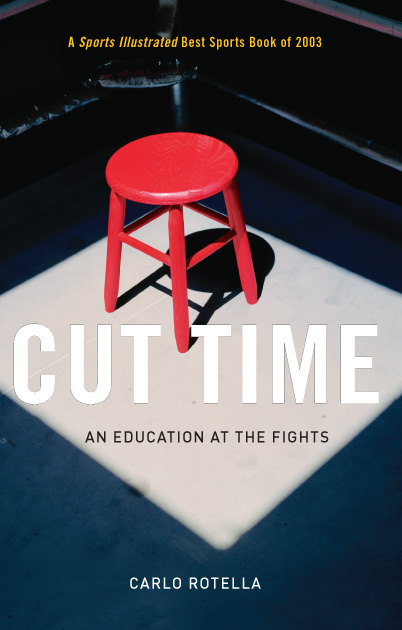 236 pages | 5 1/2 x 8 1/2 | © 2003
"Boxing is not just fighting," writes Carlo Rotella. "It is also training and living right and preparing to go the distance in the broadest sense of the phrase, a relentless managing of self that anyone who gets truly old must learn." Rotella's Cut Time chronicles his immersion in the fight world, from the brutal classroom of the gym to the spectacle of fight night. An award-winning writer and ringside veteran, Rotella unearths the hidden wisdom in any kind of fight, from barroom brawl to HBO extravaganza.

Tracing the consequences of hurt and craft, the two central facts of boxing, Rotella reveals moving resonances between the worlds inside and outside the ropes. The brief, disastrous fistic career of one of his students pinpoints the moment when adulthood arrives; the hard-won insight of a fellow fan shows Rotella how to reckon with a car crash. Mismatches, resilience, pride, pain, and aging—Rotella's lessons from the ring extend far beyond the sport. In Cut Time, Rotella achieves the near-impossible: he makes the fight world relevant to us, whether we're fans or not.

"Cut Time should be read not just by fight aficionados but also by fans of intelligent nonfiction writing. . . . An absorbing read."—Sports Illustrated
"Just when you think it's all been written, a good writer takes a shining new look at an old subject and breathes life into it. . . . Rotella has preserved the blow-by-blow and the grandeur of another age but has somehow expanded the ring to include his own generation's proclivities and sensibility."—Los Angeles Times


Table of Contents
Contents
Introduction: At Ringside
1. Halfway
2. Cut Time
3. Mismatches
4. An Appetite for Hitting
5. Out of Order
6. The Switch
7. The Distance
8. Bidness
9. Hurt
Acknowledgments
Review Quotes
Boston Globe
"Rotella finds in boxing not only entertainment, but worthy and sustaining metaphors for battles outside the ring. In some of the most extraordinary passages of this thoughtful and crafted book, Rotella compares the proud struggles of old and damaged boxers to his grandmother's determined progress through her final days."
Gordon Marino | Wall Street Journal
"A wonderful book. . . . Cut Time is aimed at everyone, even readers who can't imagine that they could ever learn anything from men slugging it out in a ring. They can."
Stuart Dybek
"Rotella knows that for this to be a book about more than boxing, it must first be a keen, solid account of his time spent at ringside. That's admirably accomplished, and in the process he has written one of the shrewdest, least egocentric, most engaging memoirs about acquiring an education that I've read."
Mark Luce | San Francisco Chronicle
"Rotella sets out to accomplish something refreshingly simple, accessible and deliciously raw. He glides with language and delivers his words with what boxers call 'quick hands.' Reading his words is a pleasure, but absorbing their underlying force, and the dark things they sometimes suggest, can be bruising . . . Rotella shows that he's not just an excellent reporter, keen writer and an acute observer, he's a hell of a teacher to boot."
Chronicle of Higher Education
"One of the best boxing books ever written."
Publishers Weekly
"His carefully crafted prose...demonstrates a gift for language as well as an in-depth understanding of boxing....Rotella's essays, with their marriage of literary analysis and the hard-knocks reality of the fights, are a welcome addition to the vast library of boxing literature."
Los Angeles Times
"Just when you think it's all been written, a good writer takes a shining new look at an old subject and breathes life into it. . . . Rotella has preserved the blow-by-blow and the grandeur of another age but has somehow expanded the ring to include his own generation's proclivities and sensibility."
Sports Illustrated
"Cut Time should be read not just by fight aficionados but also by fans of intelligent nonfiction writing.. Rotella delivers a clear-eyed report that sets aside the question of whther boxing is good or evil and instead describes precisely what a life in boxing entails . . . An absorbing read."
Pete Hamill
"This is a superb book about the noble squalor of the world of prizefighting. Carlo Rotella has given us an account that is acutely observed and elegantly written, charged on every page with intelligence, pity, surprise, and yes, a kind of wisdom."--Pete Hamill, author of A Drinking Life and Forever
Anne Fadiman
"Carlo Rotella writes with his mind, his heart, and his gut. The result is prose that leaves you breathless. As one of his boxers says about another, 'He can hit.'"--Anne Fadiman, author of The Spirit Catches You and You Fall Down and Ex Libris
For more information, or to order this book, please visit https://press.uchicago.edu
Google preview here