---
What's Next?
Eco Materialism and Contemporary Art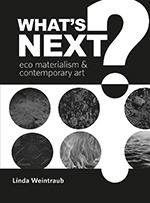 256 pages | 100 halftones, 10 line drawings | 7 x 9 | © 2018
By paying tribute to matter, materiality, and materialization, the examples of contemporary art assembled in What's Next? Eco Materialism and Contemporary Art challenge the social, cultural, and ethical norms that prevailed in the twentieth century. This significant frontier of contemporary culture is identified as 'Eco Materialism' because it affirms the emergent philosophy of Neo Materialism and attends to the pragmatic urgency of environmentalism. 
 
In this highly original book, Linda Weintraub surveys the work of forty international artists who present materiality as a strategy to convert society's environmental neglect into responsible stewardship. These bold art initiatives, enriched by their associations with philosophy, ecology, and cultural critique, bear the hallmark of a significant new art movement. This accessible text, augmented with visuals, charts, and questionnaires, invites students and a wider readership to engage in this timely arena of contemporary art.
For more information, or to order this book, please visit https://www.press.uchicago.edu
Google preview here