---
Michel Foucault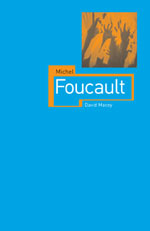 160 pages | 20 halftones | 5 x 7.87
With Michel Foucault, Reaktion Books introduces an exciting new series that brings the work of major intellectual figures to general readers, illuminating their groundbreaking ideas through concise biographies and cogent readings.
There is no better thinker than Foucault with which to begin the "Critical Lives" series. Though reticent about his personal life for most of his career, Foucault, in the last years of his life, changed his stance on the relationship between the personal and the intellectual and began to speak of an "aesthetics of existence" in which "the life" and "the work" become one. David Macey, a renowned expert on Foucault, demonstrates that these contradictions make it possible to relate Foucault's work to his life in an original and exciting way. Exploring the complex intellectual and political world in which Foucault lived and worked, and how that world is reflected in his seminal works, Macey paints a portrait of Foucault in which the thinker emerges as a brilliant strategist, one who-while fiercely promoting himself as a maverick-aligned himself with particular intellectual camps at precisely the right moments.
Michel Foucault traces the philosopher's career from his comfortable provincial
background to the pinnacle of the French academic system, paying careful attention to
the networks of friendships and the relations of power that sustained Foucault's
prominence in the academy. In an interview in 1966, Foucault said, "One ought to read
everything, study everything. In other words, one must have at one's disposal the general
archive of a period at a given moment." It is precisely this archive that Macey restores
here, accessibly relating Foucault's works to the particular context in which they were
given form.
Table of Contents
Contents
One
Two
Three
Four
Five
Six
Seven
References
Select Bibliography
Photo Acknowledgements
Review Quotes
S.B. Kelly | Scotland on Sunday
"This detailed little biography of the French theorist of sexuality, punishment and madness is also a neat primer of his ideas…This excellent series should dispel many of the silly shibboleths about critical theory."
Carl Rollyson | New York Sun
"Mr. Macey's account of Foucault's political evolution is compelling."
William Grimes | New York Times
"This may be everyone's last, best chance to get a handle on Michel Foucault before he disappears from the radar screen. . . . David Macey does the job."
Delia Despina Dumitrica | Foucault Studies
"An interesting and enjoyable introduction to the life of the French philosopher. This very brief book is very suitable reading for those curious about the context in which Foucault's work emerged, while the rich collection of photographs puts a face on one of the most popular names in today's social sciences. . . . the strength of Macey's work lies in its attempt to capture not only the 'essence' of an individual identity, but rather the contradictory multiplicity of the self, its fluid and mosaic nature."
For more information, or to order this book, please visit https://press.uchicago.edu
Google preview here