---
The Artist as Culture Producer
Living and Sustaining a Creative Life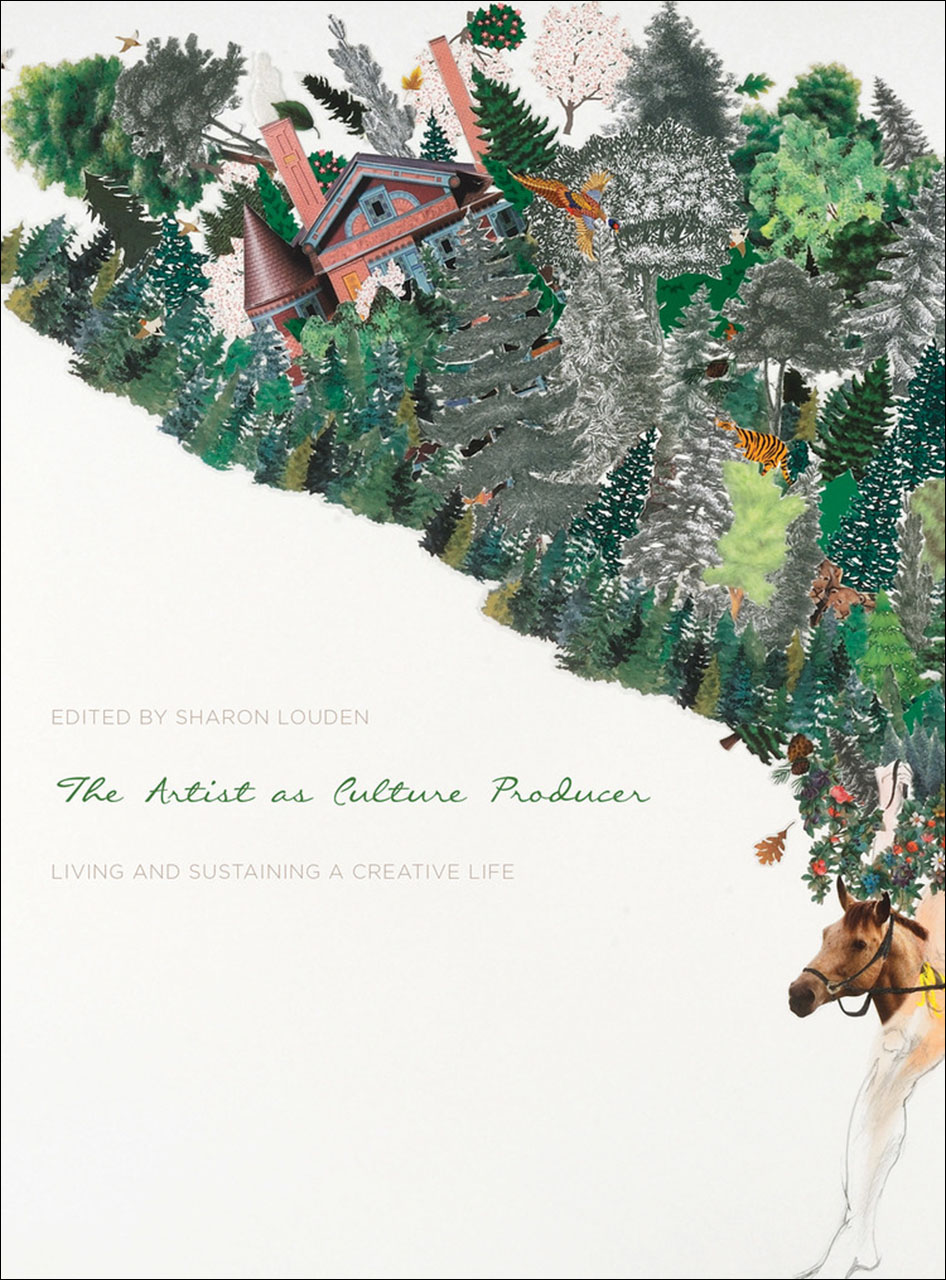 With a Foreword by Hrag Vartanian
404 pages | 40 color plates | 7 x 9 | © 2017
When
Living and Sustaining a Creative Life
was published in 2013, it became an immediate sensation. Edited by Sharon Louden, the book brought together forty essays by working artists, each sharing their own story of how to sustain a creative practice that contributes to the ongoing dialogue in contemporary art. The book struck a nerve—how do artists really
make it
in the world today? Louden took the book on a sixty-two-stop book tour, selling thousands of copies, and building a movement along the way.
Now, Louden returns with a sequel: forty more essays from artists who have successfully expanded their practice beyond the studio and become change agents in their communities. There is a misconception that artists are invisible and hidden, but the essays here demonstrate the truth—artists make a measurable and innovative economic impact in the non-profit sector, in education, and in corporate environments.
The Artist as Culture Producer
illustrates how today's contemporary artists add to creative economies through out-of-the-box thinking while also generously contributing to the well-being of others.
By turns humorous, heartbreaking, and instructive, the testimonies of these forty diverse working artists will inspire and encourage every reader—from the art student to the established artist. With a foreword by
Hyperallergic
cofounder and editor-in-chief Hrag Vartanian,
The Artist as Culture Producer
is set to make an indelible mark on the art world—redefining how we see and support contemporary artists.
Louden's worldwide book tour begins in March 2017. More information and tour dates can be found online at
www.livesustain.org
.
Table of Contents
Contents
PREFACE – Sharon Louden
FOREWORD – Hrag Vartanian

ESSAYS
Alec Soth
Alison Wong
Andrea Zittel
Austin Thomas
Billy Dufala and Steven Dufala
Brett Wallace
Caitlin Masley
Cara Ober
Carrie Moyer
Carron Little
Chloë Bass
Duncan MacKenzie
Edgar Arceneaux
Euan Gray
Faina Lerman and Graem Whyte
Jane South
Jayme McLellan
Jean Shin
Julia Kunin
Kat Kiernan
Khaled Sabsabi
Lenka Clayton
Mark Tribe
Martina Geccelli
Matthew Deleget
Michael Scoggins
Morehshin Allahyari
Norberto Roldan
Paul Henry Ramirez
Robert Yoder
Sharon Butler
Shinique Smith
Stephanie Syjuco
Steve Lambert
Tim Doud and Zoë Charlton
Wendy Red Star
William Powhida

CONCLUSION
Chen Tamir
Courtney Fink
Deana Haggag

ACKNOWLEDGMENTS
Review Quotes
Library Journal
"The Artist as Culture Producer is a welcome alternative to so much of the general interest writing on art and artists' lives, which tends to focus on attention-grabbing topics such as multimillion-dollar auction sales, celebrity gossip, or tragedy. The essays steer clear of literary flourishes and artspeak, offering straightforward descriptions of each individual's struggles as they navigated life and career paths. Recommended for students and aspiring artists who hunger for this kind of real-life experience, advice, and wisdom, and for those in organizations that work with them."
Public Art Review
"The Artist as Culture Producer describes not only how to maintain a creative life, but how to make the creative work produced meaningful to a wider community. With essays from forty artists, Louden's collection testifies to the impactful, vital community contributions made by contemporary artists."
Glasstire
"The emphasis on artistic citizenship is often scarce at institutions of higher education, and this book may be the answer for understanding that there's no direct route to guaranteed success in the art world. Louden has picked artists from the obvious U.S. cities that have a density of museums and galleries, but she's also careful to show us those who have made their life in places like Detroit, Baltimore, San Francisco, and Oregon. Artists need not always be at the center of the art universe to forge a sustainable creative practice. While the measures of what it means to be a successful artist might differ radically for each of the artists included in Louden's book, they are all decentralizing the image of success—away from the mainstream picture of going to the most reputable MFA programs, being represented by a mega-gallery, living in an art hub like New York or Los Angeles or London, and living on sales of works to major collections and museums. The book posits that networking and strategizing for success don't always carry the same longterm power that sincere relationships do, and the collective narrative that emerges is one of how these artists' plans diverged in the face of feeling the need to respond to their peers and surrounding community."
American Craft Magazine
"The Artist as Culture Producer contains forty wonderfully plainspoken stories of artistic life. Together, the first-person essays comprise a sort of accidental manual for finding a foothold and making a living while creating art that makes a difference in the larger community."
CAA Reviews
"Both frank and richly detailed, Sharon Louden's broad collection contains forty concrete accounts, fascinating autobiographies in miniature, from artists describing the various ingenious means by which they strive to sustain 'a creative life.' There are vital insights here."
Adam D. Weinberg, Alice Pratt Brown Director, Whitney Museum of American Art
"This manual is a testimony to the belief that art can, does, and must have an existence that goes beyond the reach of the art market. These intimate essays have a disarming frankness, disclosing the lives of artists from the inside out rather than the outside in. they reveal how social action derives from self-reflection, and such artists turn personal hardships and financial difficulties into new practical models."
Ben White, Chief Economic Correspondent at Politico
"This fascinating set of essays reminds us that artists are not mysterious figures cloistered in studios but vital cultural contributors working right alongside the rest of us to bring beauty, truth, joy and economic value to a society that needs all of these things more than ever."
Valerie Cassel Oliver, Senior Curator, Contemporary Arts Museum Houston
"This book not only demystifies the illusion of what it means to be an artist but also positions the artist as a catalyst for productive change in our contemporary society. Insightful and inspiring, these artists align their talents with ideals of citizenship, rejecting isolationism in favor of engagement."
Jonathan T.S. Neil, Director, Sotheby's Institute of Art & the Center for Management in the Creative Industries, Claremont Graduate University
"This brilliant collection of personal stories about what it means to be an artist in the twenty first century should finally shred that sepia-toned and nostalgic image of the solitary, studio-bound outsider with chisel or paintbrush in hand. The ingenuity and perseverance on display here is simply awe inspiring."
Wassan Al-Khudhairi, Hugh Kaul Curator of Modern and Contemporary Art, Birmingham Museum of Art
"The Artist as Culture Producer is a collection of stories that creates transparency into artists' lives today, inspiring audiences to challenge their ideas of the impact artists can make in our communities."
Steven J. Tepper, Dean, Herberger Institute of Design and the Arts at Arizona State University
"Sharon Louden is our modern day Giogio Vasari. With her second collection of artist essays, she has become one of our most important chroniclers of the lives and experiences of artists working in the twenty first century. Louden has brought us an amazing group of working artists who are imagination partners, creative entrepreneurs and exemplars of the new ways artists are working in the world."
For more information, or to order this book, please visit https://press.uchicago.edu
Google preview here