---
What Editors Do
The Art, Craft, and Business of Book Editing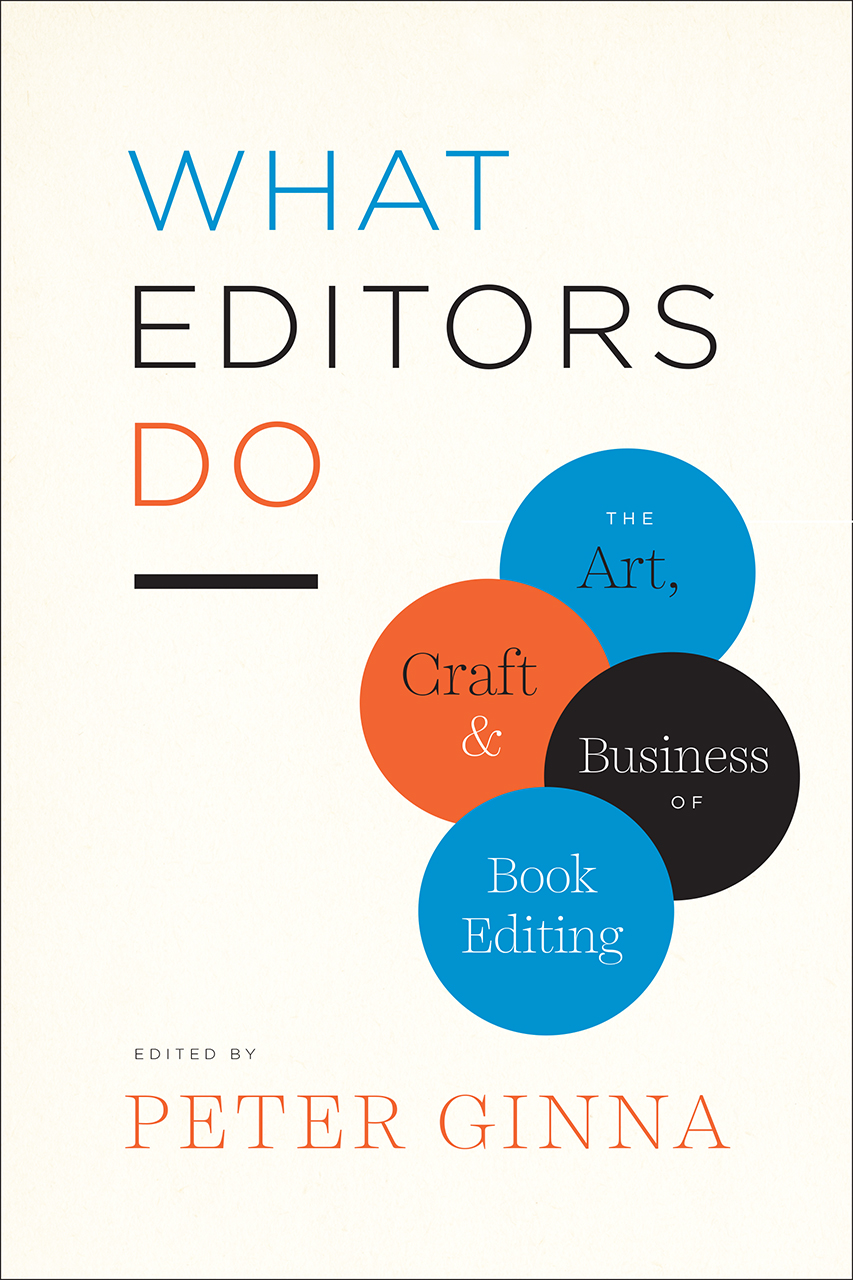 320 pages | 6 x 9 | © 2017
Editing is an invisible art where the very best work goes undetected. Editors strive to create books that are enlightening, seamless, and pleasurable to read, all while giving credit to the author. This makes it all the more difficult to truly understand the range of roles they inhabit while shepherding a project from concept to publication.

In What Editors Do, Peter Ginna gathers essays from twenty-seven leading figures in book publishing about their work. Representing both large houses and small, and encompassing trade, textbook, academic, and children's publishing, the contributors make the case for why editing remains a vital function to writers—and readers—everywhere.

Ironically for an industry built on words, there has been a scarcity of written guidance on how to actually approach the work of editing. This book will serve as a compendium of professional advice and will be a resource both for those entering the profession (or already in it) and for those outside publishing who seek an understanding of it. It sheds light on how editors acquire books, what constitutes a strong author-editor relationship, and the editor's vital role at each stage of the publishing process—a role that extends far beyond marking up the author's text.

This collection treats editing as both art and craft, and also as a career. It explores how editors balance passion against the economic realities of publishing. What Editors Do shows why, in the face of a rapidly changing publishing landscape, editors are more important than ever.
Table of Contents
Contents
Introduction. The Three Phases of Editing
 
Part I. Acquisition: Finding the Book
 
1 Where It All Begins by Peter Ginna
2 The Alchemy of Acquisitions: Twelve Rules for Trade Editors by Jonathan Karp
3 Thinking Like A Scholarly Editor: The How and Why of Academic Publishing by Gregory M. Britton
4 The Lords of Disciplines: Acquiring College Textbooks by Peter Coveney
 
Part II. The Editing Process: From Proposal to Book

5 The Book's Journey by Nancy S. Miller
6 What Love's Got to Do With It: The Author– Editor Relationship by Betsy Lerner
7 The Other Side of the Desk: What I Learned about Editing When I Became a Literary Agent by Susan Rabiner
8 Open-Heart Surgery or Just a Nip and Tuck? Developmental Editing by Scott Norton
9 This Just Needs a Little Work: On Line Editing by George Witte
10 toward Accuracy, Clarity, and Consistency: What Copyeditors Do by Carol Fisher Saller
 
Part III. Publication: Bringing the Book to the Reader
 
11 The Flip Side of the Pizza: The Editor as Manager by Michael Pietsch
12 Start Spreading the News: The Editor as Evangelist by Calvert D. Morgan Jr.
13 The Half-Open Door: Independent Publishing and Community by Jeff Shotts
 
Part IV. From Mystery to Memoir: Categories and Case Studies
 
14 Listening to the Music: Editing Literary Fiction by Erika Goldman
15 Dukes, Deaths, and Dragons: Editing Genre Fiction by Diana Gill
16 Marginalia: On Editing General Nonfiction by Matt Weiland
17 Once Upon a Time Lasts Forever: Editing Books for Children by Nancy Siscoe
18 Lives That Matter: Editing Biography, Autobiography, and Memoir by Wendy Wolf
19 Of Monographs and Magnum Opuses: Editing Works of Scholarship by Susan Ferber
20 Reliable Sources: Reference Editing and Publishing by Anne Savarese
21 The Pink Should be a Surprise: Creating Illustrated Books by Deb Aaronson
 
Part V. Pursuing a Publishing Career: Varieties of Editorial Experience
 
22 Widening the Gates: Why Publishing Needs Diversity by Chris Jackson
23 The Apprentice: On Being an Editorial Assistant by Katie Henderson Adams
24 This Pencil for Hire: Making a Career as a Freelance Editor by Katharine O'Moore-Klopf
25 The Self-Publisher as Self-Editor by Arielle Eckstut and David Henry Sterry
26 A New Age of Discovery: The Editor's Role in a Changing Publishing Industry by Jane Friedman
Conclusion. As Time Goes By: The Past and Future of Editing
 
Acknowledgments
Glossary
Further Resources
About the Editor
Index
 
Review Quotes
Publishers Weekly
"These honest and unflinching accounts from publishing insiders are a valuable primer on the field at a time where the value of editors and publishers has been increasingly questioned."
Entertainment Weekly
"Ginna has collected essays from 27 of his peers in the book business on everything from the importance of the author-editor relationship to the challenges of editing genre fiction to the ways editors must function as evangelists, creating buzz for their books."
Times Literary Supplement
"Detailed and comprehensive in scope . . . The book explicitly aims to keep in check any romantic notions of an editor's life, emphasizing that editors take meetings, publicize books, and check contracts at least as often as they make marks on manuscripts or host boozy lunches."
Starred Review | Library Journal
"A vital resource for writers and readers seeking a comprehensive exploration into the author-editor relationship, the lifecycle of a book, and how editors for publishing houses big and small have adapted to an industry in constant flux."
Los Angeles Review of Books
Editors Canada
"Every editor should read this book. It's a top-notch resource no matter what niche or stage of career an editor is in."
Copyediting
"Exceptionally well written. The prose is authoritative, entertaining, and informative. Each chapter is written by a leader in that topic's realm."
Technical Communication
"What Editors Do belongs on the shelf of any serious editor."
Midwest Book Review
"Absolutely essential reading for anyone who aspires to be an editor, as well as critically important reading for authors and publishers with respect to the critically important role that editors play in the publishing process."
Australian Book Review
"Offers an excellent opportunity for would-be authors to see the world through the eyes of publishers/editors."
Shaye Areheart, director, Columbia Publishing Course
"What Editors Do is the most informative and intelligent book on the work of publishing that you can own. In this collection, some of the best people involved in publishing in the 21st century write lucidly and engrossingly about everything that is important to editors and writers. A lively book that will also be great armchair reading for any book lover. As an editor and publisher of thirty years, I cannot recommend this book more highly."
William Germano, author of Getting It Published and From Dissertation to Book
"Editors do a lot—patiently, coolly, analytically, but also boldly, urgently, fervently. Their work, almost always invisible, makes ideas speak and books fly. What Editors Do shows just how varied—and valuable—editors are, especially now when the well-edited book is more necessary than ever."
Will Schwalbe, executive vice president, Macmillan, and author of The End of Your Life Book Club
"What Editors Do is essential reading for anyone who wants to edit, be edited, or learn how publishing really works. It's also thoroughly delightful—the chance to learn from a wide variety of industry greats as they share frank and fascinating stories about how all sorts of books, famous and unknown, came to life. I've worked in publishing for more than three decades but still learned volumes from this book."
For more information, or to order this book, please visit https://press.uchicago.edu
Google preview here