---
Vice Patrol
Cops, Courts, and the Struggle over Urban Gay Life before Stonewall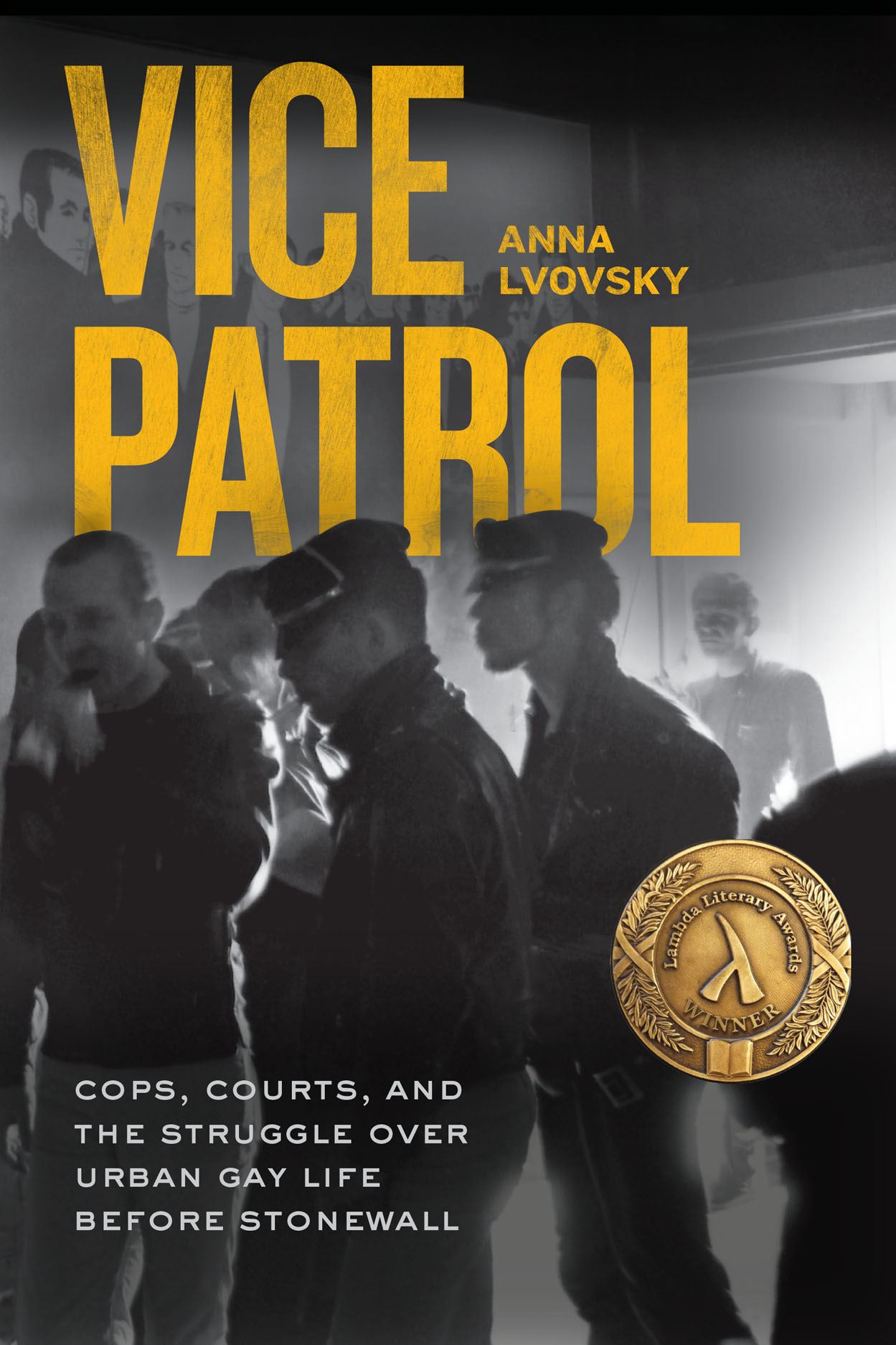 360 pages | 16 halftones | 6 x 9 | © 2021
In the mid-twentieth century, gay life flourished in American cities even as the state repression of queer communities reached its peak. Liquor investigators infiltrated and shut down gay-friendly bars. Plainclothes decoys enticed men in parks and clubs. Vice officers surveilled public bathrooms through peepholes and two-way mirrors.
 
In Vice Patrol, Anna Lvovsky chronicles this painful story, tracing the tactics used to criminalize, profile, and suppress gay life from the 1930s through the 1960s, and the surprising controversies those tactics often inspired in court. Lvovsky shows that the vice squads' campaigns stood at the center of live debates about not only the law's treatment of queer people, but also the limits of ethical policing, the authority of experts, and the nature of sexual difference itself—debates that had often unexpected effects on the gay community's rights and freedoms. Examining those battles, Vice Patrol enriches understandings of the regulation of queer life in the twentieth century and disputes about police power that continue today.
Table of Contents
Contents
List of Illustrations

INTRODUCTION

ONE / When Anyone Can Tell

TWO / Expert Witnesses on Trial

THREE / Plainclothes Decoys and the Limits of Criminal Justice

FOUR / The Rise of Ethnographic Policing

FIVE / Peepholes and Perverts

SIX / The Popular Press and the Gay World

EPILOGUE

Acknowledgments
List of Abbreviations
Notes
Index
Review Quotes
Margot Canaday, Princeton University
"Lvovsky has done incredible detective work to take us deep inside the machinery of antigay policing during its peak years. Focusing on three distinct sites—the regulation of gay bars by state liquor agencies, the work of plainclothes decoys, and the policing of public restrooms through 'peepholes'—Lvovsky shows that a legal system we assumed to be monolithically repressive was in fact internally divided about these practices. This subtle and smart book not only illuminates the boundaries around sexual difference but criminal justice as well. Revelatory in every sense of the word."
Timothy Stewart-Winter, Rutgers University
"Lvovsky takes the vice patrolman—the villain who lurks at the edges of virtually every work of the queer communities that flourished in twentieth-century U.S. cities—and insistently pulls him into the spotlight. Vice Patrol is ambitious, meticulously researched, exceptionally well-conceived, and startlingly original. It deserves a wide readership among historians of law and legal history, LGBTQ history, urban history, and the history of policing and punishment. It is, in fact, a tour de force that will be read and reread by every scholar in the field and will lead us to ask new questions of our sources in the years to come."
David Sklansky, Stanford Law School
"Lvovsky has written a splendid, insightful history of anti-gay policing in mid-twentieth century America. Vice Patrol shows how investigatory tactics evolved and how they prompted and were in turn shaped by debates about the nature and prevalence of same-sex desire, the appropriate limits on law enforcement, and the kinds of authority and expertise that should matter in answering those questions. It's a gripping read, combining rich, ground-level detail with sober assessments of what those decades-old struggles signified and what lessons they hold for us today."
Kenji Yoshino, New York University School of Law
"'The 'police' and 'the gay community' are often portrayed as monolithic entities. In Vice Patrol, Lvovsky shows how each entity revealed the extraordinary diversity of the other through their interactions in the pre-Stonewall United States. This is the debut of an important new scholar, who can etch a legal world in scrimshaw with strokes that are both bold and sure."
For more information, or to order this book, please visit https://press.uchicago.edu
Google preview here