---
The Virtual Haydn
Paradox of a Twenty-First-Century Keyboardist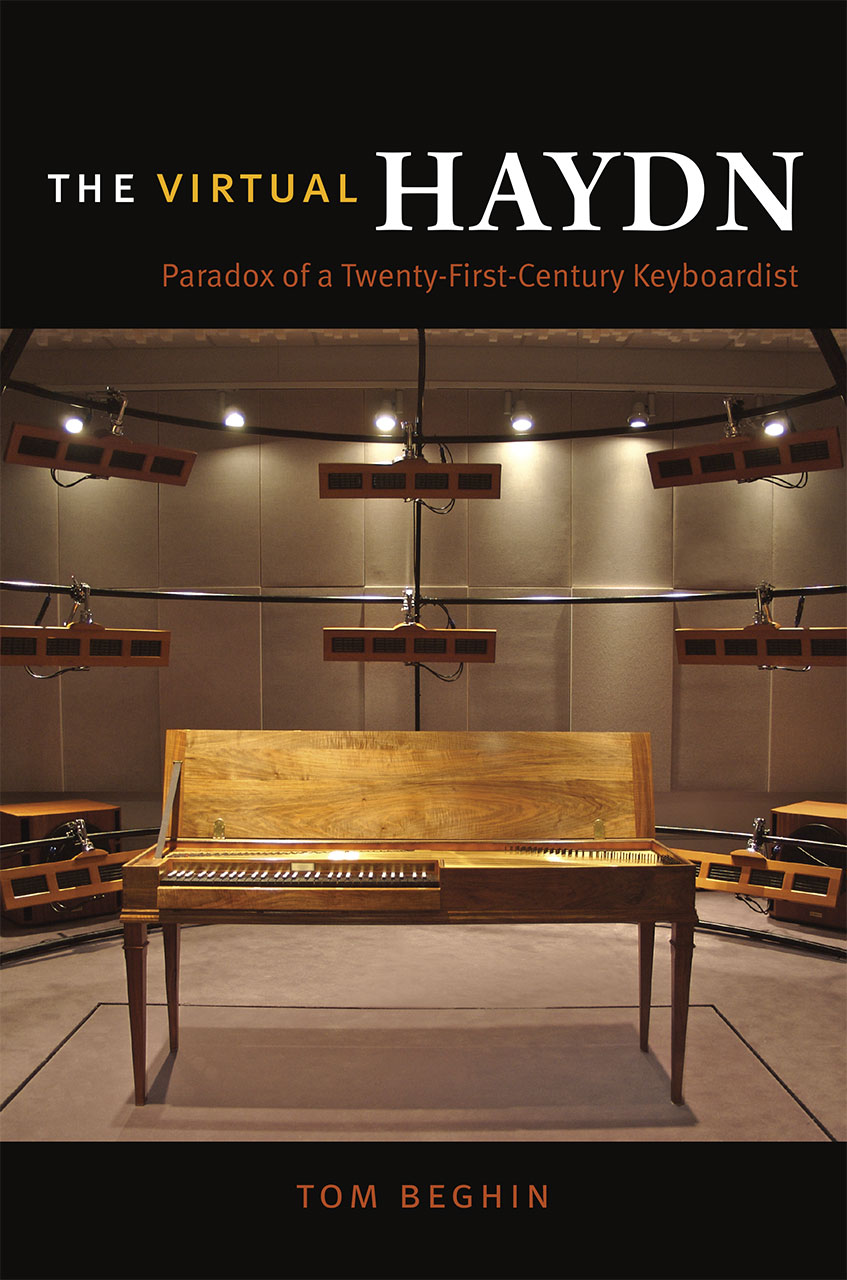 368 pages | 17 color plates, 23 halftones, 69 line drawings, 8 tables | 6 x 9 | © 2015
Haydn's music has been performed continuously for more than two hundred years. But what do we play, and what do we listen to, when it comes to Haydn? Can we still appreciate the rich rhetorical nuances of this music, which from its earliest days was meant to be played by professionals and amateurs alike?

With The Virtual Haydn, Tom Beghin—himself a professional keyboard player—delves deeply into eighteenth-century history and musicology to help us hear a properly complex Haydn. Unusually for a scholarly work, the book is presented in the first person, as Beghin takes us on what is clearly a very personal journey into the past. When a discussion of a group of Viennese sonatas, for example, leads him into an analysis of the contemporary interest in physiognomy, Beghin applies what he learns about the role of facial expressions during his own performance of the music. Elsewhere, he analyzes gesture and gender, changes in keyboard technology, and the role of amateurs in eighteenth-century musical culture.

The resulting book is itself a fascinating, bravura performance, one that partakes of eighteenth-century idiosyncrasy while drawing on a panoply of twenty-first-century knowledge.

Table of Contents
Contents
List of Illustrations
The Virtual Haydn: A Recording Project
Companion Website
Acknowledgments
Abbreviations, Scores, and Translations

Prologue

1 A Composer, His Dedicatee, Her Instrument, and I
2 Delivery, Delivery, Delivery!
3 Short Octaves müssen sein!
4 "Your Most Humble and Obedient Servant"
5 An Opus for the Insightful World
6 A Contract with Posterity

Epilogue
Appendix A: Physiognomic Analyses of Plate 5 à la Lavater
Appendix B: Biographical Outlines of Theresa Jansen and Magdalena von Kurzböck

Notes
Works Cited
Index of Musical Works
Index of Names
Review Quotes
Choice
"Excellent. . . . Provides a close, careful examination of the ways in which rhetorical concepts have impinged on the creation, comprehension, and reception of Haydn's solo piano works. The book is original in that it goes far beyond the theoretical framework of most musical-rhetorical studies to show how rhetoric influences the performance and auditory perception of 18th-century music. . . . This is a model for future scholarship. . . . Highly recommended."

Early Music
"Whether you are a performer of Haydn's keyboard music, or a listener to it (and also if you write about it), then you should buy this book. . . . Commendable."
Annette Richards, author of The Free Fantasia and the Musical Picturesque
"A highly original book that places the performer (historical and contemporary) at the center of scholarly inquiry; it is a virtuosic exercise in historical imagining."
Susan McClary, author of Reading Music
"In The Virtual Haydn, virtuoso keyboardist Beghin brilliantly illuminates Haydn's piano music from myriad angles: the period instruments for which they were designed, the women for whom the composer wrote much of this repertory, the process of animating these scores through rhetorical strategies, the minute details that make all the difference. Written in an engaging, witty style, this book serves as the discursive companion to Beghin's monumental recordings of all Haydn's keyboard works. Just as no one has matched those recordings, no one has written quite so effectively about performance. A must for listeners and players alike."
James Webster, author of Haydn's "Farewell" Symphony and the Idea of Classical Style
"Very few persons alive—and none who specialize in Haydn—are both world-class performing artists and world-class scholars like Beghin. The Virtual Haydn will come as a revelation, even to those familiar with his revolutionary Haydn sonata recordings under the same title. Its biographical, social, and musical readings of Haydn's music are of astonishing depth, sensitivity, and originality. They yield rich and unexpected insight into the complex relationships between a great eighteenth-century composer, his mainly female performers and dedicatees, and today's performers and listeners."
For more information, or to order this book, please visit https://press.uchicago.edu
Google preview here