---
Views of the Cordilleras and Monuments of the Indigenous Peoples of the Americas
A Critical Edition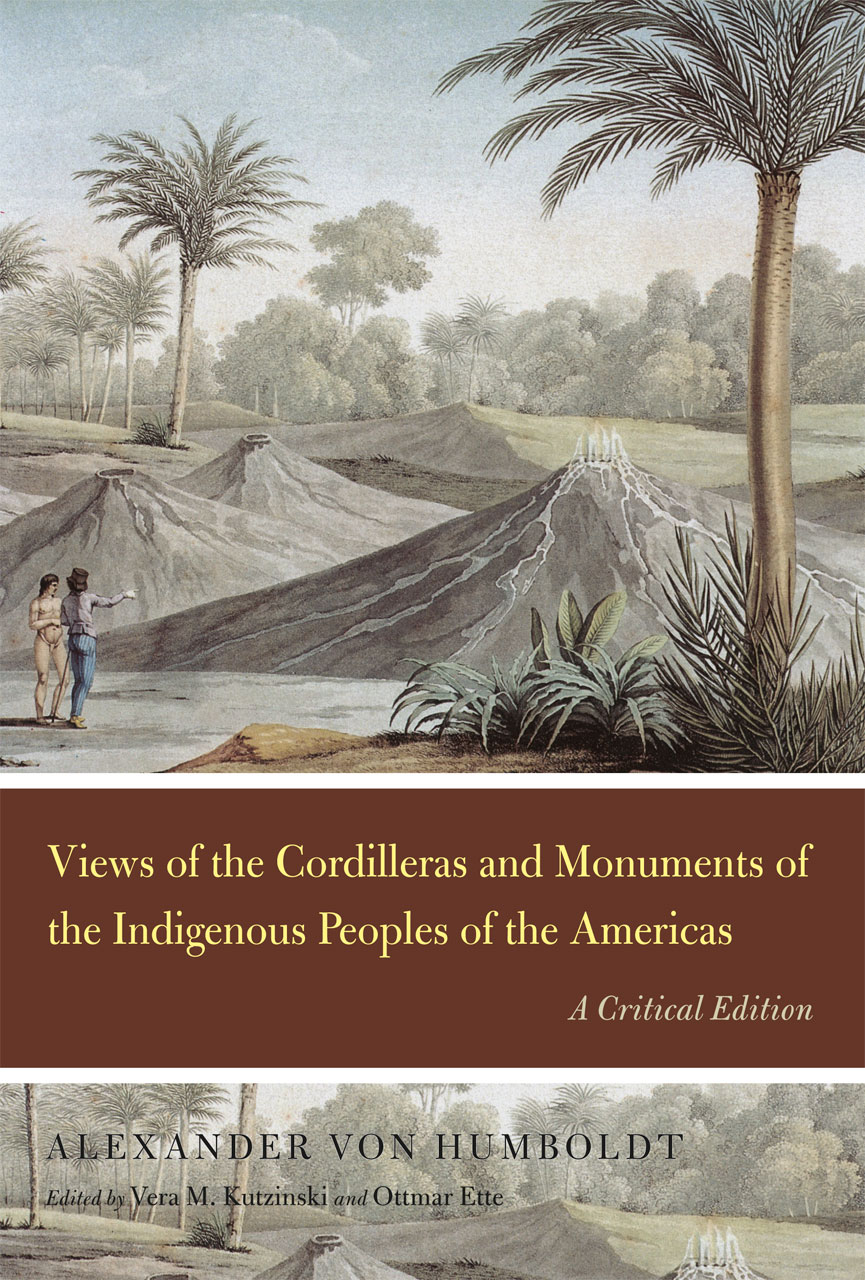 See
a website
for the book series, with additional material.
664 pages | 30 color plates, 41 halftones, 17 tables | 6 x 9 | © 2012
In 1799, Alexander von Humboldt and Aimé Bonpland set out to determine whether the Orinoco River connected with the Amazon. But what started as a trip to investigate a relatively minor geographical controversy became the basis of a five-year exploration throughout South America, Mexico, and Cuba. The discoveries amassed by Humboldt and Bonpland were staggering, and much of today's knowledge of tropical zoology, botany, geography, and geology can be traced back to Humboldt's numerous records of these expeditions.
One of these accounts, Views of the Cordilleras and Monuments of the Indigenous Peoples of the Americas, firmly established Alexander von Humboldt as the founder of Mesoamerican studies. In Views of the Cordilleras—first published in French between 1810 and 1813—Humboldt weaves together magnificently engraved drawings and detailed texts to achieve multifaceted views of cultures and landscapes across the Americas. In doing so, he offers an alternative perspective on the New World, combating presumptions of its belatedness and inferiority by arguing that the "old" and the "new" world are of the same geological age.
This critical edition of Views of the Cordilleras—the second volume in the Alexander von Humboldt in English series—contains a new, unabridged English translation of Humboldt's French text, as well as annotations, a bibliography, and all sixty-nine plates from the original edition, many of them in color.
Table of Contents
Contents
The Art of Science: Alexander von Humboldt's Views of the Cultures of the World
An Introduction by Vera M. Kutzinski and Ottmar Ette
Note on the Text
Dedication page from the first French edition, Paris, 1810–1813
Introduction by Alexander von Humboldt

Picturesque Views of the Cordilleras and Monuments of the Indigenous Peoples of the Americas
Plates I and II: Bust of an Aztec Priestess
Plate III: View of the Main Square of Mexico City
Plate IV: Natural Bridges of Icononzo
Plate V: Quindiu Pass in the Cordillera of the Andes
Plate VI: Tequendama Falls
Plate VII: Pyramid of Cholula
Plate VIII: Detached Section from the Cholula Pyramid
Plate IX: Xochicalco Monument
Plate X: Cotopaxi Volcano
Plate XI: Mexica Relief Found in Oaxaca
Plate XII: Genealogy of the Princes of Azcapotzalco
A Trial Document in Hieroglyphic Script
Plate XIII: Aztec Hieroglyphic Manuscript Preserved in the Vatican Library
Plate XIV: Costumes Drawn by Mexica Painters in Montezuma's Time
Plate XV: Aztec Hieroglyphs from the Velletri Manuscript
Plate XVI: View of Chimborazo and Carihuairazo
Plate XVII: The Peruvian Monument of Cañar
Plate XVIII: Boulder of Inti-Guaicu
Plate XIX: Inga-Chungana near Cañar
Plate XX: Interior of the Inca's House at Cañar
Plate XXI: Aztec Bas-Relief Found in the Main Square of Mexico City
Plate XXII: Basaltic Rocks and the Regla Waterfall
Plate XXIII: Basalt Relief Showing the Mexica Calendar
Plate XXIV: The Inca's House at Callo in the Kingdom of Quito
Plate XXV: Chimborazo Viewed from the Tapia Plateau
Plate XXVI: Epochs of Nature According to Aztec Mythology
Plate XXVII: Hieroglyphic Painting from the Borgia Manuscript of Velletri and Day-Signs from the Mexica Almanac
Plate XXVIII: Aztec Ax
Plate XXIX: Aztec Idol Made of Basaltic Porphyry, Found under the Cobblestones of the Main Square of Mexico City
Plate XXX: Río Vinagre Falls near the Puracé Volcano
Plate XXXI: Mail Service in the Province of Jaén de Bracamoros
Plate XXXII: Hieroglyphic History of the Aztecs, from the Great Flood to the Founding of Mexico City
Plate XXXIII: Rope Bridge near Penipe
Plate XXXIV: Cofre de Perote
Plate XXXV: Mount Iliniza
Plate XXXVI: Fragments of Aztec Hieroglyphic Paintings from the Royal Library of Berlin
Plate XXXVII: Hieroglyphic Paintings from the Borgia Museum in Velletri
Plate XXXVIII: Migration of the Aztec Peoples; Hieroglyphic Painting from the Royal Library of Berlin
Plate XXXIX: Granite Vase Found on the Coast of Honduras
Plate XL: Aztec Idol in Basalt, Found in the Valley of Mexico
Plate XLI: Air Volcano of Turbaco
Plate XLII: Volcano of Cayambe
Plate XLIII: Volcano of Jorullo
Plate XLIV: Calendar of the Muisca Indians, the Ancient Inhabitants of the Bogotá Plateau
Plate XLV: Fragment of a Hieroglyphic Manuscript Preserved at the Royal Library of Dresden
Plates XLVI, XLVII, and XLVIII: Hieroglyphic Paintings from the Mexica Manuscript Preserved in the Imperial Library of Vienna, Numbers 1, 2, and 3
Plates XLIX and L: Ruins of Miguitlan, or Mitla, in the Province of Oaxaca; Survey and Elevation
Plate LI: View of Corazón
Plates LII and LIII: Dress of the Indians of Michoacan
Plate LIV: View of the Interior of the Crater of the Peak of Tenerife
Supplement
Plates LV and LVI: Fragments of Paintings from the Codex Telleriano-Remensis
Plate LVII: Fragment of a Christian Calendar from the Aztec Manuscripts Preserved in the Royal Library of Berlin
Plates LVIII and LIX: Hieroglyphic Paintings from the Raccolta di Mendoza
Plate LX: Fragments of Aztec Paintings from a Manuscript Preserved at the Vatican Library
Plate LXI: Pichincha Volcano
Plate LXII: Plan of a Fortified House of the Inca on the Ridge of the Cordillera of Azuay; Ruins of a Part of the Ancient Peruvian City of Chulucanas
Plate LXIII: Raft from the Guayaquil River
Plate LXIV: Summit of Los Órganos Mountain at Actopan
Plate LXV: Columnar Porphyry Mountains of El Jacal
Plate LXVI: Head Engraved in Hard Stone by the Muisca Indians; Obsidian Bracelet
Plate LXVII: View of Lake Guatavita
Plate LXVIII: View of the Silla de Caracas
Plate LXIX: Dragon Tree of La Orotava
Letter from Mr. Visconti, Member of the Institut de France, to Mr. von Humboldt, on Some Monuments of the American Peoples
Notes
Annotations
List of Plates from the Original Edition
Humboldt's Library
Chronology
Editorial Note
Index of Names
Index of Subjects
Index of Toponyms
Review Quotes
J. S. Schwartz, CUNY, College of Staten Island | Choice
Science
"Weaving together art, science, and his readings, [Humboldt] presents multifaceted perspectives on objects, ruins, and landscapes that he encountered."
James Dunkerley, Queen Mary, University of London | Latin American Studies
"Superbly edited. . . . Kutzinski and Ette are distinguished experts on Humboldt."
Nigel Leask, University of Glasgow
"Appearing just over two hundred years after the original publication of Vues des Cordilleres in 1810, this magnificent new edition is the first ever complete English translation of the original French text, integrating all sixty-nine plates of the 'picturesque atlas' with von Humboldt's original commentary. J. Ryan Poynter's cautiously modernized translation preserves the idiosyncrasies of von Humboldt's distinctive French style, alert to its unique blending of aesthetic and scientific perceptions of the 'New World.' The edition underlies Humboldt's experimental, 'rhizomatic' project in exploring the relationship between American nature and culture, establishing a new planetary consciousness for the Romantic age. Perhaps most strikingly for the modern reader, his radical understanding of indigenous America as a world civilization lives and breathes again in our postcolonial era."
Brian S. Bauer, University of Illinois at Chicago
"Beautifully translated, meticulously assembled, and densely annotated, this volume reconfirms von Humboldt's status as Europe's first naturalist of the Americas."
William Boelhower, Louisiana State University
"Von Humboldt is a towering Atlantic world figure. Here we can gauge the full range of his interests: from observations on ancient Mayan ruins and comparative calendric systems to prehistoric building techniques and breathtaking landscapes. Kutzinski and Ette offer expert appreciation of von Humboldt's genial cosmopolitanism."
For more information, or to order this book, please visit https://press.uchicago.edu
Google preview here