---
Political Essay on the Kingdom of New Spain, Volume 2
A Critical Edition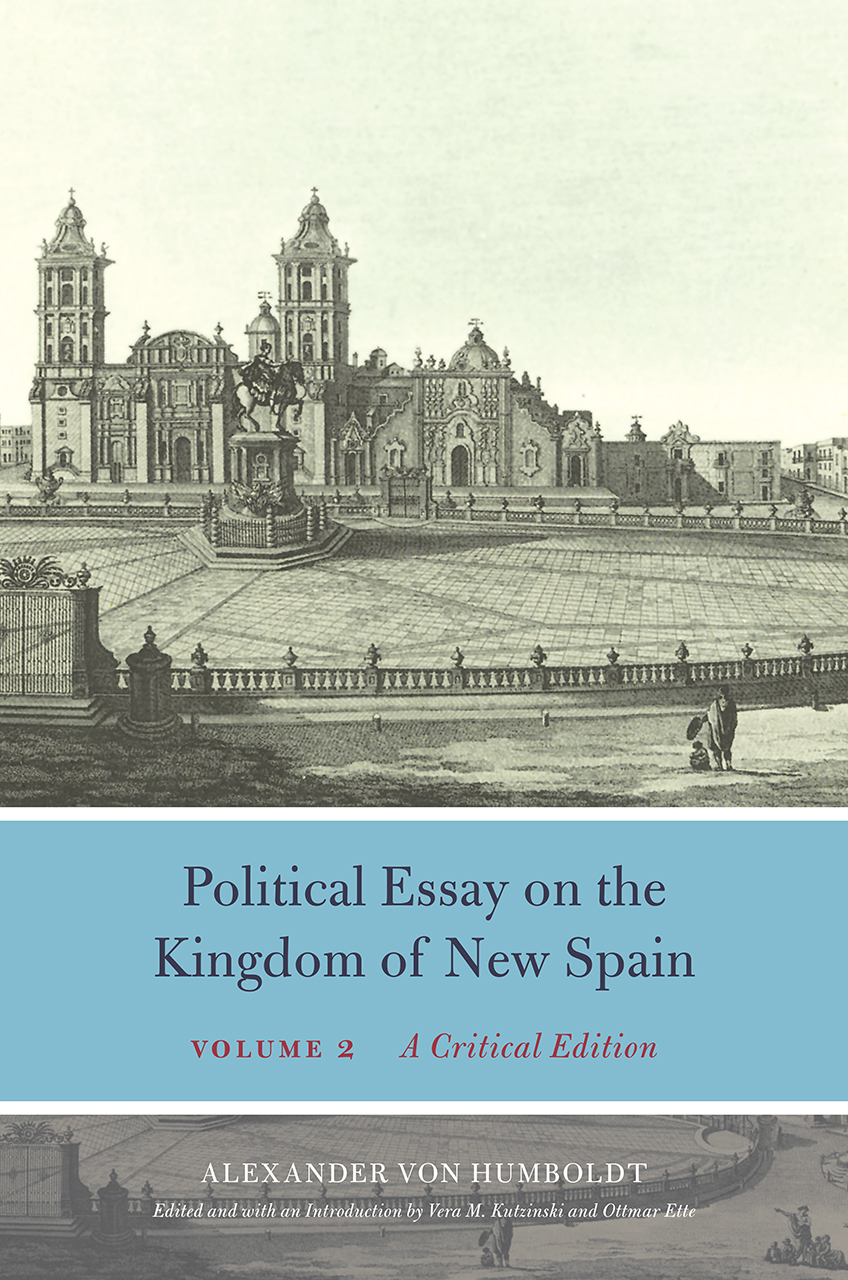 See
a website
for the book series, with additional material.
560 pages | 180 tables | 6 x 9 | © 2019
Volume 2 of this critical edition includes the translation of Volumes 3 and 4 of the second, revised French edition of Alexander von Humboldt's Essai politique sur le royaume de de Nouvelle Espagne from 1825 to 1827 as well as notes, supplements, indexes, and more.
 
Alexander von Humboldt was the most celebrated modern chronicler of North and South America and the Caribbean, and this translation of his essay on New Spain—the first modern regional economic and political geography—covers his travels across today's Mexico in 1803–1804. The work canvases natural-scientific and cultural-scientific objects alike, combining the results of fieldwork with archival research and expert testimony.
 
To show how people, plants, animals, goods, and ideas moved across the globe, Humboldt wrote in a variety of styles, bending and reshaping familiar writerly conventions to keep readers attentive to new inputs. Above all, he wanted his readers to be open-minded when confronted with cultural and other differences in the Americas. Fueled by his comparative global perspective on politics, economics, and science, he used his writing to support Latin American independence and condemn slavery and other forms of colonial exploitation. It is these voluminous and innovative writings on the New World that made Humboldt the undisputed father of modern geography, early American studies, transatlantic cultural history, and environmental studies.
 
This two-volume critical edition—the third installment in the Alexander von Humboldt in English series—is based on the full text, including all footnotes, tables, and maps, of the second, revised French edition of Essai politique sur le royaume de de Nouvelle Espagne from 1825 to 1827, which has never been translated into English before. Extensive annotations and full-color atlases are available on the series website.
 
Review Quotes
Alison E. Martin, Johannes Gutenberg Universität Mainz/Germersheim
"This superb new critical edition of Humboldt's seminal work on Mexico is long overdue. It will become the authoritative edition of the Essai politique. The translators have succeeded in fashioning a text that is alert to the stylistic peculiarities of the original while being readable, clear, and in idiomatic English. This is quite a feat, given the complexity of Humboldt's phrasing and the hybridity of his writing."
Neil Safier, the John Carter Brown Library
"An avid reader of Humboldt in French, Thomas Jefferson understood that the histories of New Spain (today's Mexico) and the nascent United States would forever be intertwined. Now, thanks to the extraordinary translating and editing of Kutzinski, Ette, and their team, English-language readers can share Humboldt's insights in a tour de force translation that is itself Humboldtian in scope."
Ingo Schwarz, Berlin-Brandenburg Academy of Sciences and Humanities
"This edition of Humboldt's Political Essay on the Kingdom of New Spain aims to make the traveler's works known to an English-speaking public. In their new edition, the translators have created an English text that avoids unnecessary modernizations and maintains Humboldt's deliberately created structure. Vera Kutzinski and Ottmar Ette's informative and clear introduction reflects the latest in Humboldt research and will help orient readers interested in Humboldt's American expedition, particularly in his work on Mexico, which includes the history of the indigenous peoples. This work is an outstanding contribution to current international Humboldt scholarship."
Laura Dassow Walls, The Passage to Cosmos: Alexander von Humboldt and the Shaping of America
"Here, at last, is the monumental study of Mexican North America on the brink of independence that changed history and made Humboldt famous. The inimitable Humboldt ranges from Chile to Alaska to the future Panama Canal; from cartography and climate to human migration and tropical disease; from indigenous agriculture to slave plantations; from bananas and manioc to cotton and sugar; from whales and sea otters to cigars, coins, and gunpowder; from Aztec floating gardens to Spanish hydraulic engineering; and from Mexican silver mines to their world-shaking impact on global capitalism—until it seems nothing escapes his probing analysis and often scathing critique. This painstaking, definitive translation of Humboldt's foundational work, a monument of scientific and humanist investigation into structures of power, conquest, empire, and resistance, belongs on the shelf of every serious scholar of the Americas and every student of modernity. That Humboldt's great vision was corrupted and betrayed makes this work all the more important for our time."
Andreas W. Daum, State University of New York at Buffalo
"This new translation of Humboldt's Political Essay on the Kingdom of New Spain is timely, given the growing interest in one of Europe's last polymaths. It brings to our attention an indispensable but often overlooked opus, which Humboldt had already conceived during his stay in Mexico in 1803–1804. The Essay offers no less than an embarrassment of riches. Humboldt manages to combine in-depth explorations and statistical analyses of Spain's most prosperous colonial territory with wide-angle views and surprising comparisons. The man from Prussia demonstrates his sensitivity toward the indigenous traditions of the Americas and the variety of natural and cultural spaces he enters, indefatigably absorbing every bit of information. Connecting the dots—between agriculture, silver mining, and transoceanic trade; between climate and plant growth; between the history of the brutal colonization and demographic developments—is Humboldt's forte. This capacity and Humboldt's open-mindedness deserve our recognition today. This beautiful new edition will serve not only as an illustration of how modern-style political geography came into existence but also as guide to the multifaceted thinking of a traveler and scholar who transcended cultural divides and borders set by hegemonic powers."
For more information, or to order this book, please visit https://www.press.uchicago.edu
Google preview here