---
Uncivil Agreement
How Politics Became Our Identity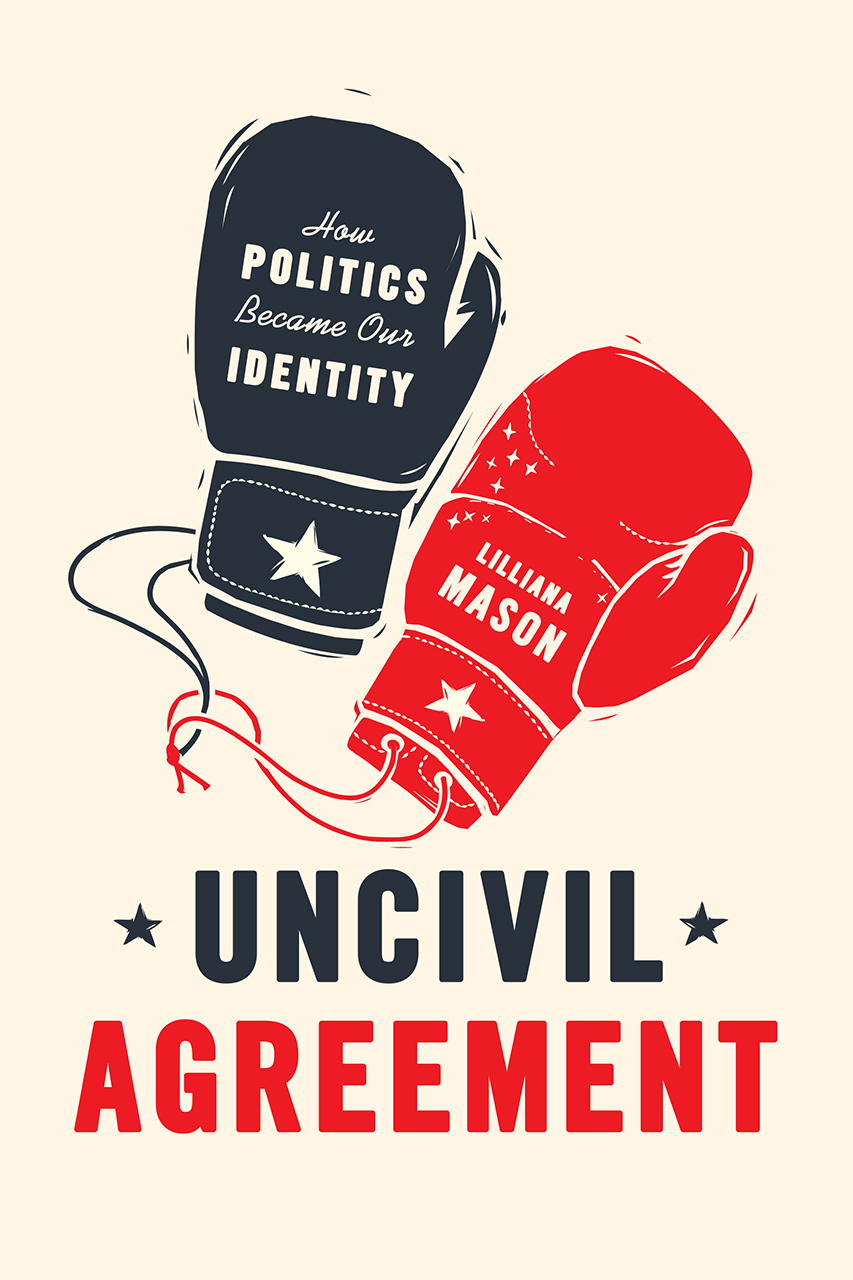 192 pages | 43 line drawings, 15 tables | 6 x 9 | © 2018
Political polarization in America is at an all-time high, and the conflict has moved beyond disagreements about matters of policy. For the first time in more than twenty years, research has shown that members of both parties hold strongly unfavorable views of their opponents. This is polarization rooted in social identity, and it is growing. The campaign and election of Donald Trump laid bare this fact of the American electorate, its successful rhetoric of "us versus them" tapping into a powerful current of anger and resentment.
           
With Uncivil Agreement, Lilliana Mason looks at the growing social gulf across racial, religious, and cultural lines, which have recently come to divide neatly between the two major political parties. She argues that group identifications have changed the way we think and feel about ourselves and our opponents. Even when Democrats and Republicans can agree on policy outcomes, they tend to view one other with distrust and to work for party victory over all else. Although the polarizing effects of social divisions have simplified our electoral choices and increased political engagement, they have not been a force that is, on balance, helpful for American democracy. Bringing together theory from political science and social psychology, Uncivil Agreement clearly describes this increasingly "social" type of polarization in American politics and will add much to our understanding of contemporary politics.
Table of Contents
Contents
Acknowledgments
ONE / Identity-Based Democracy
TWO / Using Old Words in New Ways
THREE / A Brief History of Social Sorting
FOUR / Partisan Prejudice
FIVE / Socially Sorted Parties
SIX / The Outrage and Elation of Partisan Sorting
SEVEN / Activism for the Wrong Reasons
EIGHT / Can We Fix It?
Appendix
Notes
References
Index
Review Quotes
Ezra Klein | Vox
"One of the most important books this year . . . . This is the kind of research that will change not just how you think about the world but how you think about yourself."
Yascha Mounk | New Yorker
"Sobering. . . . Mason argues that factors such as class, race, religion, gender, and sexuality used to cut across one another to a significant extent. . . . In the past decades, though, 'partisan, ideological, religious, and racial identities have moved into strong alignment. . . . A single vote can now indicate a person's partisan preference as well as his or her religion, race, ethnicity, gender, neighborhood and favorite grocery store.'"
Perry Bacon Jr. | 538
"Highly recommended. . . . In describing American politics today, Mason argues that partisan identity (Democrat or Republican) has become a 'mega-identity' because it increasingly combines a number of different identities. . . . And which party people belong to is important because there is some evidence that instead of people choosing their party affiliation based on their political views (and changing parties if their views are no longer represented by that party), they shift their views to align with their party identity."
New Books Network
"Recent debates about partisan polarization have focused primarily on ideology and policy views. In Uncivil Agreement, social identity moves to the center of how to think about the differences that divide the country."
 
David P. Redlawsk, University of Delaware
"Uncivil Agreement opens a window to a better understanding of the 'why' behind the polarization of contemporary American politics. This is a groundbreaking book, combining an interesting and important theoretical approach with strong empirical data, and it will have real impact."­
Richard R. Lau, Rutgers University
"A must-read for anyone trying to understand the increasingly polarized nature of American politics. Mason offers a psychological identity-based explanation for today's polarized politics, an explanation that provides insights both into its most important attitudinal and behavioral consequences, but also into possible approaches that could help move the American public a few steps back from the precipice."
Nicholas Valentino, University of Michigan
"The mutual disdain felt by Democrats and Republicans around the country has reached toxic levels, and it is having profound consequences for the quality of our policies, not just our politics. How did we get here? Mason's brilliantly designed research and compelling writing reveal the most convincing explanation to date."
For more information, or to order this book, please visit https://press.uchicago.edu
Google preview here