---
Turning On the Mind
French Philosophers on Television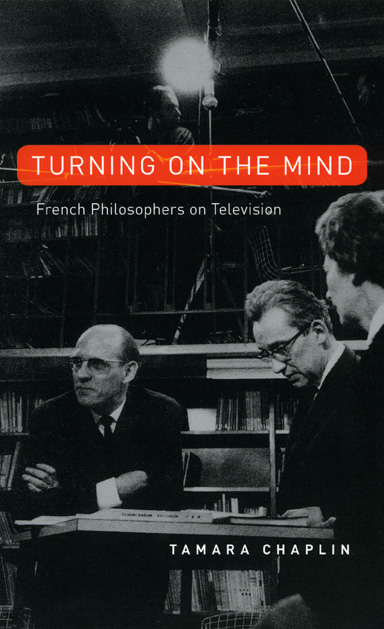 350 pages | 48 halftones | 6 x 9 | © 2007
In 1951, the eight o'clock nightly news reported on Jean-Paul Sartre for the first time. By the end of the twentieth century, more than 3,500 programs dealing with philosophy and its practitioners—including Bachelard, Badiou, Foucault, Lyotard, and Lévy—had aired on French television. According to Tamara Chaplin, this enduring commitment to bringing the most abstract and least visual of disciplines to the French public challenges our very assumptions about the incompatibility of elite culture and mass media. Indeed, it belies the conviction that television is inevitably anti-intellectual and the quintessential archenemy of the book. 
Chaplin argues that the history of the televising of philosophy is crucial to understanding the struggle over French national identity in the postwar period. Linking this history to decolonization, modernization, and globalization, Turning On the Mind claims that we can understand neither the markedly public role that philosophy came to play in French society during the late twentieth century nor the renewed interest in ethics and political philosophy in the early twenty-first unless we acknowledge the work of television. Throughout, Chaplin insists that we jettison presumptions about the anti-intellectual nature of the visual field, engages critical questions about the survival of national cultures in a globalizing world, and encourages us to rethink philosophy itself, ultimately asserting that the content of the discipline is indivisible from the new media forms in which it has found expression.
Table of Contents
Contents
Acknowledgments
Abbreviations
Prologue: Portrait of a Philosopher
Introduction: Televising Philosophy in Postwar France
 
Chapter One
The Cultural Politics of Philosophical Celebrity, 1951–1968
 
Chapter Two
Philosophy and the Early Television Book Show, 1953–1968
 
Chapter Three
From Educational Television to Cultural Spectacle, 1964–1974
 
Chapter Four
The "New Philosophers" and Morality for the Masses, 1974–1986
 
Chapter Five
Bucking the Ratings: Antigone, Abraham, Heidegger, and the Holocaust, 1987–1992
 
Conclusion: Philosophical TV in the 1990s
 
Notes
Bibliography
Index
Review Quotes
Sam Stark | Bookforum
"[A] vivid, thorough, and irreverent cultural history."
Michael Kelly | H-France
"Chaplin's fascinating study lifts the curtain on the secret life of French philosophers. . . . In the process, she raises some fundamental questions of whether complex thought can be communicated in the limited time frame of a television programme, and what happens to philosophy when it is presented in embodied form."
For more information, or to order this book, please visit https://press.uchicago.edu
Google preview here