---
The Truth about Leo Strauss
Political Philosophy and American Democracy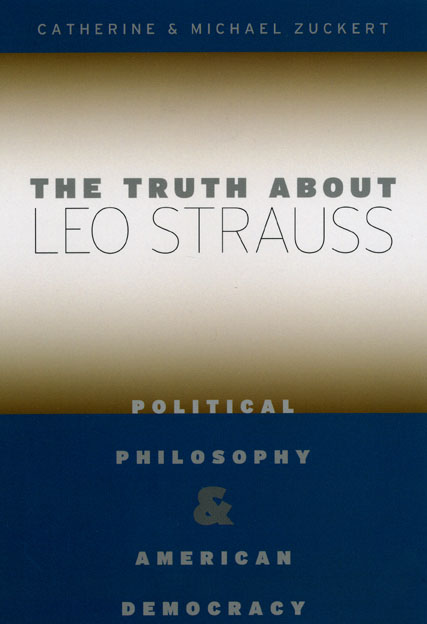 320 pages | 6 x 9 | © 2006
Is  Leo Strauss truly an intellectual forebear of neoconservatism and a powerful force in shaping Bush administration foreign policy? The Truth about Leo Strauss puts this question to rest, revealing for the first time how the popular media came to perpetuate such an oversimplified view of such a complex and wide-ranging philosopher. More important, it corrects our perception of Strauss, providing the best general introduction available to the political thought of this misunderstood figure. 

Catherine and Michael Zuckert—both former students of Strauss—guide readers here to a nuanced understanding of how Strauss's political thought fits into his broader philosophy. Challenging the ideas that Strauss was an inflexible conservative who followed in the footsteps of Nietzsche, Heidegger, and Carl Schmitt, the Zuckerts contend that Strauss's signature idea was the need for a return to the ancients. This idea, they show, stemmed from Strauss's belief that modern thought, with its relativism and nihilism, undermines healthy politics and even the possibility of real philosophy. Identifying this view as one of Strauss's three core propositions—America is modern, modernity is bad, and America is good—they conclude that Strauss was a sober defender of liberal democracy, aware of both its strengths and its weaknesses. 

The Zuckerts finish, appropriately, by examining the varied work of Strauss's numerous students and followers, revealing the origins—rooted in the tensions within his own thought—oftheir split into opposing camps. Balanced and accessible, The Truth about Leo Strauss is a must-read for anyone who wants to more fully comprehend this enigmatic philosopher and his much-disputed legacy.


Table of Contents
Contents
Preface
Introduction: Mr. Strauss Goes to Washington?

Part I: Strauss
Chapter One. The Return to the Ancients: An Overview of the Straussian Project
Strauss's Philosophical Project
Strauss's Departure from Heidegger and Nietzsche
Strauss's Analysis of the Contemporary Crisis
Strauss's Way Back to Ancient Political Philosophy
Strauss's Rereading of the History of Philosophy
Political Philosophy and Politics

Chapter Two. Strauss—Modernity—America
Proposition 1: America Is Modern
Proposition 2: Modernity Is Bad
Proposition 3: America Is Good
Straussian Ambiguities

Chapter Three. Leo Strauss as a Postmodern Political Thinker
The Problem of the Postmodern
Strauss's Postmodernism: After Nietzsche
Strauss's Postmodernism: After Heidegger
Derridean Postmodernism
Contrasting the Two Forms of Postmodernism

Chapter Four. The Man Who Gave Away the Secrets: On Esotericism
How Shadia Drury Read Leo StraussXT-DECORATION: none; text-underline: none"On Esotericism and Noble Lies
Looking for Secrets in All the Wrong Places

Chapter Five. Leo Strauss—Teacher of Evil?
Strauss and the "Tyrannical Teaching"
The Thrasymachean Thesis
The Machiavellian Moment
Strauss and Schmitt

Part II: Straussians

Chapter Six. The Emergence of the Straussian Study of America
Water Berns: The Virtuous Republic
Martin Diamond: Finding the Founding
Harry Jaffa: Aristotelianizing America

Chapter Seven: Straussian Geography

Conclusion
Notes
Index
For more information, or to order this book, please visit https://press.uchicago.edu
Google preview here