---
The Tiger in the Attic
Memories of the Kindertransport and Growing Up English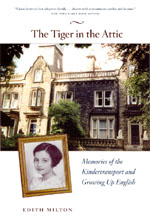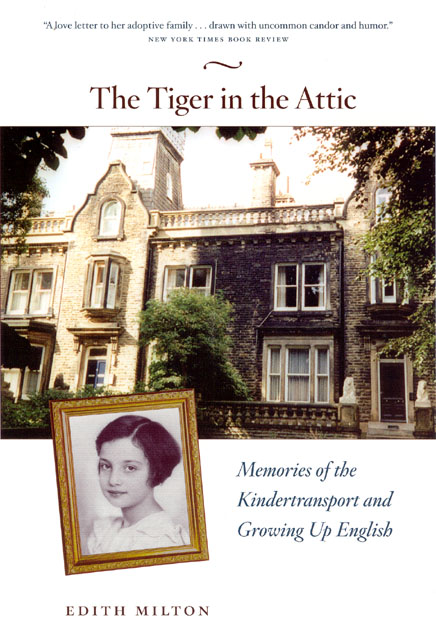 256 pages | 14 halftones | 6 x 9 | © 2005
In 1939, on the eve of Hitler's invasion of Poland, seven-year-old Edith Milton (then Edith Cohn) and her sister Ruth left Germany by way of the Kindertransport, the program which gave some 10,000 Jewish children refuge in England. The two were given shelter by a jovial, upper-class British foster family with whom they lived for the next seven years. Edith chronicles these transformative experiences of exile and good fortune in
The Tiger in the Attic
, a touching memoir of growing up as an outsider in a strange land.
In this illuminating chronicle, Edith describes how she struggled to fit in and to conquer self-doubts about her German identity. Her realistic portrayal of the seemingly mundane yet historically momentous details of daily life during World War II slowly reveals istelf as a hopeful story about the kindness and generosity of strangers. She paints an account rich with colorful characters and intense relationships, uncanny close calls and unnerving bouts of luck that led to survival. Edith's journey between cultures continues with her final passage to America—yet another chapter in her life that required adjustment to a new world—allowing her, as she narrates it here, to visit her past as an exile all over again.
The Tiger in the Attic
is a literary gem from a skilled fiction writer, the story of a thoughtful and observant child growing up against the backdrop of the most dangerous and decisive moment in modern European history. Offering a unique perspective on Holocaust studies, this book is both an exceptional and universal story of a young German-Jewish girl caught between worlds.
"Adjectives like 'audacious' and 'eloquent,' 'enchanting' and 'exceptional' require rationing. . . . But what if the book demands these terms and more? Such is the case with The Tiger in the Attic, Edith Milton's marvelous memoir of her childhood."—Kerry Fried, Newsday

"Milton is brilliant at the small stroke . . . as well as broader ones."—Alana Newhouse, New York Times Book Review


Table of Contents
Contents
List of Illustrations
Acknowledgments
Getting There
Eggs
The Second Year of the War
Leeds
Down in the Forest
Mutti and Pappi
The Tiger in the Attic
Jesus and Me
Dried Eggs and Puberty
War and Peace
Saint Bride's
Leaving
Ocean Crossing
Chamber Music
Understanding Mother
Weather
Review Quotes
Rosellen Brown
"Every page is engaging, whether by virtue of the author's insight into character and her storytelling talent, or because she does what too few memoirists can: she thinks on the page, disputes herself and others, makes enlightening distinctions, keeps her good humor in the face of awful possibility, or simply introduces us to a mind at play across time, space, and existential good fortune. The originality of The Tiger in the Attic lies in the optimism and grace it chronicles, under the lowering clouds of history. We are in the presence of a woman of a great many marvelously and lucidly presented ideas that make for very rich reading."--Rosellen Brown, former editor of Tikkun
Mimi Schwartz
"I love this book and its coming-of-age journey through three cultures. With wit, wisdom, and extraordinary grace of language, Milton recreates and reflects on transformations: from Jewish child in Nazi Germany to life as an 'enemy alien' in a loving upper-class Anglican family in England to reunification with her mother in America seven years later. It's a memoir not to be missed, one that weaves the personal, political, cultural, and philosophical together so elegantly that not one seam shows."--Mimi Schwartz, author of Thoughts from a Queen-Sized Bed
Janet Neipris
"Exquisitely written, this riveting story of a young girl's journey on the eve of World War II with her sister aboard the Kindertransport out of Germany and into the arms of an upper-middle-class British family is remarkable. Wise, warm, and moving, it is ultimately one of the best stories I have read in years."--Janet Neipris, professor of dramatic writing, New York University
Margaret Heilbrun | Library Journal
"[Milton] deftly ponders the very contours of memory and truth. . . . The result is one of ineffable beauty and powerful authenticity."
Hazel Rochman | Booklist
"In a moving climax, Milton confronts her denial about what she escaped from but, far from lachrymose self-importance, her acerbic commentary stops you short. . . . The truth of each sentence brings home the happiness and the anguish of the survivor who never forgets ' the extraordinary privilege of having been granted a reasonably ordinary life.'"
Alana Newhouse | New York Times
"Milton is brilliant at the small stroke . . . as well as broader ones."
New Hampshire Writers Project: New Hampshire Writers Project
Won

Simon Wiesenthal Center: Tolerance Book Award
Shortlist

View
Recent Awards
page for more award winning books.
For more information, or to order this book, please visit https://press.uchicago.edu
Google preview here