---
Thinking Through Methods
A Social Science Primer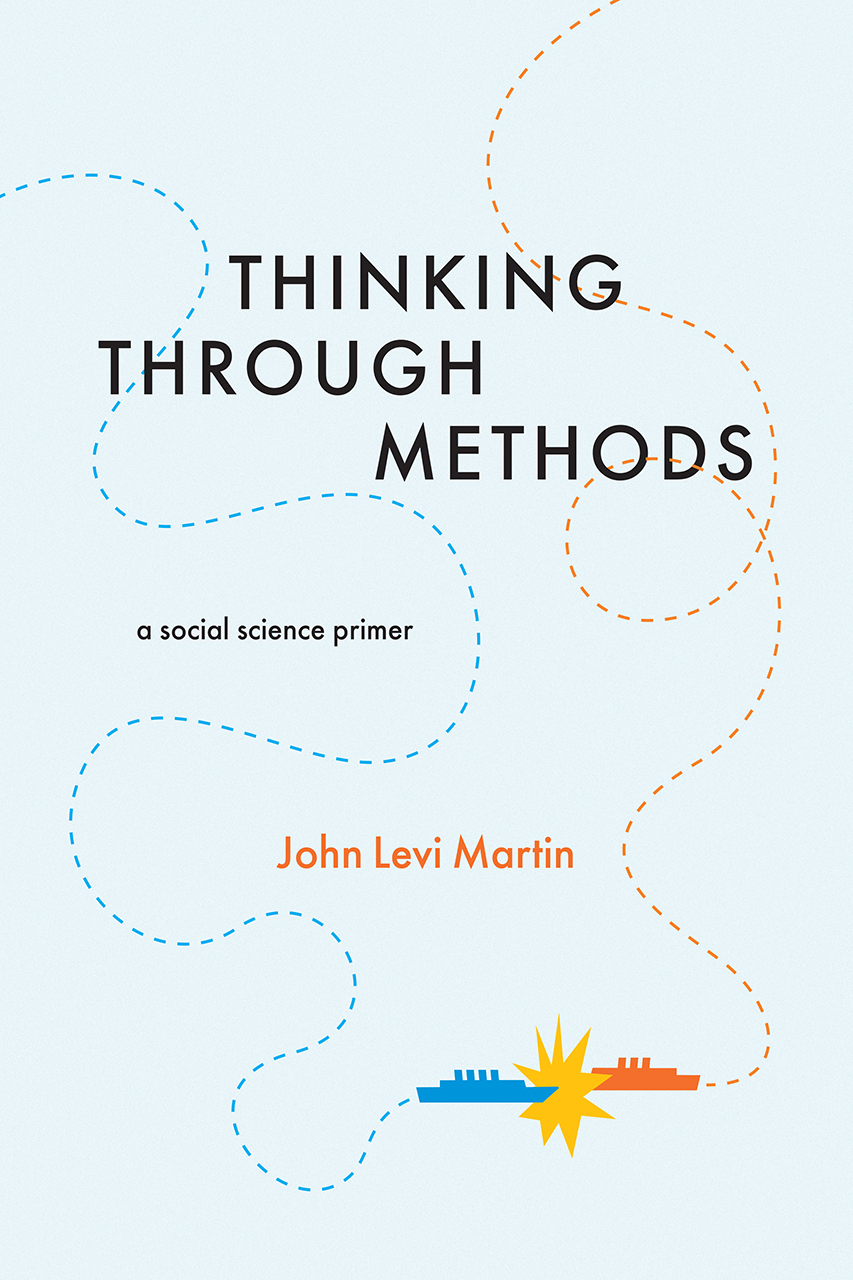 280 pages | 3 line drawings, 2 tables | 6 x 9 | © 2017
Sociological research is hard enough already—you don't need to make it even harder by smashing about like a bull in a china shop, not knowing what you're doing or where you're heading. Or so says John Levi Martin in this witty, insightful, and desperately needed primer on how to practice rigorous social science. Thinking Through Methods focuses on the practical decisions that you will need to make as a researcher—where the data you are working with comes from and how that data relates to all the possible data you could have gathered.
            This is a user's guide to sociological research, designed to be used at both the undergraduate and graduate level. Rather than offer mechanical rules and applications, Martin chooses instead to team up with the reader to think through and with methods. He acknowledges that we are human beings—and thus prone to the same cognitive limitations and distortions found in subjects—and proposes ways to compensate for these limitations. Martin also forcefully argues for principled symmetry, contending that bad ethics makes for bad research, and vice versa. Thinking Through Methods is a landmark work—one that students will turn to again and again throughout the course of their sociological research.
Table of Contents
Contents
Preface
Chapter 1: Sharpen Your Tools
Chapter 2: How to Formulate a Question
Chapter 3: How Do You Choose a Site?
Chapter 4: Talking to People
Chapter 5: Hanging Out
Chapter 6: Ethics in Research
Chapter 7: Comparing
Chapter 8: Dealing with Documents
Chapter 9: Interpreting It and Writing It Up
Conclusion
References
Index
Review Quotes
Jeremy Freese, Stanford University
"Martin is always original. Thinking Through Methods combines a hard-nosed commitment to scholarly ideals with an endless array of provocative and clever things to say. This is a very creative work on sociological methods and there is enormous wisdom to be found in it."
Douglas W. Maynard, University of Wisconsin–Madison
"This primer has all the traditional topics for acquiring and expressing methodological expertise in the doing of sociology. With Martin's penchant for exquisite writing and clarity, as well as original, often clever approaches and examples—not to mention pithy 'takeaways' and recommendations for further reading—the book is utterly distinguished. So it is not only usable but fun, interesting, and even intriguing, along the way. Who would have thought that 'methods' could be like this?"
Elizabeth Armstrong, University of Michigan
"Thinking Through Methods offers an incisive introduction to social research methods. Methods textbooks are too often a bit stodgy. This book is anything but dull. It's irreverent and entertaining, full of examples of good and bad research. Novice and experienced researchers alike will come away with strategies to avoid common mistakes. I look forward to assigning it in both undergraduate and graduate methods courses."
For more information, or to order this book, please visit https://press.uchicago.edu
Google preview here