---
The Timeline of Presidential Elections
How Campaigns Do (and Do Not) Matter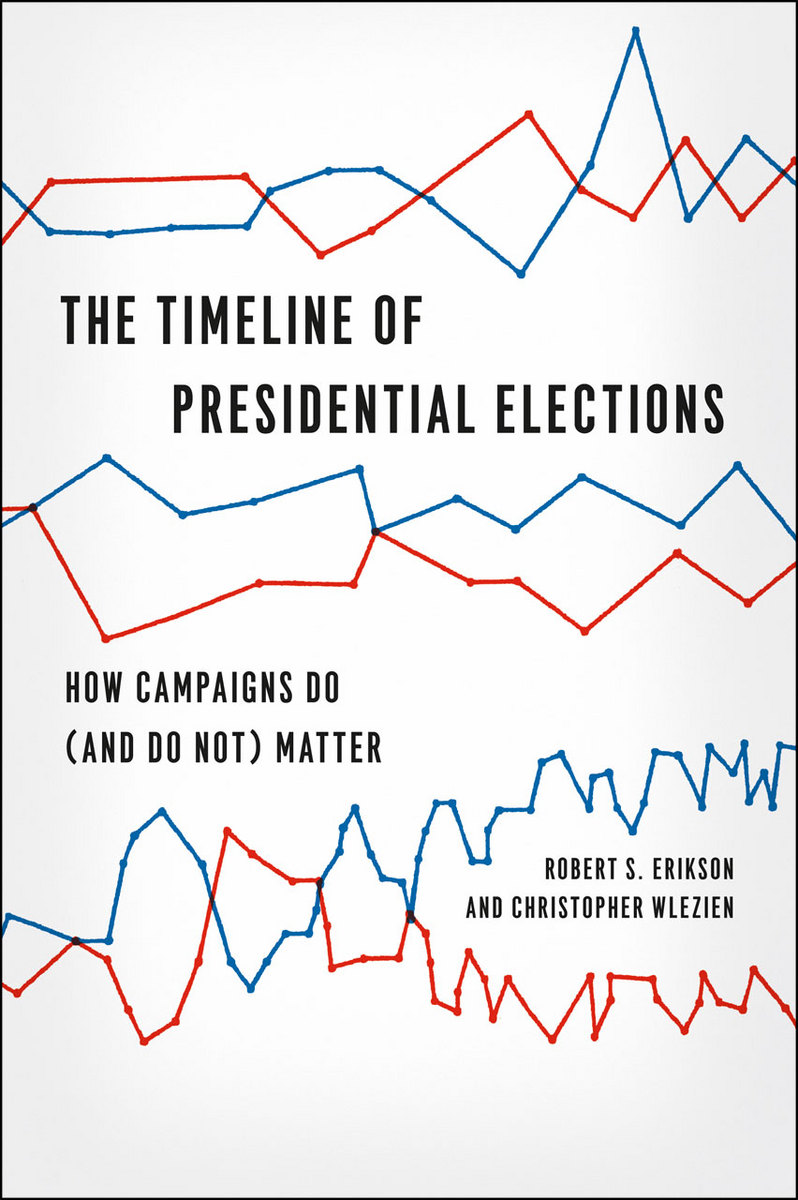 224 pages | 55 line drawings, 27 tables | 6 x 9 | © 2012
In presidential elections, do voters cast their ballots for the candidates whose platform and positions best match their own? Or is the race for president of the United States come down largely to who runs the most effective campaign? It's a question those who study elections have been considering for years with no clear resolution. In The Timeline of Presidential Elections, Robert S. Erikson and Christopher Wlezien reveal for the first time how both factors come into play.
Erikson and Wlezien have amassed data from close to two thousand national polls covering every presidential election from 1952 to 2008, allowing them to see how outcomes take shape over the course of an election year. Polls from the beginning of the year, they show, have virtually no predictive power. By mid-April, when the candidates have been identified and matched in pollsters' trial heats, preferences have come into focus—and predicted the winner in eleven of the fifteen elections. But a similar process of forming favorites takes place in the last six months, during which voters' intentions change only gradually, with particular events—including presidential debates—rarely resulting in dramatic change.
Ultimately, Erikson and Wlezien show that it is through campaigns that voters are made aware of—or not made aware of—fundamental factors like candidates' policy positions that determine which ticket will get their votes. In other words, fundamentals matter, but only because of campaigns. Timely and compelling, this book will force us to rethink our assumptions about presidential elections.
In the separate Chicago Shorts e-book, The 2012 Campaign and the Timeline of Presidential Elections, Erikson and Wlezien update their statistical analysis to include data from 2012.
Table of Contents
Contents
Acknowledgments


One / Election Campaigns and Voter Preferences
Two / Uncovering Vote Intentions using Trial-Heat Polls
Three / Thinking about Campaign Dynamics
Four / Vote Intentions over the Campaign Timeline
Five / From the Campaign to Election Day
Six / Sources of Change over the Campaign Timeline
Seven / Campaign Dynamics and the Individual Voter
Eight / The Evolution of Electoral Choice over the Campaign Timeline

Appendix / Vote Intention Data
Notes
References
Index
Review Quotes
Ryan Lizza | New Yorker, Ten Best Political Books of 2012
"Every political pundit should be required to read this book before covering the 2016 campaign."

Gary C. Jacobson, University of California, San Diego
"This is an important, original book by accomplished political scientists at the top of their game. Robert S. Erikson and Christopher Wlezien have addressed a central question in the study of presidential elections—to what extent do the actual campaigns matter?—and provided an account of election dynamics that anyone with a passing knowledge of presidential elections can understand, but whose technical sophistication will be appreciated by political scientists. The Timeline of Presidential Election Campaigns will be regarded as a landmark by the presidential research community."
Jon Krosnick, Stanford University
Americans have long been fascinated with presidential election campaigns and the polls that accompany them. Each time a new poll is released, we interpret it as indicating something real about the rising or falling fortunes of candidates—and assume these changes have implications for what happens on election day. With ambitious and insightful scholarship, Robert S. Erikson and Christopher Wlezien offer a striking critique of these assumptions, issuing a startling wake-up call that suggests much of the tremendous effort—and money—spent during campaigns may in fact be a waste. Any candidate interested in winning an election should read this book, as should anyone interested in truly understanding voters.
Political Science Quarterly
"What do voters make of presidential campaigns? Do they update their beliefs about the best candidate as campaigns progress? Or are their minds made up before the campaigns have even started? . . . Robert S. Erikson and Christopher Wlezien have done an excellent service in writing about how voters react to campaigns, and future research on the way in which presidential campaigns shape election outcomes would be well advised to ground their work in what Erikson and Wlezien have accomplished."
Congress and the Presidency
"A comprehensive and most convincing exercise. Robert S. Erikson and Christopher Wlezien lay bare the macro-dynamics of modern American presidential elections. They show how the outcomes of these elections can be predicted, and why. In their explanation of the "why," the critical role of the campaign reveals itself. . . . Anyone seriously interested in presidential election campaigns and forecasting cannot do without it."
Perspectives on Politics
"Erikson and Wlezien bring the tools of time series analysis to bear on the fundamental tension that haunts every scholar, reporter, or consultant trying to understand the effects of campaigns: how much of the final outcome is determined by what the candidates do (or what happens to them) in the weeks leading up to the election and how much is driven by the things out of their control. . . . If you study presidential politics or time series analyses, there is a lot to like in Timeline. The connection between the method and the substance is close and tight, which makes this book a great example of how the right method can help illustrate important nuances in the substance of a problem. . . . But by far, the most important contribution the book makes is to illustrate that presidential campaigns matter in predictable ways."
Washington Post, Monkey Cage
Public Opinion Quarterly
"The Timeline of Presidential Elections offers a sober, rigorous, and highly readable probe of what trial-heat polls have to say about election campaigns."
For more information, or to order this book, please visit https://press.uchicago.edu
Google preview here