---
Robert Clifton Weaver and the American City
The Life and Times of an Urban Reformer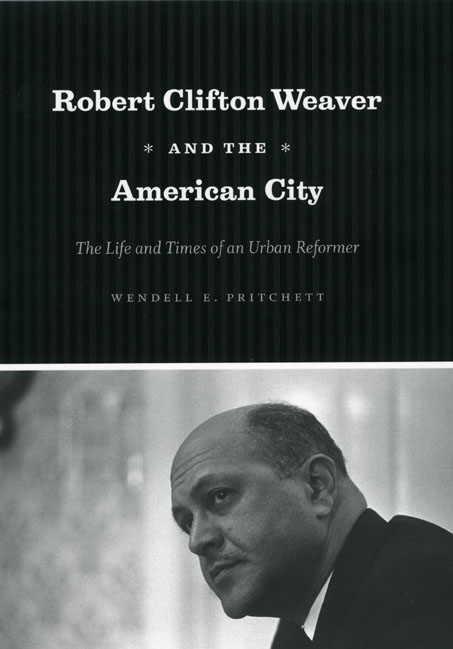 444 pages | 27 halftones | 6 x 9 | © 2008
From his role as Franklin Roosevelt's "negro advisor" to his appointment under Lyndon Johnson as the first secretary of Housing and Urban Development, Robert Clifton Weaver was one of the most influential domestic policy makers and civil rights advocates of the twentieth century. This volume, the first biography of the first African American to hold a cabinet position in the federal government, rescues from obscurity the story of a man whose legacy continues to affect American race relations and the cities in which they largely play out.

Tracing Weaver's career through the creation, expansion, and contraction of New Deal liberalism, Wendell E. Pritchett illuminates his instrumental role in the birth of almost every urban initiative of the period, from public housing and urban renewal to affirmative action and rent control. Beyond these policy achievements, Weaver also founded racial liberalism, a new approach to race relations that propelled him through a series of high-level positions in public and private agencies working to promote racial cooperation in American cities. But Pritchett shows that despite Weaver's efforts to make race irrelevant, white and black Americans continued to call on him to mediate between the races—a position that grew increasingly untenable as Weaver remained caught between the white power structure to which he pledged his allegiance and the African Americans whose lives he devoted his career to improving. 
Table of Contents
Contents
Contents
Acknowledgments
Introduction
 
1          Preparing the Talented Tenth: The Weaver Family and the Black Elite
2          Fighting for a Better Deal
3          A Liberal Experiment: Race and Housing in the New Deal
4          Creating a New Order: Black Politics in the New Deal Era
5          World War II and Black Labor
6          Chicago and the Science of Race Relations
7          Searching for a Place to Call Home
8          New York City and the Institutions of Liberal Reform
9          The First Cabinet Job
10        The Path to Power
11        The Kennedy Years: A Reluctant New Frontier
12        Fighting for Civil Rights from the Inside
13        The Great Society and the City
14        HUD, Robert Weaver, and the Ambiguities of Race
15        Power and Its Limitations
16        The Great Society, High and Low
17        An Elder Statesman in a Period of Turmoil
 
Conclusion
Abbreviations Used in Notes
Notes
Figure Credits
Index
Review Quotes
William Julius Wilson, author of When Work Disappears
"Wendell E. Pritchett's engaging biography of Robert Clifton Weaver is a tour de force.  Appointed by President Johnson as the first secretary of the Department of Housing and Urban Development, Weaver was the first African American to hold a cabinet position.  However, few Americans are aware that Weaver was also an important figure in shaping the development of American racial and urban policy, and one of the nation's foremost authorities on urban issues. Pritchett brilliantly captures the life and contributions of this great racial pioneer and in the process reveals how racial tensions profoundly influenced battles over the future of American cities."
Lizabeth Cohen, author of A Consumers' Republic
"Wendell Pritchett's fascinating book delivers just what any reader wants in a good historical biography. Robert Weaver emerges as a complex, talented man caught in the contradiction between seeking a race-blind world and serving his race. And his personal struggles and achievements bring to light in a compelling way the shifting terrain of federal governmental authority, urban policy, and civil rights over the course of the twentieth century. This is a wonderful portrait of a man and, through that man, of dreams won and lost for a new, more equitable urban America."
Arnold R. Hirsch, author of Making the Second Ghetto
"We need to know the story of Robert Clifton Weaver, and to know more about the period between the Harlem Renaissance and the 1960s, a period for which African American history has not been explored with quite the same fervor as other periods. This important and accessible biography sheds light on these overlooked subjects and pays a previously unrecognized historical debt."
Kim Phillips-Fein | Nation
"One cannot read Pritchett's book without thinking of Barack Obama, whose career seems, in certain respects, a reflection of Weaver's ambiguous legacy. . . . The battered buildings of the housing projects of Chicago and Detroit that Weaver worked so long, with so much hope, to build, cast their long shadows on the pages of this book, bleak reminders that the triumph of an individual cannot alone make up for these larger defeats. The strength of Robert Clifton Weaver and the American City is that it enables the reader to see the victory and the loss at once."
Edward F. Haas | Journal of American History
"The author has created a good study that is important for understanding the history of housing and race relations in modern America and the challenges facing African Americans within the realm of governmental bureaucracy."
Choice
"[Pritchett] has added an interesting biography to the field of US race relations and domestic politics of the postwar era. . . . Pritchett reveals Weaver as a man who shaped history but was also its victim."
American Historical Review
"Pritchett's book provides a welcome examination of an underappreciated and understudied civil rights and fair housing leader and urban planner. It is a well-conceived and much-needed study, not only of Weaver, but of race, urban policy, and liberalism in the twentieth century United States."
American Studies
"Well-researched and engaging, Pritchett's biography reveals little about its subject beyond his public life. Still, it is an important work for specialists in African American history and urban studies. From the standpoint of historicizing the role of African Americans in the White House—a lineage that now includes President Barack Obama—Pritchett's work is a vital scholarly step."
Publishers Weekly
"Pritchett's biography is an exhaustive, but well-paced account of a life more absorbed by political process and research than by social or political drama."
Journal of African American History
"A work of impressive scope that traces the arc of an extraordinary life, well researched and written in a manner that mirrors the orderly way in which Weaver conducted both his life and work. . . . This richly detailed biography is useful in tracking African American achievements and leadership in government service. . . . Pritchett offers the first scholarly account of this previously unexamined figure, a pioneer who broke down many racial barriers, and who in some ways laid the groundwork for African American involvement in government service at the highest levels, culminating in the historic election of Barack Obama to the presidency."
For more information, or to order this book, please visit https://press.uchicago.edu
Google preview here