---
The Raj Quartet, Volume 2
The Day of the Scorpion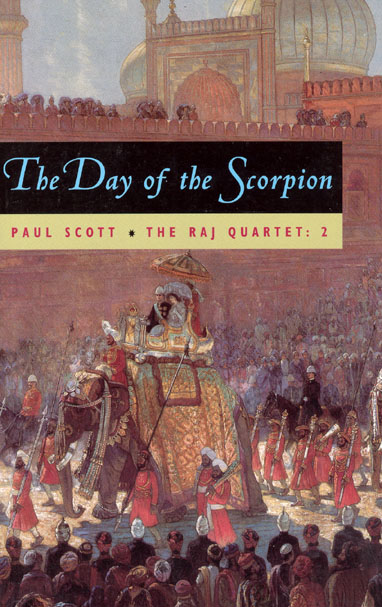 493 pages | 5-1/2 x 8-1/2 | © 1968
In The Day of the Scorpion, Scott draws us deeper in to his epic of India at the close of World War II. With force and subtlety, he recreates both private ambition and perversity, and the politics of an entire subcontinent at a turning point in history.

As the scorpian, encircled by a ring of fire, will sting itself to death, so does the British raj hasten its own destruction when threatened by the flames of Indian independence. Brutal repression and imprisonment of India's leaders cannot still the cry for home rule. And in the midst of chaos, the English Laytons withdraw from a world they no longer know to seek solace in denial, drink, and madness.

Table of Contents
Contents
Prologue
Book One: The Prisoners in the Fort
Part One - An Arrest
Part Two - A History
Part Three - A Wedding
Book Two: Orders of Release
Part One - The Situation
Part Two - A Christening
Epilogue

Review Quotes
Jean G. Zorn | New York Times Book Review
"Paul Scott's vision is both precise and painterly. Like an engraver crosshatching I the illusion of fullness, he selects nuances that will make his characters take on depth and poignancy."
Goodreads
One of Stephen King's 10 favorite books!
Guardian
"One has to admire Mr. Scott's gifts as a buttonholing storyteller, and his rich, close-textured prose; his descriptions of action and of certain kinds of relationships are superb."
Peter Green | New Republic
"What has always astonished me about The Raj Quartet is its sense of sophisticated and total control of its gigantic scenario and highly varied characters. The four volumes constitute perfectly interlocking movement of a grand overall design. The politics are handled with an expertise that intrigues and never bores, and are always seen in terms of individuals."
For more information, or to order this book, please visit https://press.uchicago.edu
Google preview here