---
Rough Rider in the White House
Theodore Roosevelt and the Politics of Desire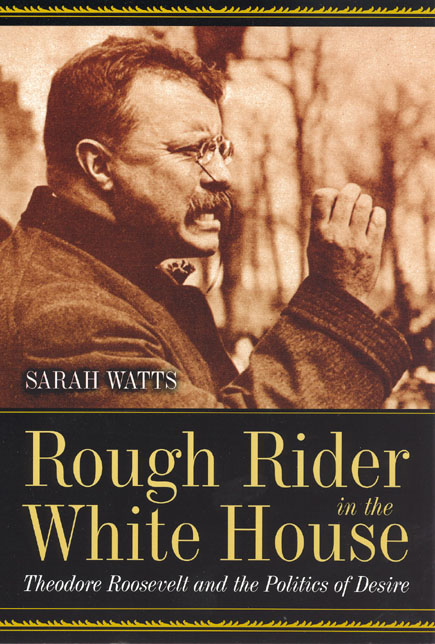 299 pages | 57 halftones | 6 x 9 | © 2003
Who was Theodore Roosevelt? Most of us think of him as one of America's greatest presidents, a champion of progressive politics, and a master statesman. But many feared the political power that Roosevelt wielded. Woodrow Wilson once called him "the most dangerous man of the age." Mark Twain thought him "clearly insane." William James scorned the "flood of bellicose emotion" he let loose during his presidency. Even his biographer, Edmund Morris, is astonished at Roosevelt's "irrational love of battle."

In this book, Sarah Watts probes this dark side of the Rough Rider, presenting a fascinating psychological portrait of a man whose personal obsession with masculinity profoundly influenced the fate of a nation. Drawing on his own writings and on media representations of him, Watts attributes the wide appeal of Roosevelt's style of manhood to the way it addressed the hopes and anxieties of men of his time. Like many of his contemporaries, Roosevelt struggled with what it meant to be a man in the modern era. He saw two foes within himself: a fragile weakling and a primitive beast. The weakling he punished and toughened with rigorous, manly pursuits such as hunting, horseback riding, and war. The beast he unleashed through brutal criticism of homosexuals, immigrants, pacifists, and sissies—anyone who might tarnish the nation's veneer of strength and vigor. With his unabashed paeans to violence and aggressive politics, Roosevelt ultimately offered American men a chance to project their longings and fears onto the nation and its policies. In this way he harnessed the primitive energy of men's desires to propel the march of American civilization—over the bodies of anyone who might stand in its way.

Written with passion and precision, this powerful revisioning of an American icon will forever alter the way we see Theodore Roosevelt and his political legacy.

"A superb scholarly study of how Roosevelt built his political base on the aspiration and fears of men in a rapidly changing nation and world."—Charles K. Piehl, Library Journal

"A thought-provoking and innovative study of the dark side of Roosevelt's personality. . . . [Watt's] arguments are clear, passionate, and thoroughly supported."—Elizabeth A. Bennion, Journal of Interdisciplinary History


Table of Contents
Contents
List of Illustrations
Acknowledgments
1. Historical Knowledge and the "Hot Life of Feeling"
2. Inner Demons
3. Women, Apes, and "Baneful Things"
4. Cowboy Soldiers
5. War
Afterword
Notes
Bibliography
Index
Review Quotes
Charles K. Piehl | Library Journal
"Despite all his well-known heroism, Theodore Roosevelt was a fairly pathetic figure. Adding to recent TR biographies, Watts probes not so much the public life of her subject as the darker interaction between his private psyche and the culture and politics of early 20th-century America. The result is a superb scholarly study of how Roosevelt built his political base on the aspiration and fears of men in a rapidly changing nation and world."
Elizabeth A. Bennion | Journal of Interdisciplinary History
"Watts has provided a thought-provoking and innovative study of the dark side of Roosevelt's personality. . . . Watts' arguments are clear, passionate, and thoroughly supported by a wide variety of historians, writers, poets, cartoonists, artists, journalists, sociologists, and psychologists of Roosevelt's era. . . . Watts provides a wealth of qualitative data in a fascinating book that rewards casual readers as well as scholars in a wide variety of disciplines."
Eric Rauchway | Journal of American History
"In Watts's model, manhood—in all cultures an acquired status and thus unstable—requires special maintenance in a period of self-conscious modernity, with the untamed masses posing a threat to traditional forms of order. In such a time men crave a leader who can make use of masculinity; one accidentally became president in 1901. . . . Watts supplements this analysis with deep readings of illustrations that show how Roosevelt's secret fears surfaced elsewhere in contemporary culture."
Christina Jarvis | American Historical Review
"The book analyzes broader cultural anxieties about U.S. masculinity during the Gilded Age and Progressive era to reveal how Roosevelt's political life both helped shape and was molded by discourse of race and gender. . . . Watts offers an important new lens for analyzing the public and private life of Theodore Roosevelt while contributing to the cultural studies of gender and race in the late nineteenth and early twentieth centuries. . . . Watts's sometimes provocative and always engaging portrait of Roosevelt is one readers will long remember."
For more information, or to order this book, please visit https://press.uchicago.edu
Google preview here