---
The Raj Quartet, Volume 3
The Towers of Silence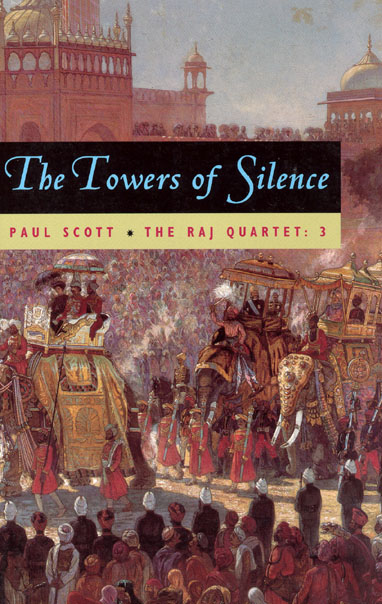 399 pages | 5-1/2 x 8-1/2 | © 1968
India, 1943: In a regimental hill station, the ladies of Pankot struggle to preserve the genteel façade of British society amid the debris of a vanishing empire and World War II. A retired missionary, Barbara Batchelor, bears witness to the connections between many human dramas; the love between Daphne Manner and Hari Kumar; the desperate grief an old teacher feels for an India she cannot rescue; and the cruelty of Captain Ronald Merrick, Susan Layton's future husband.

Table of Contents
Contents
Part One - The Unknown Indian
Part Two - A Question of Loyalty
Part Three - The Silver in the Mess
Part Four - The Honour of the Regiment
Part Five - The Tennis Court
Review Quotes
Jean G. Zorn | New York Times Book Review
"Paul Scott's vision is both precise and painterly. Like an engraver crosshatching I the illusion of fullness, he selects nuances that will make his characters take on depth and poignancy."
Goodreads
One of Stephen King's 10 favorite books!
Guardian
"One has to admire Mr. Scott's gifts as a buttonholing storyteller, and his rich, close-textured prose; his descriptions of action and of certain kinds of relationships are superb."
Peter Green | New Republic
"What has always astonished me about The Raj Quartet is its sense of sophisticated and total control of its gigantic scenario and highly varied characters. The four volumes constitute perfectly interlocking movement of a grand overall design. The politics are handled with an expertise that intrigues and never bores, and are always seen in terms of individuals."
For more information, or to order this book, please visit https://press.uchicago.edu
Google preview here