---
Public Sector Payrolls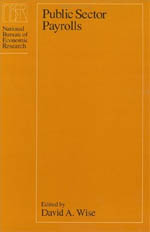 338 pages | 6.00 x 9.00 | © 1987
An estimated one out of five employees in this country works for some branch of government. Because policies concerning the compensation of these employees rest on assumptions about the economic dynamics of the public sector, the issue of public sector employment is of vital importance in the analysis of the national economy. In Public Sector Payrolls, leading economists explore the independent and interdependent functioning of the public and private sectors and their effect on the economy as a whole.

The volume, developed from a 1984 National Bureau of Economic Research conference, focuses on various labor issues in military and other governmental employment. Several contributors discuss compensation in the armed forces and its relationship to that in the private sector, as well as the interaction between the military and the private sector in the employment of youth. This latter is of particular interest because studies of youth employment have generally ignored the important influence of military hiring practices on labor market conditions. In other contributions, the response of wages and employment in the public sector to economic conditions is analyzed, and a detailed study of government pension plans is presented. Also included is a theoretical and empirical analysis of comparable worth in the public sector from the viewpoint of analytical labor economics. The volume concludes with a look at public school teachers' salaries in the context of current debates over improving the quality of American education.

A valuable resource to policymakers, Public Sector Payrolls will be an important addition to research in the field of labor economics.
Table of Contents
Contents
Acknowledgments
1. Overview
David A. Wise
2. Military versus Civilian Pay: A Descriptive Discussion
Douglas W. Phillips and David A. Wise
3. Investing in the Defense Work Force: The Debt and Structure of Military Pensions
Herman B. Leonard
Comment: Harvey S. Rosen
4. Military Hiring and Youth Employment
David T. Ellwood and David A. Wise
5. Uncle Sam Wants You—Sometimes: Military Enlistments and the Youth Labor Market
David T. Ellwood and David A. Wise
6. Military Service and Civilian Earnings of Youths
Jon R. Crane and David A. Wise
Comment: D. Alton Smith
Comment: Charles Brown
7. Wages in the Federal and Private Sectors
Steven F. Venti
Comment: Sharon P. Smith
8. How Do Public Sector Wages and Employment Respond to Economic Conditions?
Richard B. Freeman
Comment: Sam Peltzman
9. Promise Them Anything: The Incentive Structures of Local Public Pension Plans
Howard L. Frant and Herman B. Leonard
Comment: Edward P. Lazear
10. Comparable Worth in the Public Sector
Ronald G. Ehrenberg and Robert S. Smith
Comment: James L. Medoff
11. Academic Ability, Earnings, and the Decision to Become a Teacher: Evidence from the National Longitudinal Study of the High School Class of 1972
Charles F. Manski
Comment: Herman B. Leonard
List of Contributors
Author Index
Subject Index
For more information, or to order this book, please visit https://press.uchicago.edu
Google preview here