---
Pragmatic Liberalism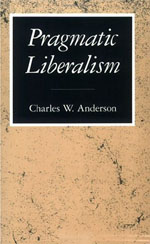 234 pages | 5-1/2 x 8-1/2 | © 1990
Drawing on the legacy of prominent pragmatic philosophers and political economists—C. S. Peirce, William James, John Dewey, Thorstein Veblen, and John R. Commons—Charles W. Anderson creatively brings pragmatism and liberalism together, striving to temper the excesses of both and to fashion a broader vision of the proper domain of political reason.
Contents
Preface
1. Introduction: Practical Political Reason
Part 1: Liberal Principles, the Individual, and the Enterprise
2. Liberal Principles and the Performance of Enterprise
3. The Community of Practice and Inquiry
4. The State and the Performance of the Enterprise
5. The State and the Constitution of the Enterprise
Part 2: A Pragmatic Liberal Political Economy
6. The Management of the Economy
7. Distributive Justice
8. Sustainable Systems
Part 3: A Discipline of Political Judgment
9. The Discovery of Principles
10. Political Deliberation
11. The Liberal Enterprise
12. The Competent Citizen
Notes
Index

International Conference for the Study of Political Thought: Elaine and David Spitz Book Prize
Won

View
Recent Awards
page for more award winning books.
For more information, or to order this book, please visit https://press.uchicago.edu
Google preview here