---
Political Essay on the Island of Cuba
A Critical Edition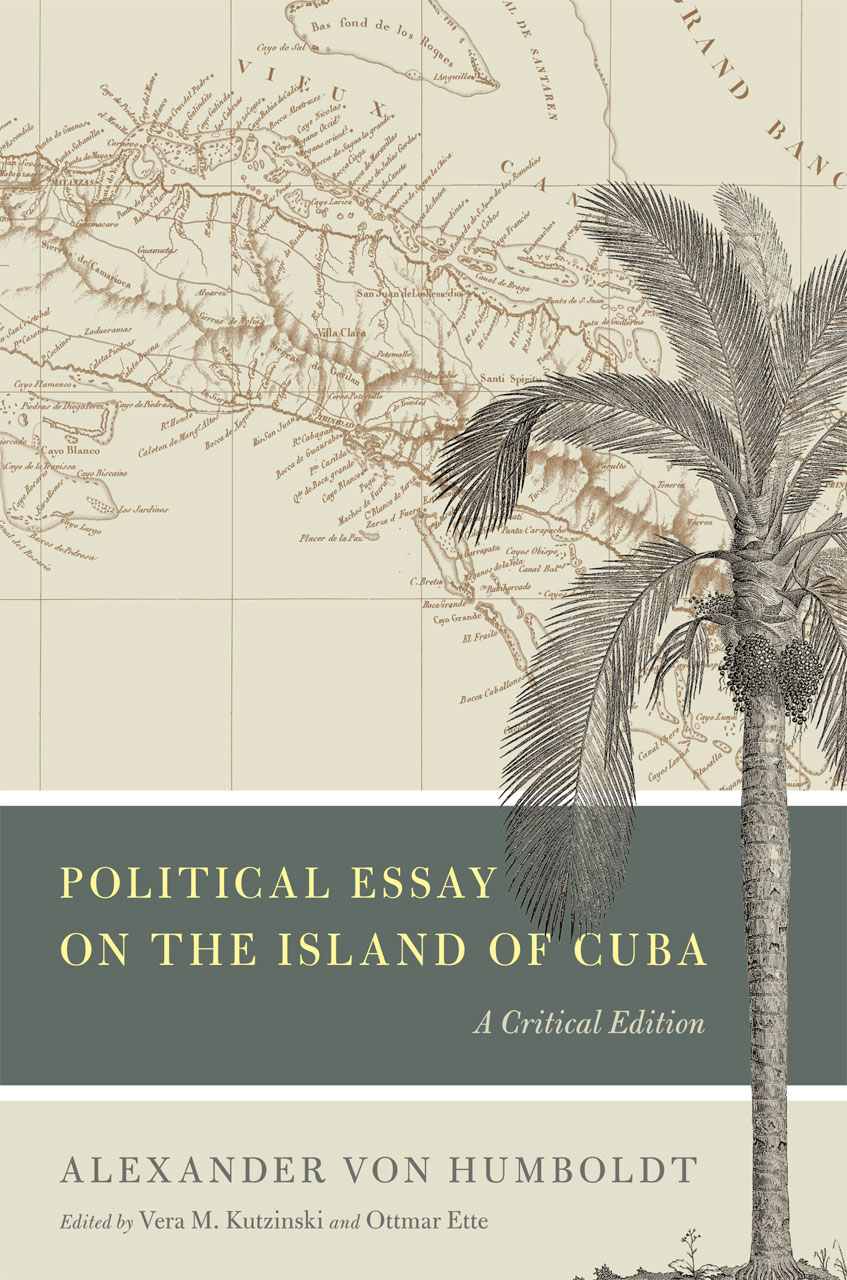 See
a website
for the book series, with additional material.
496 pages | 115 tables | 6 x 9 | © 2010
The research Alexander von Humboldt amassed during his five-year trek through the Americas in the early nineteenth-century proved foundational to the fields of botany, geography, and geology. But his visit to Cuba during this time yielded observations that extended far beyond the natural world. Political Essay on the Island of Cuba is a physical and cultural study of the island nation. In it, Humboldt denounces colonial slavery on both moral and economic grounds and stresses the vital importance of improving intercultural relations throughout the Americas.
Humboldt's most controversial book, Political Essay on the Island of Cuba was banned, censored, and willfully mistranslated to suppress Humboldt's strong antislavery sentiments. It reemerges here, newly translated from the original two volume French edition, to introduce a new generation of readers to Humboldt's astonishing multiplicity of scientific and philosophical perspectives. In their critical introduction, Vera Kutzinski and Ottmar Ette emphasize Humboldt's rare ability to combine scientific rigor with a cosmopolitan consciousness and a deeply felt philosophical humanism. The result is a work on Cuba of historical import that will attract historians of science as well as cultural historians, political scientists, and literary scholars.
Table of Contents
Contents
1.Inventories and Inventions: Alexander von Humboldt's Cuban Landscapes. 
An Introduction by Vera M. Kutzinski and Ottmar Ette

2. Note on the Text     

3. Political Essay on the Island of Cuba

4. Annotations

5. Alexander von Humboldt's Library

6. Chronology

7. Editorial Note

8. List of Contributors
Name and Subject Index
Toponym Index
Review Quotes
L. Yachner | Choice
"This latest translation by Kutzinski and Ette brings Humboldt, the man, to a new level of understanding. The authors show Humboldt as a humanist who shows emotions and display strong opinions about certain issues of social importance, such as his disdain for slavery. Furthermore, Humboldt dared to contradict the publications of many of his predecessors and contemporaries who wrote without ever setting foot in the New World. It is precisely this aspect that makes the book a valuable addition to the literature. . . .Highly recommended."
Anke Birkenmaier | Review: Literature and Arts of the Americas
"Alexander von Humboldt's Political Essay on the Island of Cuba is one of the most important nineteenth-century travelogues of Latin America that we possess today. . . . [T]his critical edition is an impressive feat and one can look forward to the continuation of the 'Alexander von Humboldt in English' project, of which this is the first publication."
Innes M. Keighren | H-Net
"[A] wonderfully useful resource and one that helps to elucidate the intellectual networks of which Humboldt was part . . . . [T]his book provides a model for the critical transition of historical texts and, in its detailed and thoughtful preparation, constitutes a valuable resource for those interested in the history of geography, science, economics, and politics."
Alison E. Martin, University of Reading | British Journal for the History of Science
"Kutzinski and Ette's edition of the Political Essay on the Island of Cuba should be understood as a retranslation that will swiftly acquire canonical status and make a seminal contribution to the continuously evolving history of Humboldt's work in the Anglophone world."
Gera Burton, University of Missouri | Studies in Travel Writing
"Political Essay on the Island of Cuba presents an in-depth examination of the island by one of the greatest thinkers and humanists of the era. . . . What emerges in this important edition is Humboldt's clear narrative voice—drowned out in previous English translations—with a distinct sense of the Prussian's intellectual and emotional energy to provide a global perspective on historical events. The translators succeed in the formidable task of rendering a highly engaging English text while preserving French cadences at one remove from Humboldt's native German. The result represents a significant addition to historiography, complementing the numerous extant biographies of Humboldt. The editors have produced an immensely readable and stimulating narrative that will prove to be an invaluable resource for future research."
Bulletin of Latin American Research
"Brilliant and meticulous."
James Dukerley, Queen Mary, University of London | Latin American Studies
"Superbly edited. . . . Kutzinski and Ette are distinguished experts on Humboldt."
Laura Dassow Walls, University of South Carolina
"Previous translations of this book, Humboldt's pivotal work on the Americas, have tamed his prose or even twisted his views. To read what Humboldt actually wrote, in this scrupulous, clear, and modern translation, is to embark on a truly encyclopedic adventure in history. This is more than an exploration of Cuba on the brink of modernity: Humboldt enacts a profoundly new paradigm of making knowledge, in which facts emerge from a welter of global and interdisciplinary interconnections. This primary and foundational work, a landmark of physical and cultural geography that includes one of the era's most important denunciations of slavery, in one stroke reorients the study of the Americas and reinvents the making of knowledge, a way that just might be equal to the dire challenges of the twenty-first century."
Roberto González Echevarría, Yale University
"Vera Kutzinski and Ottmar Ette's critical edition of the Political Essay on the Island of Cuba is a major contribution to the many disciplines through which von Humboldt moved—anthropology, geography, history, mineralogy, political science, meteorology, etc.—and evidence that he was a true savant with the eye of a scientist and the soul of an artist. As a book on Cuba, the Political Essay is as important as those by Fernando Ortiz, Manuel Moreno Fraginals, Alejo Carpentier, and José Lezama Lima. I wish there were as good an edition of it in Spanish."
Neil Safier, University of British Columbia
"A monumental essay with a colorful textual and editorial history. Cuba played a central role in Humboldt's travels to the Americas and represents a significant, if often underrepresented, stage in the development of his thinking about the social and scientific nature of the New World. The Political Essay is a fascinating document that will find an appreciative audience in those with an interest in the history of Cuba, the Caribbean, and the comparative history of slavery throughout the Atlantic World."
Peter Hulme, University of Essex
"It is astounding that a work of such importance as Humboldt's Political Essay on the Island of Cuba, written nearly two centuries ago, should have remained so long without a full and reliable translation into English. That we now have such a translation, in a superb critical edition, is something for which scholars of Cuba in particular, and America in general, will be truly grateful. That this is only the first of a series of new translations by the Alexander von Humboldt in English Project is even better news."
For more information, or to order this book, please visit https://press.uchicago.edu
Google preview here