---
Old Thiess, a Livonian Werewolf
A Classic Case in Comparative Perspective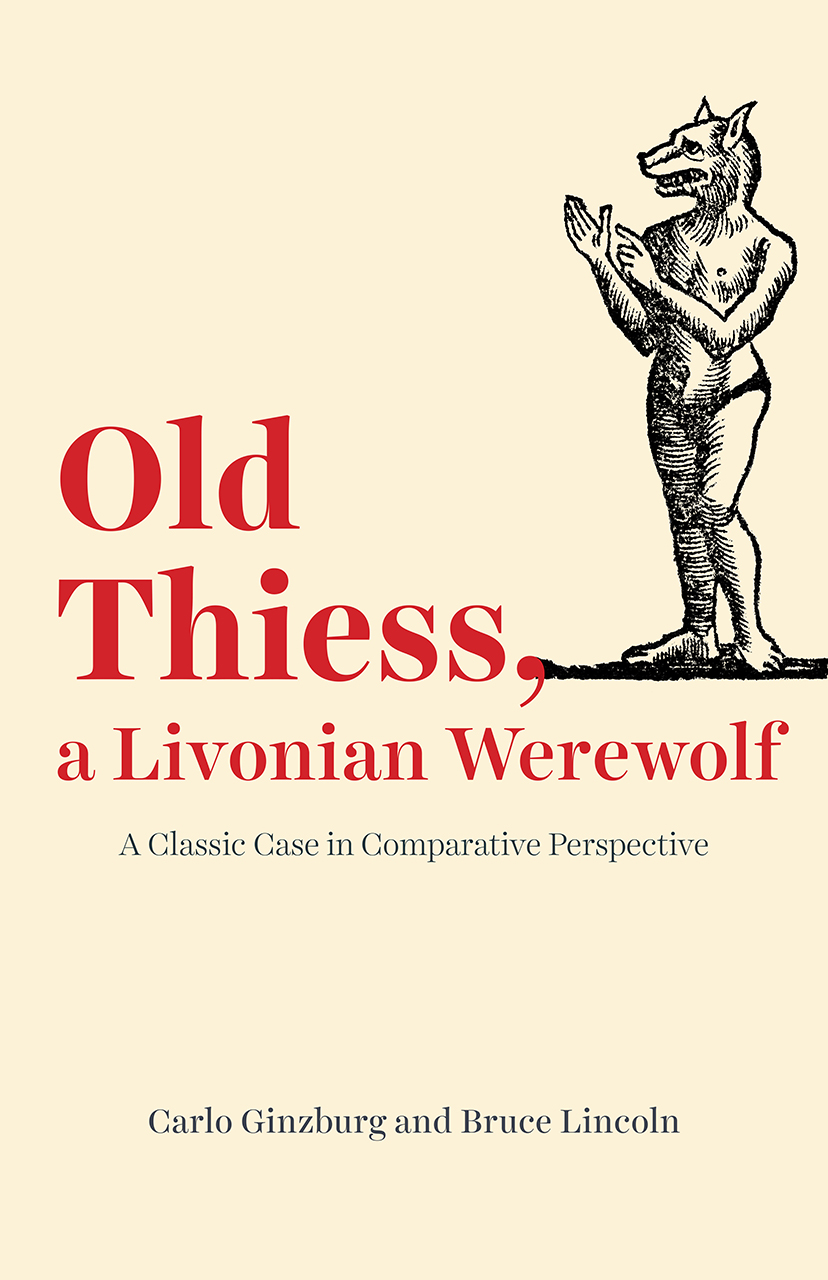 272 pages | 12 halftones, 3 tables | 5-1/2 x 8-1/2 | © 2020
In 1691, a Livonian peasant known as Old Thiess boldly announced before a district court that he was a werewolf. Yet far from being a diabolical monster, he insisted, he was one of the "hounds of God," fierce guardians who battled sorcerers, witches, and even Satan to protect the fields, flocks, and humanity—a baffling claim that attracted the notice of the judges then and still commands attention from historians today.

In this book, eminent scholars Carlo Ginzburg and Bruce Lincoln offer a uniquely comparative look at the trial and startling testimony of Old Thiess. They present the first English translation of the trial transcript, in which the man's own voice can be heard, before turning to subsequent analyses of the event, which range from efforts to connect Old Thiess to shamanistic practices to the argument that he was reacting against cruel stereotypes of the "Livonian werewolf" a Germanic elite used to justify their rule over the Baltic peasantry. As Ginzburg and Lincoln debate their own and others' perspectives, they also reflect on broader issues of historical theory, method, and politics. Part source text of the trial, part discussion of historians' thoughts on the case, and part dialogue over the merits and perils of their different methodological approaches, Old Thiess, a Livonian Werewolf opens up fresh insight into a remarkable historical occurrence and, through it, the very discipline of history itself.
Table of Contents
Contents
Introduction
Bruce Lincoln
Introduction, a Postscript
Carlo Ginzburg
1. The Trial
Transcript from the Hearings at the Provincial Court of Venden (April 28, 1691)  
The Verdict Pronounced by the High Court of Dorpat [Tartu] (October 31, 1692) 
2. Comparison of Old Thiess to Germanic Cult Groups, Folklore, and Persephone Myths 
Otto Höfler; translated by Bruce Lincoln
3. Comparison of Old Thiess to Friulian
Benandanti
, Russian Werewolves, and Shamanic Others
Carlo Ginzburg
From The Night Battles: Witchcraft and Agrarian Cults in the Sixteenth and Seventeenth Centuries (1980)                                                                                                             
From "Germanic Mythology and Nazism: Thoughts on an Old Book by Georges Dumézil," in Clues, Myths, and the Historical Method (1989)                                                     
"Freud, the Wolf-Man, and the Werewolves," in Clues, Myths, and the Historical Method (1989)
From Ecstasies: Deciphering the Witches' Sabbath (1989)
4. Comparison of Old Thiess to Learned Descriptions and Stereotypes of Livonian Werewolves and to the
Benandanti
: A Seventeenth-Century Werewolf and the Drama of Religious Resistance     
Bruce Lincoln
5. Ginzburg Responds to Lincoln: Conjunctive Anomalies—A Reflection on Werewolves
6. Lincoln Responds to Ginzburg: Letter of February 8, 2017
7. The Case of Old Thiess: A Comparative Perspective
A Conversation: Saturday, September 30, 2017
The Conversation Continues: Monday, October 2, 2017
 
Appendix A: Commonalities between Thiess's Testimony and Descriptions of Livonian Werewolves in Learned Literature

Appendix B: A Livonian Narrative Featuring the Opposition of Werewolves and Witches

Acknowledgments
Notes                                                                                                      
Suggestions for Further Reading
Index
Review Quotes
Harper's
"Witch hunts have always been a tool of those in power. As such, they shed light, primarily, on the needs of the ruling classes. Court proceedings on witchcraft and other devilry, however colorful, rarely tell us much about the accused, even when they show defendants prevailed upon to confess (an admission under duress, after all, generally sticks to the required script). Now, with Ginzburg and Lincoln's Old Thiess, a Livonian Werewolf, a glorious corrective has arrived: the full testimony, translated for the first time, of a loud, proud, self-described werewolf."
Times Literary Supplement
"As an exercise in historiographical debate and reflection this volume is really quite brilliant.. . . Yet what makes their dialogue particularly fruitful is the fact that Ginzburg and Lincoln represent, in almost ideal form, the two responses open to historians confronting something completely alien. Do we embrace the unexpected and attempt to understand it on its own terms? Or do we, following in the judges' footsteps, attempt to integrate it within our understanding of what is possible?"
Public Books
"The result of their collaborative effort is a rare thing, a joyous academic book."
Journal of the American Academy of Religion
"[Ginzburg and Lincoln] are historians at the top of their game. . . . [Old Thiess, a Livonian Werewolf is] fun to read and richly generative."
Fortean Times
"Prof Lincoln has collected all of Ginzburg's fragments on the Livonian werewolf; he has also incorporated his own publications on Thiess, a translation (from German into English) of the original trial transcript, and other writings including two discussions between Ginzburg and Lincoln."
Stefan Donecker, Institute for Medieval Research of the Austrian Academy of Sciences
"This thought-provoking piece of scholarship offers unique insights on the methods employed by two well-known and extraordinarily learned scholars as they address the most wonderful werewolf of history. Since there has not yet been a monograph on the Thiess trial, this book fills a need, and its excellent English translation of the trial protocol has been long overdue."
Phillip A. Bernhardt-House, author of Werewolves, Magical Hounds, and Dog-Headed Men in Celtic Literature
"Ginzburg and Lincoln provide three essential services to those interested in this trial, werewolf scholarship in general, or the wider project of myth and ritual in comparative perspectives: a full translation of the trial documents, excerpts from historically significant secondary scholarship, and a conversation between the two authors on the merits and perils of different methodologies of interpretive approach. These components work together in providing a full picture of the Thiess trial, and both authors are at the top of their respective games as they delve into a conversation on how individual scholars make interpretive choices."
For more information, or to order this book, please visit https://press.uchicago.edu
Google preview here