---
Market Day in Provence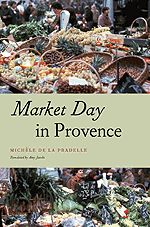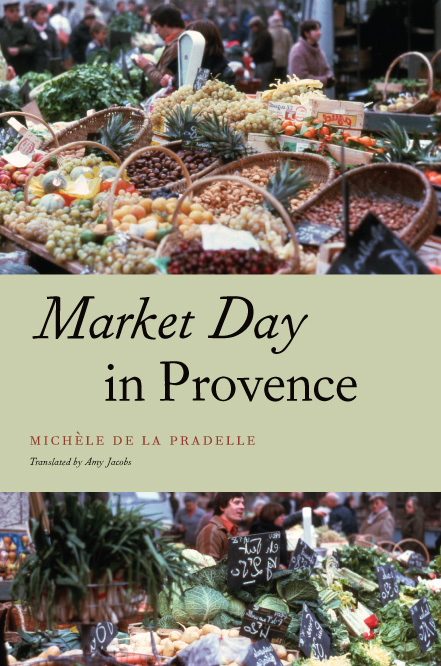 264 pages | 12 halftones, 2 maps | 6 x 9 | © 2006
At farmers' markets, we expect to see fruit bursting with juicy sweetness and vegetables greener than a golf course. For Michèle de La Pradelle these expectations are mostly the result of a show performed by merchants and sustained by our propensity to see what we want to see there. Hailed upon its release in France, the award-winning Market Day in Provence lays bare the mechanisms of the contemporary outdoor market by providing a definitive account of the centuries-old institution at Carpentras, a city near Avignon in the south of France famous for its quintessential public street market.

The renewal and celebration of the outdoor market culture in recent years, argues de La Pradelle, artfully masks a fierce commitment to modern-day free-market economics. Responding to consumer desire for an experience that recalls a time before impersonal supermarket chains and mass-produced products, buyers and sellers alike create an atmosphere built on various fictions. Vendors at the market at Carpentras, for example, oblige patrons by acting like lifelong acquaintances of those whom they've only just met as they dispense free samples and lively, witty banter. Likewise, going to the market to look for "freshness" becomes a way for the consumer to signify the product's relation to nature—a denial of the workaday reality of growing melons under plastic sheets, then machine-sorting, crating, and transporting them.
Offering captivating descriptions of goods and the friendly and occasionally piquant exchanges between buyers and sellers, Market Day in Provence will be devoured by any reader with an interest in areas as diverse as food, ethnography, globalization, modernity, and French culture.
 

 

Table of Contents
Contents
Foreword to the American Edition, by Jack Katz
Introduction

Part I - The Market Stage
Chapter 1 City Tour
Chapter 2 Well-Ordered Chaos

Part II - An Economy of Enticement
Chapter 3 The Art of Taking One's Time
Chapter 4 Familiar Strangers
Chapter 5 Delights of Free Trade

Part III - Commerce of the Imaginary
Chapter 6 "The customer doesn't go by price here"
Chapter 7 "Pumpkins are rounder at the market"
Chapter 8 "Let me have some pâté, but your pâté"
Chapter 9 "I sell Provence"
Chapter 10 Ordinary Authenticity
Chapter 11 The Truffle Circle

Part IV - Pleasure of the Agora
Chapter 12 Equality of Opportunity
Chapter 13 All at the Market, All in the Same Boat
Chapter 14 In Full View
Chapter 15 Generalized Friendship

Part V - Identity on Offer
Chapter 16 "Do you still make those little caillettes of yours?"
Chapter 17 In the Forebears' Footsteps

Conclusion: A Moment of Utopia
Notes
Index

Review Quotes
Pierre Bourdieu | Liber
"A detailed, rigorous, and vivid ethnographical description of exchange in the marketplace."
Pierre Vallin | Etude
"Michèle de La Pradelle paints an extraordinary tableau of Comtadine life with a sense of all its particularities, making her book a fascinating read for those curious about southern regionalism. The book is written with the true literary qualities of color and precision."
Andre Burguire | Le Nouvel Observateur
William Grimes | New York Times
"In Market Day in Provence, the essence of the market-day experience is a jovial back-and-forth between buyer and seller in which class boundaries are suspended and the normal rules of etiquette do not apply. The man offering his farmhouse cheeses is entitled to chaff and tease. The customer is free to poke and squeeze and fondle the merchandise, unthinkable behavior in a shop. It's all deliciously rural and traditional, and, Ms. de La Pradelle takes great pains to demonstrate, as phony as it can possibly be. . . . She goes about her demolition work, with great good humor."
Sarah Howard | Times Literary Supplement
"In this vivid and highly perceptive ethnographical study, which was first published in French as Les Vendredis de Carpentras in 1996, the late Michèle de La Pradelle analyses the traditional marché forain, a traveling stallholder market, using Carpentras, one of France's oldest and most celebrated markets, as a model. . . . While de la Pradelle's observations uncover illusions of the street market, one suspects that she too has fallen under its spell. In her Carpentras, the sun always shines, the locals are unremittingly friendly, and the latent religious and racial tensions that have characterized this city in recent years are only hinted at. Yet the brilliance of Market Day in Provence lies precisely in the fact that, however much Michèle de La Pradelle demystifies the object of her study, she remains loyal to its magic. Her evocative descriptions of this colourful theatre of fantasy will delight anyone who has ever wondered why the lettuces look crispier, the tomatoes redder and the oranges more juicy at the market."
Zilkia Janer | Gastronomica
"Provocative, insightful, and well-researched. . . . Aside from gaining a thorough knowledge of what makes street markets work in an economy that does not need them, readers can almost feel as though they have been in to the Carpentras market and chatted with some of its most representative characters."
Gary Alan Fine | American Journal of Sociology
"Exemplary ethnography, and de La Pradelle is prescient in emphasizing that meaning is place based, firmly linked to locality and microcultures."
Jeremy MacClancey | Journal of the Royal Anthropological Institute
"A magisterial study into the complexity of the commonplace. . . . [The] text is exemplary, written in a scholarly but delightful style which refuses to take Anthrospeak seriously."
For more information, or to order this book, please visit https://press.uchicago.edu
Google preview here