---
Mother of Writing
The Origin and Development of a Hmong Messianic Script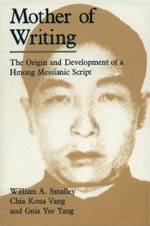 Mitt Moua, Project Translator
229 pages | 8 halftones, 2 line drawings | 6 x 9 | © 1990
In February of 1971, in the Laotian village of Nam Chia, a forty-one year old farmer named Shong Lue Yang was assassinated by government soldiers. Shong Lue claimed to have been descended of God and given the mission of delivering the first true Hmong alphabet. Many believed him to be the Hmong people's long-awaited messiah, and his thousands of followers knew him as "Mother (Source) of Writing."

An anthropological linguist who has worked among the Hmong, William A. Smalley joins Shong Lue's chief disciple, Chia Koua Vang, and one of his associates, to tell the fascinating story of how the previously unschooled farmer developed his remarkable writing system through four stages of increasing sophistication. The uniqueness of Shong Lue's achievement is highlighted by a comparison of Shong Lue's writing system to other known Hmong systems and to the history of writing as a whole.

In addition to a nontechnical linguistic analysis of the script and a survey of its current use, Mother of Writing provides an intriguing cultural account of Shong Lue's life. The book traces the twenty-year-long struggle to disseminate the script after Shong Lue's death, first by handwriting, then by primitive moveable type, an abortive attempt to design a wooden typewriter, and finally by modern wordprocessing. In a moving concluding chapter, Smalley discusses his own complex feelings about his coauthors' story.

Table of Contents
Contents
Tables
Illustrations
Acknowledgments
Introduction: Background for the Alphabet
1. How the Alphabet Began: A Believer's Perspective
2. Spread of the Alphabet
3. The Sounds of Hmong
4. The Writing System
5. Evolution of the Writing System
6. Punctuation, Numerals and Other Symbols
7. How Did Shong Lue Yang Do It?
8. From Handwriting to Wordprocessing
9. Contemporary Use of the Alphabet
10. The Alphabet in History
11. Other Hmong Writing Systems
12. Other Views on "Mother of Writing"
Chronology
Appendix. Hmong Individuals Mentioned in This Book
Notes
References
Index

For more information, or to order this book, please visit https://press.uchicago.edu
Google preview here