---
Manuel de Falla and Modernism in Spain, 1898-1936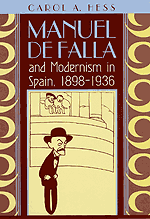 344 pages | 8 halftones, 21 musical examples, 8 tables | 6 x 9 | © 2001
Although studies of Modernism have focused largely on European nations, Spain has been conspicuously neglected. As Carol A. Hess argues in this compelling book, such neglect is wholly undeserved. Through composer Manuel de Falla (1876-1946), Hess explores the advent of Modernism in Spain in relation to political and cultural tensions prior to the Spanish Civil War. The result is a fresh view of the musical life of Spain that departs from traditional approaches to the subject and reveals an open and constantly evolving aesthetic climate.

Contents
List of Illustrations
Acknowledgments
1. Introduction
Falla and Constructions of Spanish Music
The Issues
2. Spanish Music between 1898 and the Great War
Falla in Madrid, 1898-1907
Falla in France, 1907-14
3. The Great War and the Ideology of Neoclassicism in Spain
Competing "Obsessions": Andalucismo and the Modern French School
Taking Sides: Falla as Aliadófilo
Debussy in Spain
4. The Aesthetics of Españolismo and Diaghilev's Reading of Spain: The Evolution of The Three-Cornered Hat
El corregidor y la molinera
From Pantomime to Ballet: A New Reading of Spain
5. The Three-Cornered Hat and Its Spanish Critics
Españolismo and the Black Legend
The "Rebellion of Reality" and Dehumanized Art
"Melancholy, Humble Voices" and the Aesthetic of Manuel Azaña
6. Stravinsky in Spain, 1921-25
Spain, Russia, and the "East"
Retreat from the "East": Pulcinella, the Past, and a New Nationalism
7. El retablo de Maese Pedro: Falla's Reading of the Quijote
Slapstick and Sublime Madness
Quijotismo and Falla's El retablo
8. Universalism and Spanish Religious Identity: Falla's Harpsichord Concerto
Toward the Tradition of Victoria and Cabezón
The Death of "Guilty Sensuality": Falla's Harpsichord Concerto and Spanish Mysticism
9. At the Height of the Silver Age
Literary Currents, Youth, and Utopian Universalism
Falla in Republican Spain: "Pure Ideals", Error, and the "Brutal Magic" of Revolutions
Appendix 1. Chronology of Spanish History, 1874-1975
Appendix 2. General-Readership Publications with Regular Reporting on Music in Pre-Civil War Spain, Madrid and Barcelona, Eighteenth through Twentieth Centuries
Appendix 3. The Musical Press, Madrid and Barcelona, 1850-1940
Appendix 4. Theatrical Collaborations between Falla and the Martinez Sierras
Appendix 5. The Ballets Russes in Spain during World War I
Appendix 6. Stravinsky's Visits to Spain, 1916-36: Performances and Repertory
Appendix 7. Representative Early Performances of El retablo de Maese Pedro
Appendix 8. Musical Realizations of the Quijote, Eighteenth through Twentieth Centuries
Bibliography
Credits
Index


Amer Soc Composers/Authors/Publishers: Deems Taylor Award
Won

Dedalus Foundation: Robert Motherwell Book Award
Honorable Mention

Royal Philharmonic Society: Royal Philharmonic Society Music Awards
Short Listed

View
Recent Awards
page for more award winning books.
For more information, or to order this book, please visit https://press.uchicago.edu
Google preview here