---
Moral Politics
How Liberals and Conservatives Think, Third Edition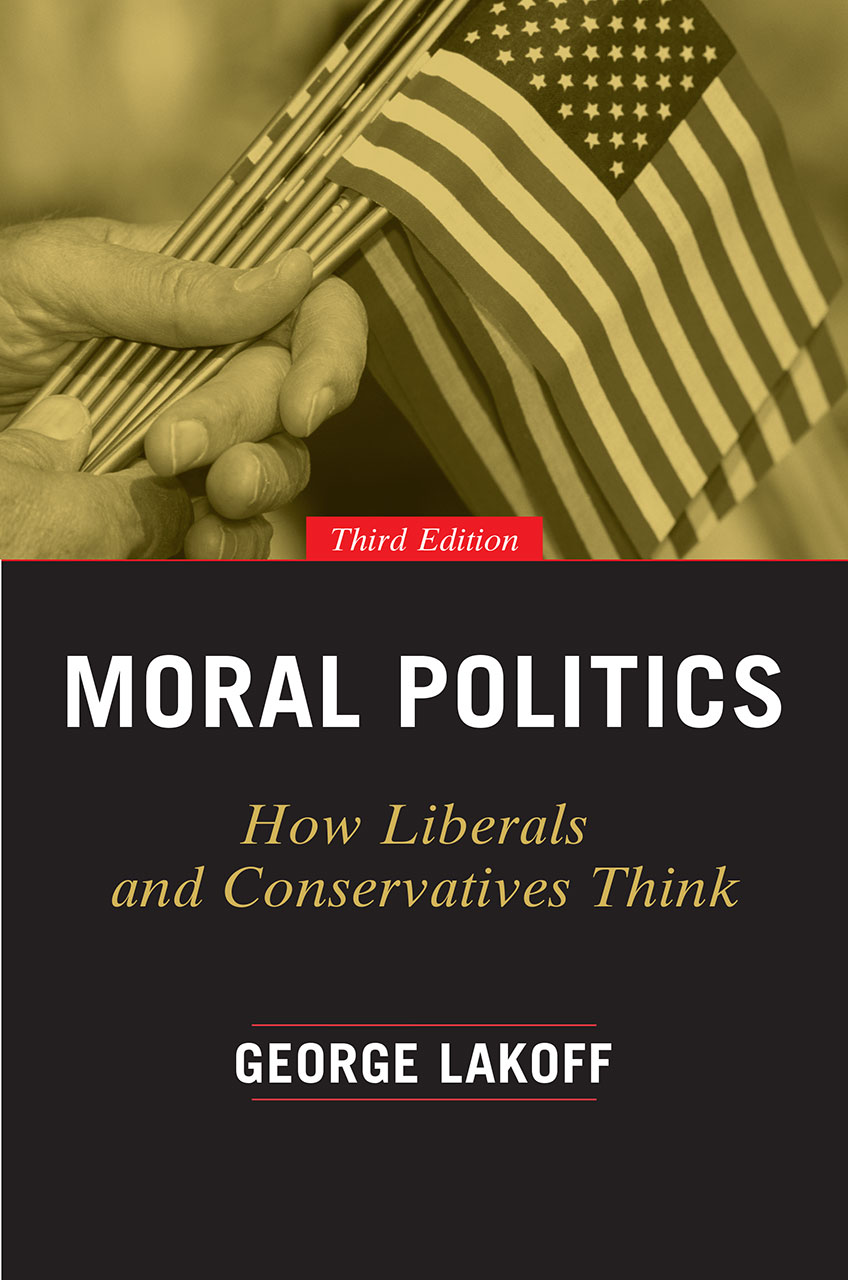 512 pages | 5 1/2 x 8 1/2 | © 2016
When Moral Politics was first published two decades ago, it redefined how Americans think and talk about politics through the lens of cognitive political psychology. Today, George Lakoff's classic text has become all the more relevant, as liberals and conservatives have come to hold even more vigorously opposed views of the world, with the underlying assumptions of their respective worldviews at the level of basic morality. Even more so than when Lakoff wrote, liberals and conservatives simply have very different, deeply held beliefs about what is right and wrong.

Lakoff reveals radically different but remarkably consistent conceptions of morality on both the left and right. Moral worldviews, like most deep ways of understanding the world, are unconscious—part of our "hard-wired" brain circuitry. When confronted with facts that don't fit our moral worldview, our brains work automatically and unconsciously to ignore or reject these facts, and it takes extraordinary openness and awareness of this phenomenon to pay critical attention to the vast number of facts we are presented with each day. For this new edition, Lakoff has added a new preface and afterword, extending his observations to major ideological conflicts since the book's original publication, from the Affordable Care Act to the wars in Iraq and Afghanistan, the recent financial crisis, and the effects of global warming. One might have hoped such massive changes would bring people together, but the reverse has actually happened; the divide between liberals and conservatives has become stronger and more virulent.

To have any hope of bringing mutual respect to the current social and political divide, we need to clearly understand the problem and make it part of our contemporary public discourse. Moral Politics offers a much-needed wake-up call to both the left and the right.
 
Table of Contents
Contents
Preface to the Third Edition
Acknowledgments
Part I: Introduction
1 The Mind and Politics
2 The Worldview Problem for American Politics
Part II: Moral Conceptual Systems
3 Experiential Morality
4 Keeping the Moral Books
5 Strict Father Morality
6 Nurturant Parent Morality
Part III: From Family-Based Morality to Politics
7 Why We Need a New Understanding of American Politics
8 The Nature of the Model
9 Moral Categories in Politics
Part IV: The Hard Issues
10 Social Programs and Taxes
11 Crime and the Death Penalty
12 Regulation and the Environment
13 The Culture Wars: From Affirmative Action to the Arts
14 Two Models of Christianity
15 Abortion
16 How Can You Love Your Country and Hate Your Government?
Part V: Summing Up
17 Varieties of Liberals and Conservatives
18 Pathologies, Stereotypes, and Distortions
19 Can There Be a Politics without Family Values?
Part VI: Who's Right? And How Can You Tell?
20 Nonideological Reasons for Being a Liberal
21 Raising Real Children
22 The Human Mind
23 Basic Humanity  
Epilogue: Problems for Public Discourse
Afterword, 2002
Afterword, 2016
References
Index
Review Quotes
San Francisco Chronicle, praise for the previous editions
"[Moral Politics] isn't just an 'issue-by-issue debate.' . . . [It is an] unusual mix of judicious scholarship, tendentious journalism, and inflammatory wake-up call."
Christian Science Monitor, praise for the previous editions
"Lakoff, the cognitive linguist, understands 'how' you understand . In Moral Politics, [he] deftly applies that seemingly arcane understanding to the heart of American politics. . . . Even those who disagree with him will profit deeply from encountering his challenging ideas."
For more information, or to order this book, please visit https://press.uchicago.edu
Google preview here