---
Lives on the Edge
Single Mothers and Their Children in the Other America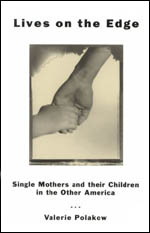 232 pages | 1 table | 6 x 9 | © 1993
One out of five children, and one out of two single mothers, lives in destitution in America today. The feminization and "infantilization" of poverty have made the United States one of the most dangerous democracies for poor mothers and their children to inhabit. Why then, Valerie Polakow asks, is poverty seen as a private issue, and how can public policy fail to take responsibility for the consequences of our politics of distribution? Written by a committed child advocate, Lives on the Edge draws on social, historical, feminist, and public policy perspectives to develop an informed, wide-ranging critique of American educational and social policy. Stark, penetrating, and unflinching in its first-hand portraits of single mothers in America today, this work challenges basic myths about justice and democracy.
Contents
Acknowledgments
Introduction
1: Childhood Revisited
2: Motherhood and the Ideology of Care
3: The Other Motherhood: The Landscape of Single Mothers in Poverty
4: Young Mothers' Stories: Being Teenage, Black, and Single
5: Mothers' Stories: Contingency Continued
6: Inside Public Preschools: A View from Below
7: The Classroom Worlds of At-Risk Children: Five Portraits
8: Poor Children's Pedagogy: The Construction of At-Risk Students
9: Lives on the Edge
Afterword: Some Reflections on the Future
Appendix: Some Notes on Method
Notes
Index
Kappa Delta Pi: Kappa Delta Pi Distinguished Book-of-the-Year Award
Won

View
Recent Awards
page for more award winning books.
For more information, or to order this book, please visit https://press.uchicago.edu
Google preview here