---
A Land of Two Peoples
Martin Buber on Jews and Arabs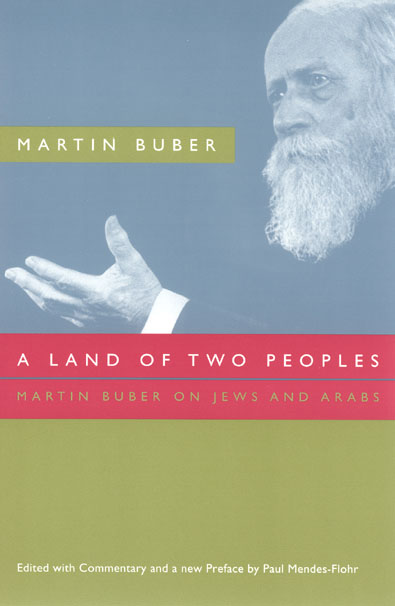 The
preface
to the new edition, on the website of the Marty Center. (PDF format)
342 pages | 5 1/2 x 8 1/2 | © 1983, 2005
Theologian, philosopher, and political radical, Martin Buber (1878–1965) was actively committed to a fundamental economic and political reconstruction of society as well as the pursuit of international peace. In his voluminous writings on Arab-Jewish relations in Palestine, Buber united his religious and philosophical teachings with his politics, which he felt were essential to a life of public dialogue and service to God.

Collected in ALand of Two Peoples are the private and open letters, addresses, and essays in which Buber advocated binationalism as a solution to the conflict in the Middle East. A committed Zionist, Buber steadfastly articulated the moral necessity for reconciliation and accommodation between the Arabs and Jews. From the Balfour Declaration of November 1917 to his death in 1965, he campaigned passionately for a "one state solution.

With the Middle East embroiled in religious and ethnic chaos, A Land of Two Peoples remains as relevant today as it was when it was first published more than twenty years ago. This timely reprint, which includes a new preface by Paul Mendes-Flohr, offers context and depth to current affairs and will be welcomed by those interested in Middle Eastern studies and political theory.

Table of Contents
Contents
Preface
Acknowledgments
Introduction
1. A State of Cannons, Flags, and Military Decorations?
(February 1918)
2. Toward the Decision
(March 1919)
3. At This Late Hour
(April 1920)
4. Nationalism
(September 1921)
5. A Proposed Resolution on the Arab Question
(September 1921)
6. Resolution on the Arab Question of the Twelfth Zionist Congress
(September 1921)
7. Notes from the Congress Concerning Zionist Policy
(October 1921)
8. Sidelights
(April 1922)
9. Responsa on Zionist Policy
(September 1922)
10. Brith Shalom
(1925)
11. Soul-Searching
(April 1926)
12. No More Declarations
(August 1929)
13. The National Home and National Policy in Palestine
(October 1929)
14. The Wailing Wall
(October 1929)
15. Hans Kohn: "Zionism Is Not Judaism"
(November 1929)
16. And If Not Now, When?
(July 1932)
17. Mohandas K. Gandhi: The Jews
(November 1938)
18. A Letter to Gandhi
(February 1939)
19. Keep Faith!
(July 1938)
20. Our Pseudo-Samsons
(June 1939)
21. And Today?
(March 1939)
22. Concerning Our Politics
(August 1939)
23. False Prophets
(Spring 1940)
24. Let Us Avoid Provocations!
(3 March 1940)
25. The Ichud
(September 1942)
26. In the Days of Silence
(1943)
27. Do Not Believe It!
(June 1944)
28. Nathan Rotenstreich: I Believed—Too Hastily?
(August 1944)
29. An Additional Clarification: A Reply to Nathan Rotenstreich
(August 1944)
30. Dialogue on the Biltmore Program
(October 1944)
31. A Majority or Many? A Postscript to a Speech
(May 1944)
32. Politics and Morality
(April 1945)
33. Our Reply
(September 1945)
34. The Meaning of Zionism
(March 1946)
35. A Tragic Conflict?
(May 1946)
36. It Is Not Sufficient!
(July 1946)
37. A Plea for Clemency
(August 1946)
38. Two Peoples in Palestine
(June 1947)
39. Can the Deadlock Be Broken?
(July 1947)
40. The Bi-National Approach to Zionism
(1947)
41. Let Us Not Allow the Rabble To Rule Us!
(January 1948)
42. A Fundamental Error Which Must Be Corrected
(April 1948)
43. Zionism and "Zionism"
(May 1948)
44. On the Assassination of Count Bernadotte
(September 1948)
45. Let Us Make an End to Falsities!
(October 1948)
46. Gideon Freudenberg: War and Peace. An Open Letter to Martin Buber
(December 1948)
47. Facts and Demands: A Reply to Gideon Freudenberg
(circa January 1949)
48. On the Moral Character of the State of Israel: A Debate with David Ben-Gurion
(March 1949)
49. Should the Ichud Accept the Decree of History?
(Spring 1949)
50. The Children of Amos
(April 1949)
51. "Preface" to a Projected Volume on Arab-Jewish Rapprochement
(circa 1950)
52. A Protest Against Expropriation of Arab Lands
(March 1953)
53. We Need the Arabs, They Need Us!
(January 1954)
54. Instead of Polemics
(November 1956)
55. An Outrage
(November 1956)
56. Socialism and Peace
(1956)
57. Active Neutralism
(October 1957)
58. Letters from Arabs to Buber
(1958-1965)
59. Memorandum on the Military Government
(February 1958)
60. Israel and the Command of the Spirit
(April 1958)
61. Letter to Ben-Gurion on the Arab Refugees
(October 1961)
62. Ben-Gurion and Israel's Arabs
(January 1962)
63. We Must Grant the Arabs Truly Equal Rights
(January 1962)
64. On the Development of the Galilee: An Exchange between Buber and Levi Eshkol
(October 1964)
65. The Time To Try
(February 1965)
Sources
Index
Buber's Legacy: 1993
For more information, or to order this book, please visit https://press.uchicago.edu
Google preview here