---
Jammin' at the Margins
Jazz and the American Cinema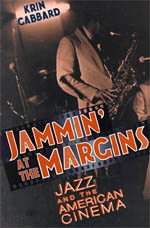 357 pages | 20 halftones | 6 x 9 | © 1996
American cinema has long been fascinated by jazz and jazz musicians. Yet most jazz films aren't really about jazz. Rather, as Krin Gabbard shows, they create images of racial and sexual identity, many of which have become inseparable from popular notions of the music itself. In Jammin' at the Margins, Gabbard scrutinizes these films, exploring the fundamental obsessions that American culture has brought to jazz in the cinema.

Gabbard's close look at jazz film biographies, from The Jazz Singer to Bird, reveals Hollywood's reluctance to acknowledge black subjectivity. Black and even white jazz artists have become vehicles for familiar Hollywood conceptions of race, gender, and sexuality. Even Scorsese's New York, New York and Spike Lee's Mo' Better Blues have failed to disentangle themselves from entrenched stereotypes and conventions.

Gabbard also examines Hollywood's confrontation with jazz as an elite art form, and the role of the jazz trumpet as a crucial signifier of masculinity. Finally, he considers the acting careers of Louis Armstrong, Nat King Cole, and Hoagy Carmichael; Duke Ellington's extraordinary work in films from 1929 until the late 1960s; and the forgotten career of Kay Kyser, star of nine Hollywood films and leader of a popular swing band.

This insightful look at the marriage of jazz and film is a major contribution to film, jazz, and cultural studies.

Contents
Preface
Introduction : Whose Jazz, Whose Cinema?
1: The Ethnic Oedipus: The Jazz Singer and Its Remakes
2: Black and Tan Fantasies: The Jazz Biopic
3: Jazz Becomes Art
4: Signifyin(g) the Phallus: Representations of the Jazz Trumpet
5: Duke's Place: Visualizing a Jazz Composer
6: "Actor and Musician": Louis Armstrong and His Films
7: Nat King Cole, Hoagy Carmichael, and the Fate of the Jazz Actor
Conclusion: New York, New York and Short Cuts
Notes
Bibliography
Index
Association for Recorded Sound Collections: Association for Recorded Sound Collections Award for Excellence
Shortlist

View
Recent Awards
page for more award winning books.
For more information, or to order this book, please visit https://press.uchicago.edu
Google preview here