---
Intimate Disconnections
Divorce and the Romance of Independence in Contemporary Japan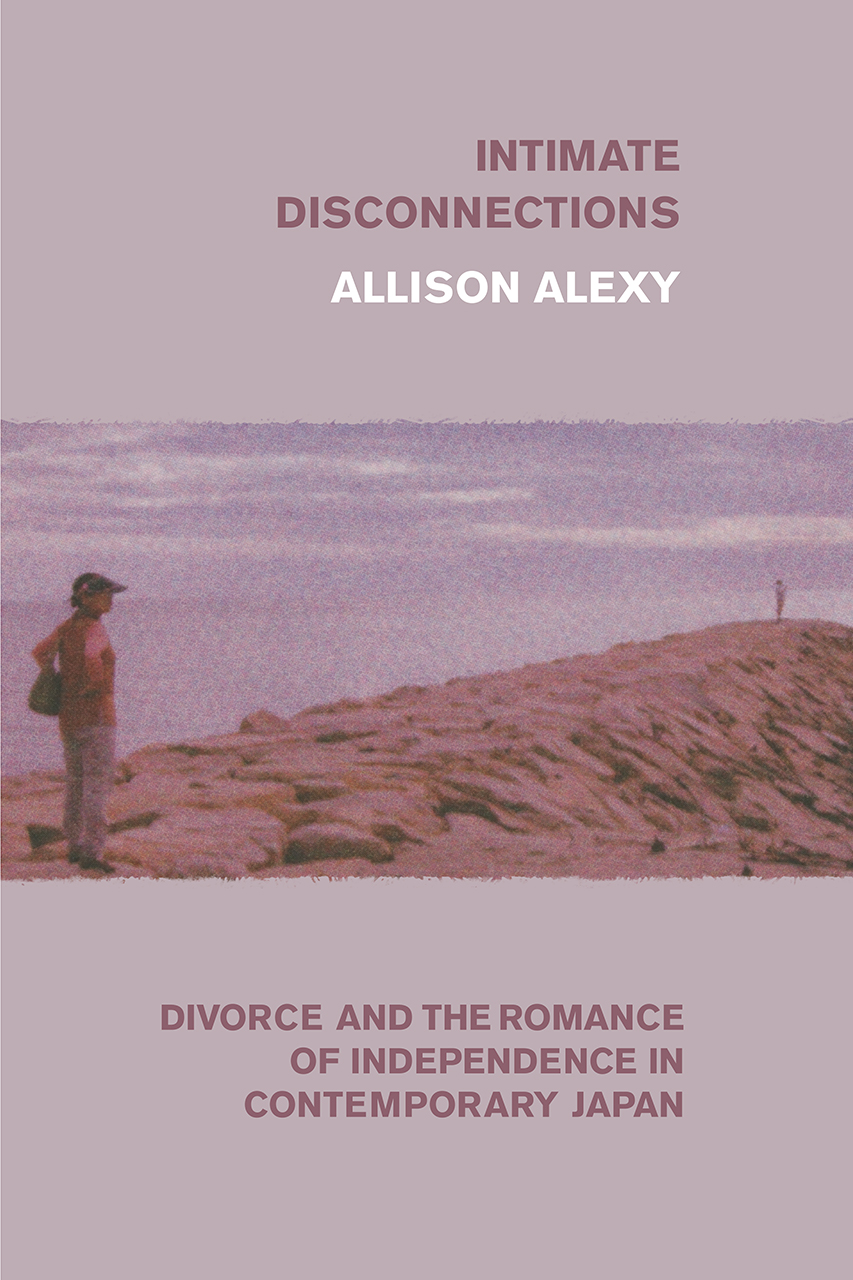 248 pages | 6 halftones, 2 tables | 6 x 9 | © 2020
In many ways, divorce is a quintessentially personal decision—the choice to leave a marriage that causes harm or feels unfulfilling to the two people involved. But anyone who has gone through a divorce knows the additional public dimensions of breaking up, from intense shame and societal criticism to friends' and relatives' unsolicited advice. In Intimate Disconnections, Allison Alexy tells the fascinating story of the changing norms surrounding divorce in Japan in the early 2000s, when sudden demographic and social changes made it a newly visible and viable option. Not only will one of three Japanese marriages today end in divorce, but divorces are suddenly much more likely to be initiated by women who cite new standards for intimacy as their motivation. As people across Japan now consider divorcing their spouses, or work to avoid separation, they face complicated questions about the risks and possibilities marriage brings: How can couples be intimate without becoming suffocatingly close? How should they build loving relationships when older models are no longer feasible? What do you do, both legally and socially, when you just can't take it anymore?
 
Relating the intensely personal stories from people experiencing different stages of divorce, Alexy provides a rich ethnography of Japan while also speaking more broadly to contemporary visions of love and marriage during an era in which neoliberal values are prompting wide-ranging transformations in homes across the globe.
Table of Contents
Contents
A Note on Names
Introduction: Freedom and Anxiety
Part I The Beginning of the End
1 Japan's Intimate Political Economy
2 Tips to Avoid Divorce
Part II Legal Dissolutions
3 Constructing Mutuality
4 Families Together and Apart
Part III Living as an X
5 The Costs of Divorce
6 Bonds of Disconnection
Conclusion: Endings and New Beginnings  
Acknowledgments
Appendix A: Profile Summaries
Appendix B: All Quotes in Original Japanese
Notes
Bibliography
Index
Review Quotes
Japan Times
"A panorama of Japanese mores and attitudes toward marriage, many of them in flux as people negotiate dependences and self-interest. . . . Japan isn't known as a model for marital romance, a sentiment that is reflected in Intimate Disconnections. But in the spirit of anthropology that aims to explain without judgment or prescription, Alexy's book helps understand a society moving away from equating marriage with normalcy."
Hirokazu Miyazaki, Northwestern University
"Intimate Disconnections offers an extraordinarily rich account of changing expectations for marriage, intimacy, and relationality in contemporary Japan. Alexy's deeply empathetic analysis of divorce is destined to enrich our empirical understanding of this globally increasingly common life decision and its legal, economic, and emotional consequences."
Akiko Takeyama, University of Kansas
"This is a rich ethnographic study about increasing divorce in Japan, public discourses on later-life divorce (jukunen rikon), and popular images of divorced women's empowerment that Alexy explores in depth. This accessible and carefully crafted book will be an important addition to the fields of cultural anthropology and gender studies, with Alexy's nuanced depiction of gender dynamics, the labor market, and socioeconomic structures in contemporary Japan."
For more information, or to order this book, please visit https://press.uchicago.edu
Google preview here