---
Infested
How the Bed Bug Infiltrated Our Bedrooms and Took Over the World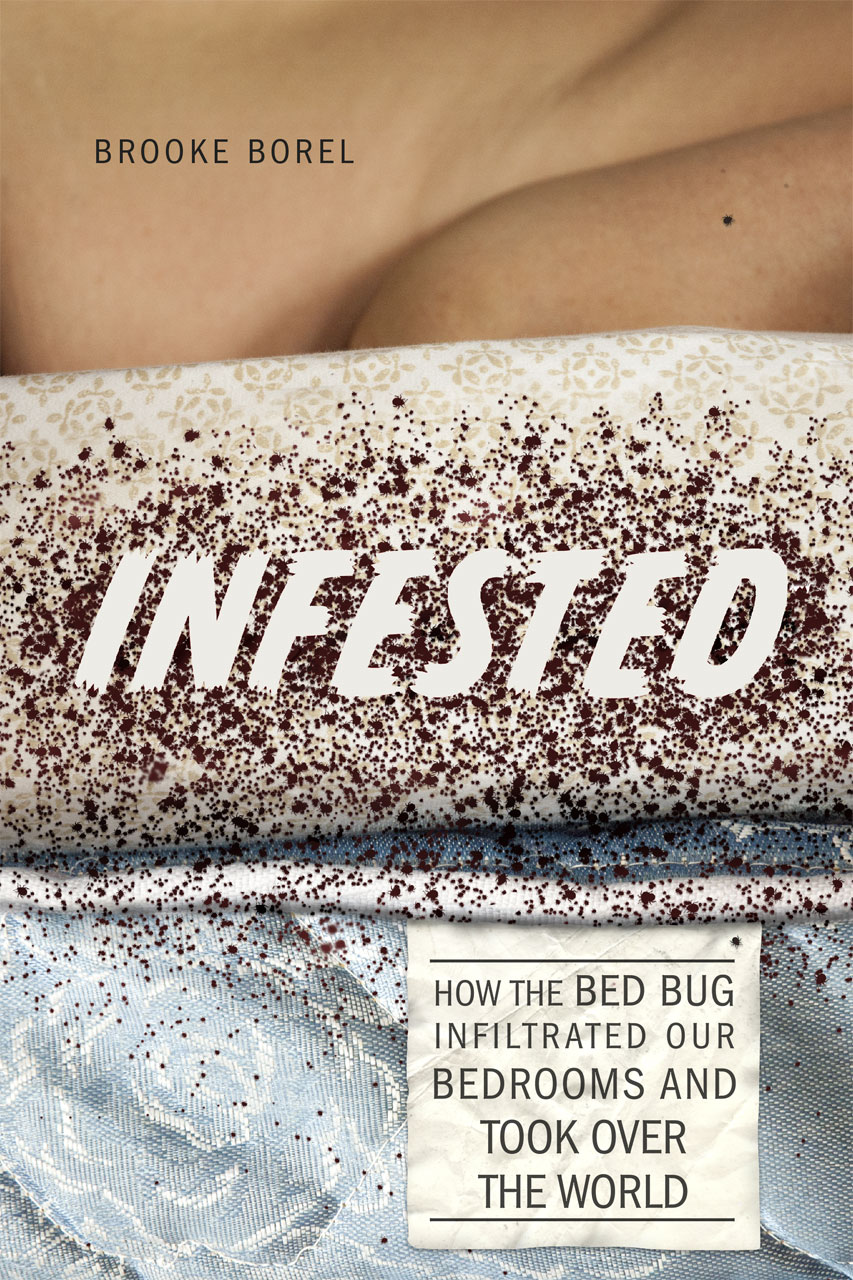 224 pages | 43 halftones, 6 line drawings | 6 x 9 | © 2015
Bed bugs. Few words strike such fear in the minds of travelers. In cities around the world, lurking beneath the plush blankets of otherwise pristine-looking hotel beds are tiny bloodthirsty beasts just waiting for weary wanderers to surrender to a vulnerable slumber. Though bed bugs today have infested the globe, the common bed bug is not a new pest at all. Indeed, as Brooke Borel reveals in this unusual history, this most-reviled species may date back over 250,000 years, wreaking havoc on our collective psyche while even inspiring art, literature, and music—in addition to vexatious red welts.
 
In Infested, Borel introduces readers to the biological and cultural histories of these amazingly adaptive insects, and the myriad ways in which humans have responded to them. She travels to meet with scientists who are rearing bed bug colonies—even by feeding them with their own blood (ouch!)—and to the stages of musicals performed in honor of the pests. She explores the history of bed bugs and their apparent disappearance in the 1950s after the introduction of DDT, charting how current infestations have flourished in direct response to human chemical use as well as the ease of global travel. She also introduces us to the economics of bed bug infestations, from hotels to homes to office buildings, and the expansive industry that has arisen to combat them.

Hiding during the day in the nooks and seams of mattresses, box springs, bed frames, headboards, dresser tables, wallpaper, or any clutter around a bed, bed bugs are thriving and eager for their next victim. By providing fascinating details on bed bug science and behavior as well as a captivating look into the lives of those devoted to researching or eradicating them, Infested is sure to inspire at least a nibble of respect for these tenacious creatures—while also ensuring that you will peek beneath the sheets with prickly apprehension.
Table of Contents
Contents
Prologue: Mysterious Bites
 
1. Cryptic Insect: Meet the Bed Bug
 
2. The Fall: DDT and the Slaying of the Beast
 
3. The Forgotten Era: Out of Sight, Out of Mind
 
4. The Return: A Pyrethroid Paradox
 
5. Annihilation: By Any Means Necessary
 
6. Fear: When Things Go Bite in the Night
 
7. Money: The Wild West of the Bed Bug Economy
 
8. Mysterious Rash: The Psychological Toll of Travel
 
9. The Origin of a Species: The Bed Bug's Beginning
 
Epilogue: Horror, Curiosity, and Joy
 
Appendix 1: Brooke's Bed Bug Guide
 
Appendix 2: Bed Bug Songs
 
Appendix 3: Bed Bug Literature
 
Appendix 4: Bed Bug Limericks
 
Acknowledgments
 
References
 
Index

Review Quotes
New York Times Book Review
"A book about bedbugs is, by necessity, a book about nearly everything: about travel and adventure, about our ­relationship to nature, about how scientists solve problems, about trust and whether we view strangers as friends or foes. It is a book about what people will do under extreme circumstances, and about environmental politics, and art and mental illness. It is even a book about kinky sex. Borel deftly takes us through this arthropod microcosm of the universe, as she traces the culture and biology of a resurgent scourge."
Carl Zimmer, author of A Planet of Viruses
"Our encounters with bed bugs used to be limited to wishes for a good night's sleep. But now they're everywhere—in hotels, apartments, and even subways. In her fascinating book Infested,  Borel chronicles the renaissance of this frightful insect and leaves us marveling at their remarkable biology."
Maclean's
"Those looking for an in-depth account of what might one day share their home will be considerably enlightened. Just don't leave the book in the guest bedroom."
Library Journal
"For anyone who wants to replace their fear of bed bugs with knowledge."
Chicago Reader
"Borel's investigation into the bedbug renaissance is delightful. Motivated partly by a desire to understand the bedbug infestations she'd suffered, Borel, a science writer, began interviewing entomologists about the tiny bloodsuckers in 2010 and has been researching them ever since."
Maryn McKenna, author of Superbug: The Fatal Menace of MRSA
In an odyssey that begins with understandable loathing and ends with surprising sympathy, Borel takes us on a smart, subtle, witty journey through the biology and history of the bed bug—an insect that has been our companion for hundreds of millennia, yet one that we barely understand and have no clue how to control. Borel captures the persistence of the bug, the obsessiveness of its foes, and the eagerness of entrepreneurs to turn a quick profit with no thought for the long consequences. It is impossible to read Infested without experiencing fascination, respect—and just maybe, a phantom itch."
Seth Mnookin, author of The Panic Virus: The True Story Behind the Vaccine-Autism Controversy
"Borel has done the seemingly impossible: written an absolute page-turner of a book about bed bugs. Infested is as engaging as it is erudite, as fun as it is informative. This is popular science writing at its best."
Dan Vergano, National Geographic
"A fun, wild romp through the wily world of bed bugs and the folks hunting them down. Borel travels from Brooklyn bedposts to Bohemian benches on the trail of this burgeoning pest, itching for the reader as she goes. Infested unveils the secrets of these frankly weird bloodsuckers, right down to their unlikely sex lives, and introduces readers to the obsessives looking to stop their march into your own bed. A terrific science book."
Scott Richard Shaw, author of Planet of the Bugs: Evolution and the Rise of Insects
"Borel's captivating writing quickly draws you into the mysterious and creepy tale of the bed bug.  Both a journey of self-discovery and an exploration into the world of this fascinating insect, Borel shows us that the story of the bed bug is ultimately intertwined with the history of the human species.  You probably don't like bed bugs, but you will love this book!"
Spectator
"Borel knows her stuff, but she also knows how to write; her clear and chatty prose turns what ought to be a dreary treatise into an entertaining read. She makes complicated things sound simple. She isn't afraid to tell the boffins when she doesn't get it, and make them spell it out. As well as summarizing their findings, Borel provides a colorful history of their research trips, bringing her interviewees to life."
Science News
"The cultural significance and the biology of the insect are the focus of Infested, by science writer Brooke Borel, who has suffered infestations both at home and while traveling. . . . Captivating."
Publishers Weekly
"A personal experience with the reemergence of pesticide-resistant bedbugs in the last decade—after their near eradication during the golden era of DDT—spurs journalist Borel to visit international scientists, exterminators, and industry salespeople in order to research the notorious bloodsucking insects. . . . Her science is solid, and by the end, the reader may feel sympathetically itchy."
Jezebel
"A really smart and funny look at one of man's greatest enemies."
Times Literary Supplement
"Borel closes with a useful self-help guide, and amusing lists of songs, limericks and literary references. It's an indication that after her own close encounters she has developed an admirable sense of detachment and proportion. It is essentially what she advises we should all do, if we become the pretty of Cimex lectularius."
Boing Boing
"Infested, science writer Borel's natural history of the bed bug, looks at the bug's insurgency as a scientific, cultural, and economic phenomenon, and will leave you itching with delight. . . . As much as Borel hates the little critters and what they've done to her life, she nevertheless manages to do them justice in her book, which traces the history of bed bugs back 250,000 years, explores the role they played in popular and high culture, and roams the world and the conference spaces of Vegas hotels looking at the bed bug industry that has sprung into existence since the recovery of bed bug populations a decade ago—a microcosm and cautionary tale about regulation, greed, science and bureaucracies."
 
For more information, or to order this book, please visit https://press.uchicago.edu
Google preview here