---
Hyperpolitics
An Interactive Dictionary of Political Science Concepts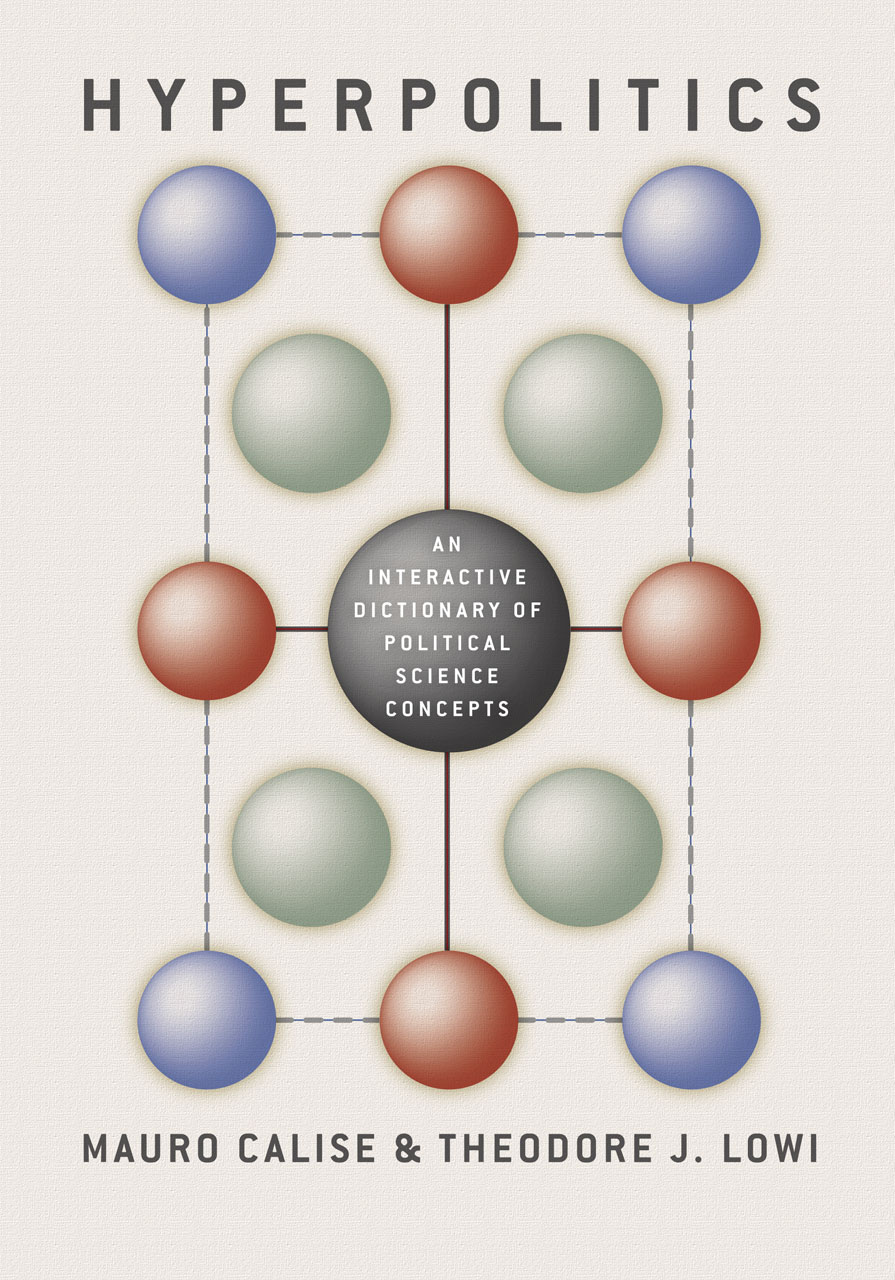 272 pages | 7 x 10 | © 2010
Fifteen years in the making, Hyperpolitics is an interactive dictionary offering a wholly original approach for understanding and working with the most central concepts in political science. Designed and authored by two of the discipline's most distinguished scholars, its purpose is to provide its readers with fresh critical insights about what informs these political concepts, as well as a method by which readers—and especially students—can unpack and reconstruct them on their own.

International in scope, Hyperpolitics draws upon a global vocabulary in order to turn complex ideas into an innovative teaching aid. Its companion open access website (www.hyperpolitics.net) has already been widely acknowledged in the fields of education and political science and will continue to serve as a formidable hub for the book's audience. Much more than a dictionary and enhanced by dynamic graphics, Hyperpolitics introduces an ingenious means of understanding complicated concepts that will be an invaluable tool for scholars and students alike.
Table of Contents
Contents
Preface
Acknowledgment
Introduction
Bringing Concepts Back In
The Dictionary
A User's Guide
The Entries
Main Entries
Administration
Agenda.
Authority
Bureaucracy
Citizen
Constitution
Corporation
Interest
Justice
Law
Legislature
Liberalism
Liberty
Opinion
Party
Pluralism
Policy
Welfare
Short Entries
Charisma
Choice
Clientelism
Coalition
Conservatism
Election
Federalism
Government
Legitimacy
Majority
Media
Movement
Participation
Populism
Socialism
Terrorism
Violence
Cross-Entries
Autonomy
Civil Society
Class
Community
Conflict
Consensus
Contract
Court
Decision
Democracy
Elite
Equality
Group
Ideology
Institution
Leadership
Lobbying
Market
Monarchy
Nation
Oligarchy
Order
Patronage
Polling
Public
Regulation
Representation
Revolution
Rights
Rules
State
Trust
Bibliography
Review Quotes
Richard M. Valelly, Swarthmore College
"All of this is wonderful, exciting, imaginative, and generous. Hyperpolitics is a great service to many disciplines, not just political science. As an intellectual history of political science, this book is unequalled. This is a pioneering reinvention of the dictionary."
David Collier, University of California, Berkeley
"By confronting the pervasive failure to teach innovative work with concepts, Hyperpolitics makes a stunning contribution. Calise and Lowi broaden our horizon by creating a new map of conceptual structure that will enlighten scholars and students, challenging them to extend it."
For more information, or to order this book, please visit https://press.uchicago.edu
Google preview here