---
Toward "Natural Right and History"
Lectures and Essays by Leo Strauss, 1937–1946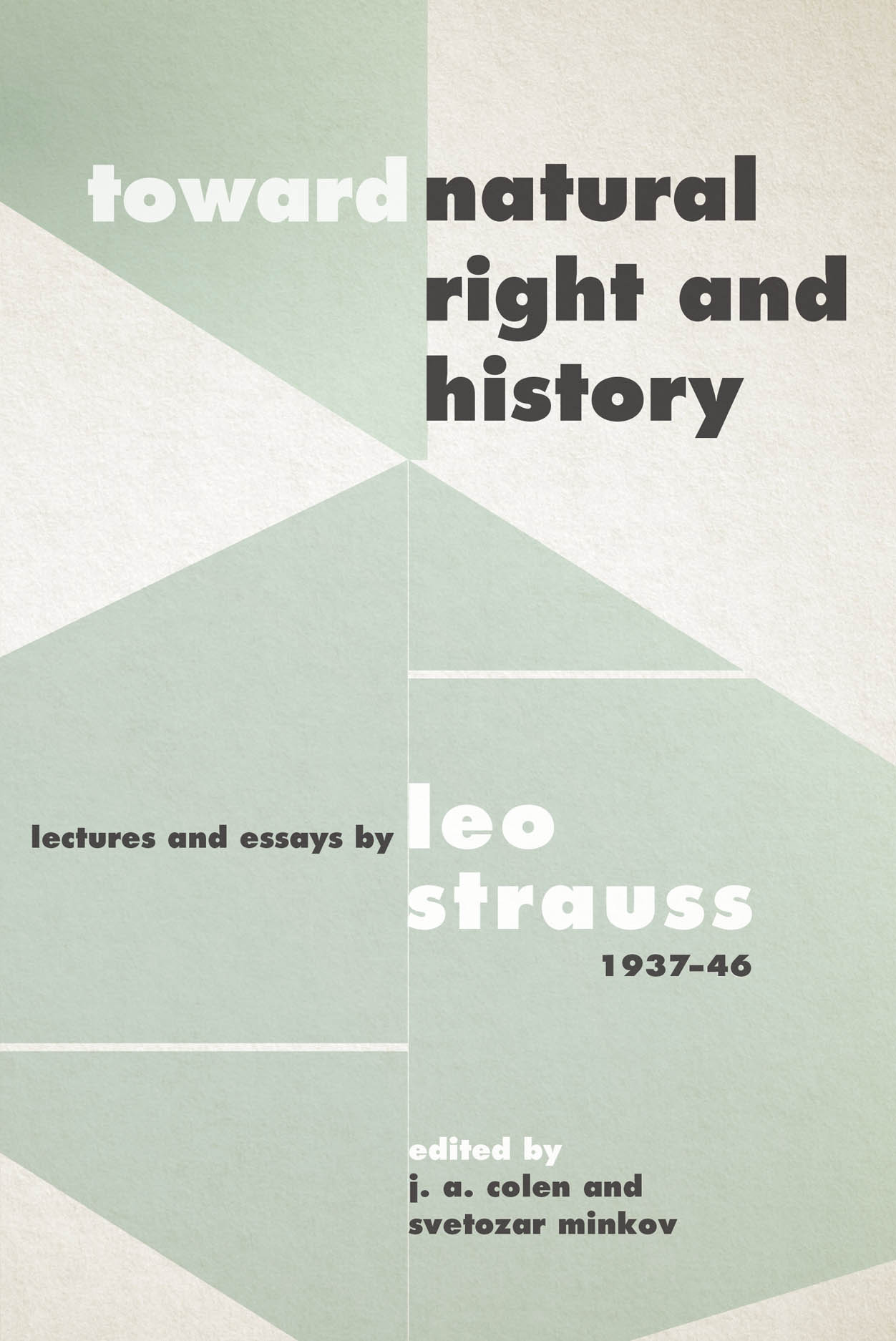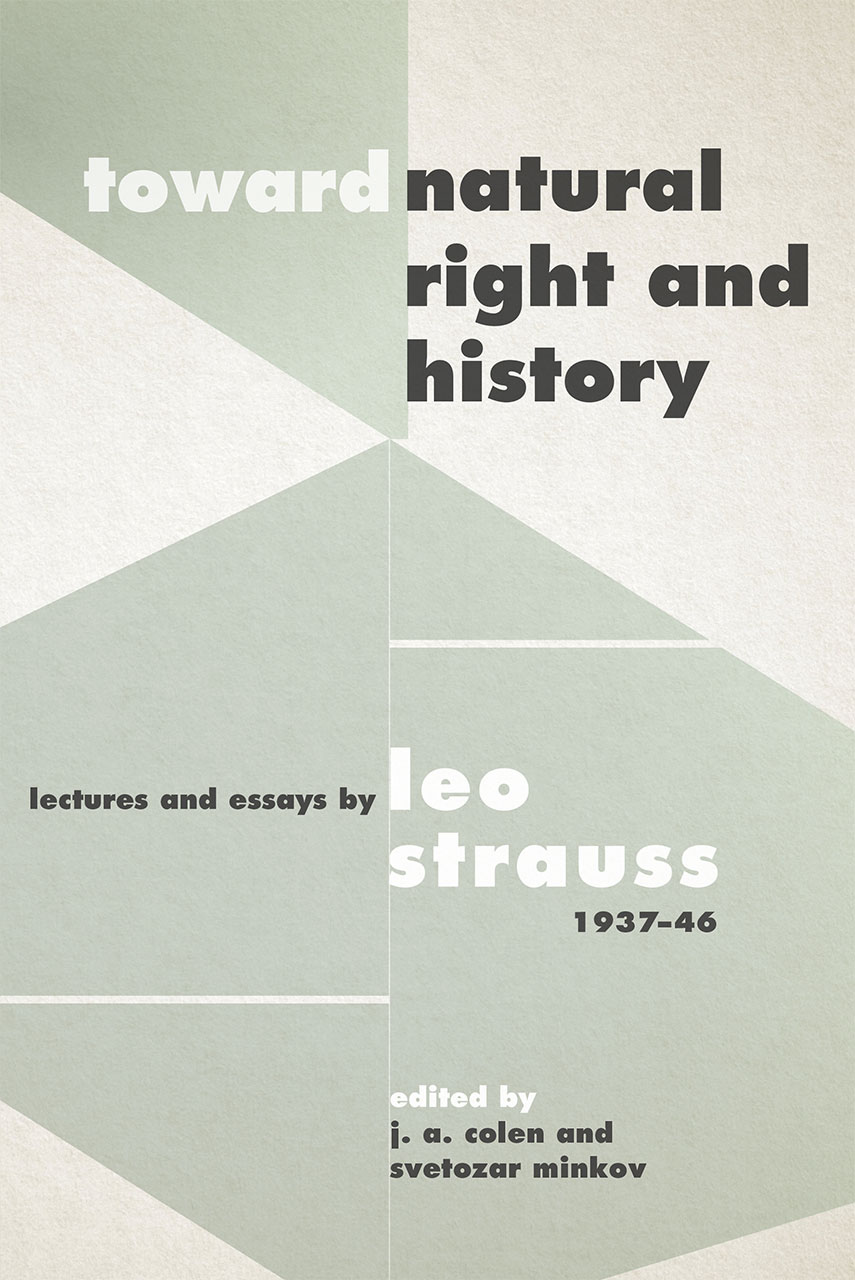 288 pages | 2 tables | 6 x 9 | © 2018
Natural Right and History is widely recognized as Strauss's most influential work. The six lectures, written while Strauss was at the New School, and a full transcript of the 1949 Walgreen Lectures show Strauss working toward the ideas he would present in fully matured form in his landmark work. In them, he explores natural right and the relationship between modern philosophers and the thought of the ancient Greek philosophers, as well as the relation of political philosophy to contemporary political science and to major political and historical events, especially the Holocaust and World War II.

Previously unpublished in book form, Strauss's lectures are presented here in a thematic order that mirrors Natural Right and History and with interpretive essays by J. A. Colen, Christopher Lynch, Svetozar Minkov, Daniel Tanguay, Nathan Tarcov, and Michael Zuckert that establish their relation to the work. Rounding out the book are copious annotations and notes to facilitate further study.
 
Table of Contents
Contents
Foreword
Michael Zuckert
Abbreviations
Editors' Note
Introduction
J. A. Colen and Svetozar Minkov
1. Introduction to Political Philosophy
Leo Strauss on the Relation of Theory to Practice
Nathan Tarcov
What Can We Learn from Political Theory? (1942)
Leo Strauss
2. The Historical Approach
Breaking Free from the Spell of Historicism
Daniel Tanguay
Historicism (1941)
Leo Strauss
3. Facts and Values
Is There a Natural Framework for the Social Sciences?
J. A. Colen
The Frame of Reference in the Social Sciences (1945)
Leo Strauss
4. Recovering the Classics
A Presentation of Exotericism in Classical Political Philosophy
Christopher Lynch
On the Study of Classical Political Philosophy (1938)
Leo Strauss
5. Modern Natural Right
Hobbes as the Founder of Modern Political Philosophy
Svetozar Minkov
The Origin of Modern Political Thought (1937)
Leo Strauss
6. The Crisis of Natural Right
Recovering Natural Right
J. A. Colen
Natural Right (1946)
Leo Strauss
Afterword. Toward Strauss's Intention and Teaching in
Natural Right and History
J. A. Colen
Appendix. Leo Strauss: Courses at the New School for Social Research
Svetozar Minkov
References
Index
Review Quotes
Steven B. Smith, Yale University
"The ably edited essays selected here provide insight into an important moment in Strauss's work. They show Strauss thinking through problems that would become fundamental to his most important book, Natural Right and History."
Devin Stauffer, University of Texas at Austin
"Toward "Natural Right and History" brings together six previously unpublished gems previously hidden in the cobwebs of the Strauss archives. Written during the fertile period of 1937–46, the essays show Strauss as a craftsman working out the details of the arguments that would be expressed in works such as Natural Right and History, Thoughts on Machiavelli, and The City and Man."
For more information, or to order this book, please visit https://press.uchicago.edu
Google preview here