---
How the States Shaped the Nation
American Electoral Institutions and Voter Turnout, 1920-2000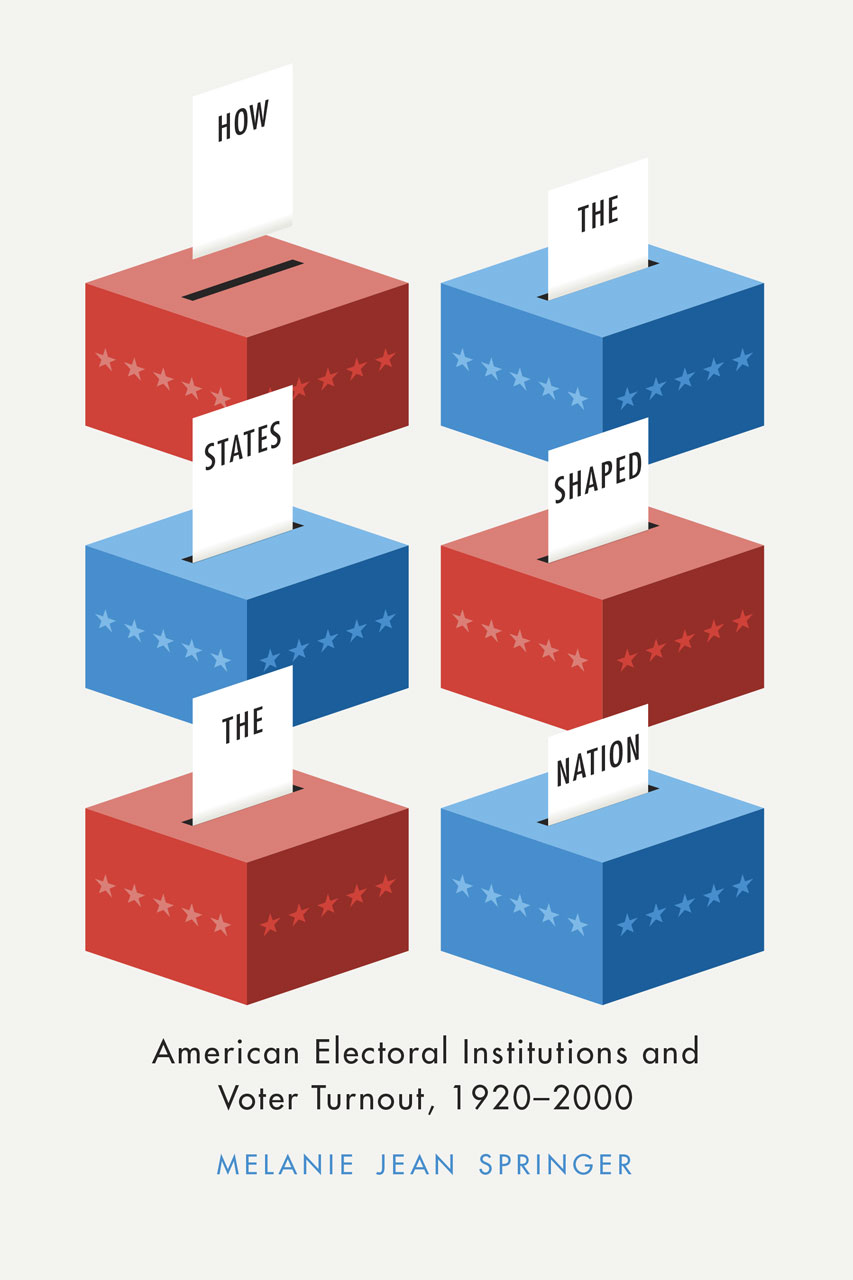 240 pages | 22 line drawings, 20 tables | 6 x 9 | © 2014
The United States routinely has one of the lowest voter turnout rates of any developed democracy in the world. That rate is also among the most internally diverse, since the federal structure allows state-level variations in voting institutions that have had—and continue to have—sizable local effects. But are expansive institutional efforts like mail-in registration, longer poll hours, and "no-excuse" absentee voting uniformly effective in improving voter turnout across states?

With How the States Shaped the Nation, Melanie Jean Springer places contemporary reforms in historical context and systematically explores how state electoral institutions have been instrumental in shaping voting behavior throughout the twentieth century. Although reformers often assume that more convenient voting procedures will produce equivalent effects wherever they are implemented, Springer reveals that this is not the case. In fact, convenience-voting methods have had almost no effect in the southern states where turnout rates are lowest. In contrast, the adverse effects associated with restrictive institutions like poll taxes and literacy tests have been persistent and dramatic. Ultimately, Springer argues, no single institutional fix will uniformly resolve problems of low or unequal participation. If we want to reliably increase national voter turnout rates, we must explore how states' voting histories differ and better understand the role of political and geographical context in shaping institutional effects.
Table of Contents
Contents
List of figures
List of tables
Acknowledgments
One  Introduction
Part 1:  The State of Electoral Institutions and Voter Turnout
Two  Electoral Federalism and Participation in the American States
Three  Twentieth-Century Voter Turnout in the United States
Four  A History of Twentieth-Century State Electoral Institutions
Part 2:  State and Regional Analyses
Five  Exploring the Effect of Electoral Institutions on Twentieth-Century Voter Turnout in the American States
Six  Where Are the High Turnout States?
Seven  Voting in the Southern States during and after Jim Crow
Eight  Conclusion: The Future of Electoral Reform
Appendix A: State-by-State Voter Turnout Rates Compared with the Average National Voter Turnout Rate during Election Years, 1920–2000 (online only:
www.press.uchicago.edu/sites/springer/
)
Appendix B: Mississippi Voter Registration Application Form
Appendix C: Descriptive Statistics, Presidential Election Years, 1920–2000
Appendix D: Descriptive Statistics, Nonpresidential Election Years, 1922–98
Notes
Works Cited
Index
Review Quotes
Suzanna Linn, Pennsylvania State University
"A careful and comprehensive look at the relationship between specific state-level institutions and voter turnout, How the States Shaped the Nation illuminates the importance of institutional change in shaping political behavior and will be invaluable in ongoing discussions of election reform."
Richard F. Bensel, Cornell University
"Previous studies have assumed that high barriers to voting discourage turnout. Melanie Jean Springer's careful analysis confirms this. However, she also shows that the suffrage history and political culture of the individual states shape turnout as well. One important implication of her research is that the impact of qualifications upon turnout attenuates as restrictions are lowered—so much so that some states have already reached a point at which participation probably cannot be raised through a further relaxation in restrictions. If she is right, only changes in American political culture will produce significant increases in future participation."
Rick Valelly, Swarthmore College
"Twentieth-century institutional influences on voter turnout have been exceptionally diverse. Springer decomposes these influences in a way no one else has thus far. Her book is easily the most user-friendly, accessible, precise, and comprehensive treatment to be found. How the States Shaped the Nation is certain to provoke discussion, and it will also become something of a standard work on voter turnout in the United States."

Choice
"A careful, comprehensive, and creative analysis. . . . Springer exhaustively explores turnout at the state level in presidential and nonpresidential years from 1920 through 2000. . . . Recommended."
Political Science Quarterly
"Springer's work provides a thorough assessment of voting laws and makes the compelling case that voter turnout needs to be understood within the institutional context in which it occurs. Her analyses (and appendices) are comprehensive and add extensively to what we know about turnout in the United States. This is an extremely useful book that I would recommend to scholars of voting behavior, proponents of electoral reform, and general readers alike. . . . Her work has important implications for electoral reform efforts designed to stimulate voter turnout."
For more information, or to order this book, please visit https://press.uchicago.edu
Google preview here