---
Faking Liberties
Religious Freedom in American-Occupied Japan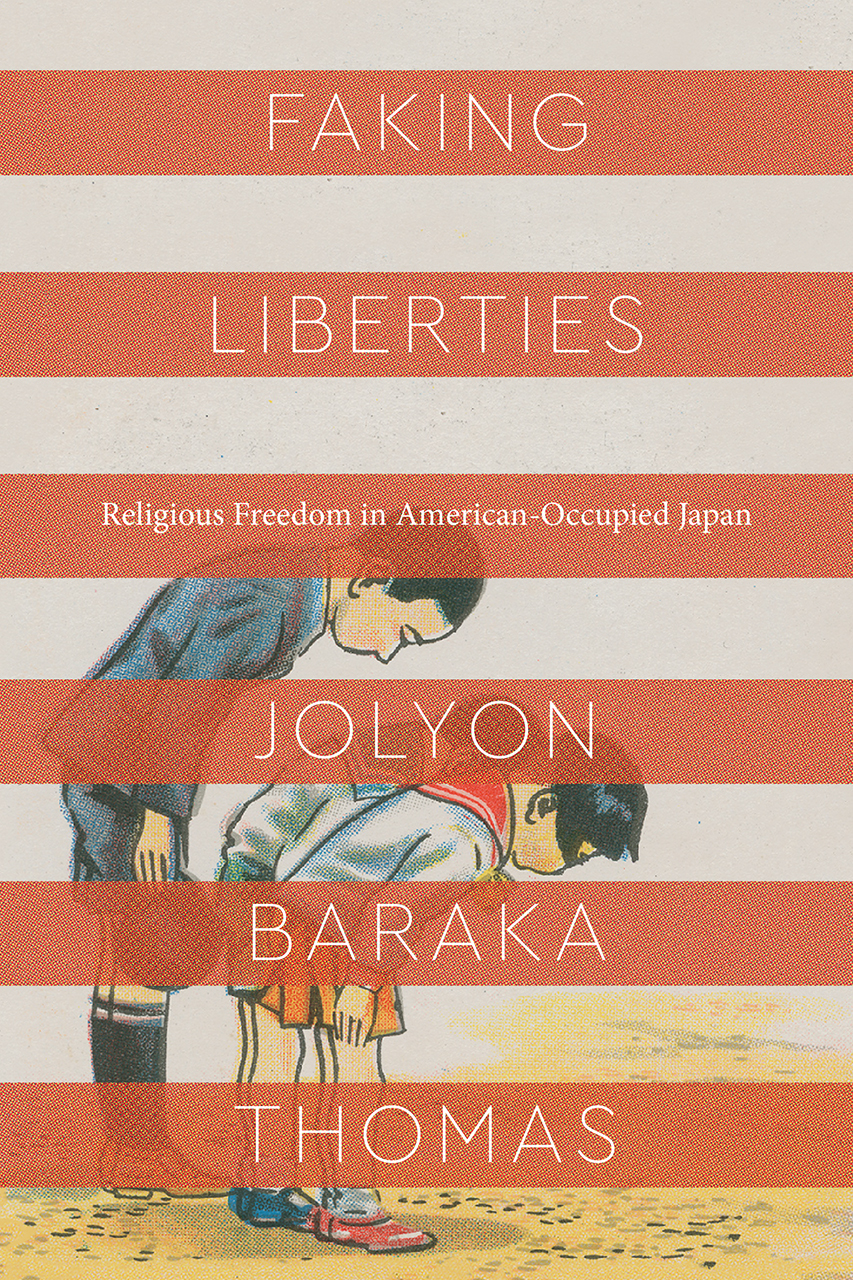 336 pages | 8 halftones | 6 x 9 | © 2019
Religious freedom is a founding tenet of the United States, and it has frequently been used to justify policies towards other nations. Such was the case in 1945 when Americans occupied Japan following World War II. Though the Japanese constitution had guaranteed freedom of religion since 1889, the United States declared that protection faulty, and when the occupation ended in 1952, they claimed to have successfully replaced it with "real" religious freedom.

Through a fresh analysis of pre-war Japanese law, Jolyon Baraka Thomas demonstrates that the occupiers' triumphant narrative obscured salient Japanese political debates about religious freedom. Indeed, Thomas reveals that American occupiers also vehemently disagreed about the topic. By reconstructing these vibrant debates, Faking Liberties unsettles any notion of American authorship and imposition of religious freedom. Instead, Thomas shows that, during the Occupation, a dialogue about freedom of religion ensued that constructed a new global set of political norms that continue to form policies today.
Table of Contents
Contents
Prologue: The Drums of War
Conventions
Introduction: The Universal Particularity of Religious Freedom
A Preoccupation with Religious Freedom
1 The Meiji Constitutional Regime as a Secularist System
2 Who Needs Religious Freedom?
3 Domestic Problems, Diplomatic Solutions
4 In the Absence of Religious Freedom
The Occupation of Religious Studies
5 State Shintō as a Heretical Secularism
6 Who Wants Religious Freedom?
7 Universal Rights, Unique Circumstances
8 Out of the Spiritual Vacuum
Conclusion: The Bellicose Pacifism of Religious Freedom
Epilogue: Songs of Freedom
Acknowledgments
Abbreviations
Notes
References
Index
Review Quotes
Choice
"Thomas draws on an impressive array of important sources to argue that although religious freedom solves problems of inequity and oppression, it creates new problems and is inherently coercive."
H-Net Reviews
"Given that the last decade has seen a number of scholarly works detailing the establishment of 'religion' as a concept in early Meiji Japan, Thomas's efforts to show how the category of religion was negotiated in Japan during the entire first half of the twentieth century represents a welcome move forward in time. Meticulously researched, theoretically sharp, and elegantly written, Faking Liberties is an excellent study not only of how religious freedom was constructed as a transnational ideal through mutual negotiation during the period of American occupation, but also of how various actors interacted with religious freedom during the interbellum period. Faking Liberties is a welcome addition to the field of Japanese religious studies as well as to the critical study of religion and law."
New Books Network
"Faking Liberties is a challenging intervention into not only the historiography of modern Japan, but religious studies more generally."
Helen Hardacre, Harvard University, author of Shinto and the State, 1868-1988
"A powerful study of warring rhetoric on religious freedom within and between Japan and the United States, Thomas's work presents a model analysis of debate on a foundational concept, minutely clarifying the stakeholders, the stakes, and the consequences of the argument. This book shows the Allied Occupation of Japan in an entirely new light and unprecedented detail through its examination of policy as hammered out by the occupiers and the occupied, on the basis of a rich heritage of thought in both countries on the meaning of religious freedom."
Tisa Wenger, Yale University, author of Religious Freedom: The Contested History of an American Idea
"Faking Liberties is a brilliant intervention in a burgeoning literature on the historical coercions of religious freedom. Thomas compares religious freedom regimes in Japan under pre-WWII Meiji rule and the postwar US occupation, exploding myths of Japanese exceptionalism (both negative and positive) and revealing how this freedom served in both cases as a project that defined and disciplined the limits of religion."
Jason Josephson-Storm, Williams College, author of The Invention of Religion in Japan
"Jolyon Thomas has written an original and enthralling account of the ideal of 'religious freedom' in the Allied Occupation of Japan. By tracing competing political, ecclesiastical, and academic discourses, Thomas shows that the ideal of religious freedom came to favor some groups at the expense of others and often resulted in the ossification of religious difference. The work is a timely and dazzling intervention with broad implications."
For more information, or to order this book, please visit https://www.press.uchicago.edu
Google preview here