---
The English Virtuoso
Art, Medicine, and Antiquarianism in the Age of Empiricism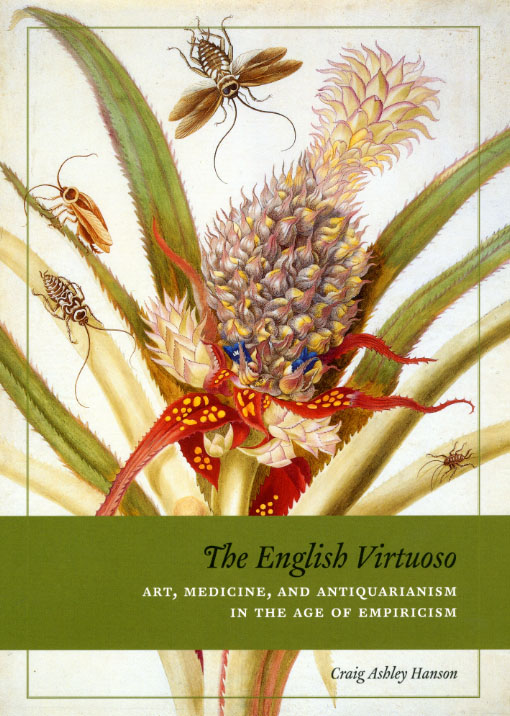 344 pages | 12 color plates, 62 halftones | 7 x 10 | © 2009
Contrary to twentieth-century criticism that cast them as misguided dabblers, English virtuosi in the seventeenth and early eighteenth centuries were erudite individuals with solid grounding in the classics, deep appreciation for the arts, and sincere curiosity about the natural world. Reestablishing their broad historical significance, The English Virtuoso situates this polymathic group at the rich intersection of the period's art, medicine, and antiquarianism.
            At the heart of this profoundly interdisciplinary study lies the Royal Society of London for the Improvement of Natural Knowledge, which from its founding in 1660 served as the major professional organization for London's leading physicians, many of them prominent virtuosi. Craig Ashley Hanson reveals that a vital art audience emerged from the Royal Society—whose members assembled many of the period's most important nonaristocratic collections—a century before most accounts date the establishment of an institutional base for the arts in England. Unearthing the fascinating stories of an impressive cast of characters, Hanson establishes a new foundation for understanding both the relationship between British art and science and the artistic accomplishments of the late eighteenth and nineteenth centuries.
Table of Contents
Contents
List of Illustrations                                
Acknowledgments   
Note to the Reader
Introduction


1   Art as "a Grace to Health":
Physic and Connoisseurship at the Early Stuart Court    

2   From the "Applying of Colors" to "the Politer Parts of Learning":
Art and the Virtuosi after the Restoration   

3   "The Extream Delight" Taken "in Pictures":
Physicians, Quackery, and Art Writing   

4   "Assuming Empirick" and "Arrant Quack":
Antiquarianism and the Empirical Legacy of Don Quixote    

5   "Inspiring Reciprocal Emulation and Esteem":
Dr. Richard Mead and Early Georgian Virtuosity    


Conclusion


Notes             Selected Bibliography                 Index    
Review Quotes
Hal Cook, director of the Wellcome Trust Centre for the History of Medicine
"A long overdue reassessment of the early English virtuosic sensibility. Hanson shows how virtue was to be found in the erudite knowledge of all of life's resemblances, reuniting art, medicine, and science in a manner that would have been understood in earlier centuries, and remains of interest today."
Pamela H. Smith, Columbia University
"The aim of The English Virtuoso—to provide a new narrative for British art in the 1600s and 1700s by examining the relationship between the arts, empiricism, and medicine in seventeenth-century England—is original and persuasive. Following a chronological trajectory that charts the medical community's active interest in the arts, it is gracefully written and brings to light large quantities of important yet previously unknown or neglected material. This book is an impressive achievement."
Lucy Worsley, chief curator, Historic Royal Palaces
"An elegant and revelatory study, which vaults from discipline to discipline with enviable ease: Craig Ashley Hanson is almost as much of a polymath as his learned subjects. As befits a book partly about visual culture, the design is lovely too."
Jan Golinski | Times Higher Education
"Hanson's reconstruction of the intellectual passions of these men shows that the figure is still worthy of serious attention from modern scholars."
The Burlington Magazine
"This is a vigorously intelligent book, its spare text supported by weighty footnotes, its extensive range of arguments leading to a convincing conclusion."
For more information, or to order this book, please visit https://press.uchicago.edu
Google preview here