---
The Economy of Modern Israel
Malaise and Promise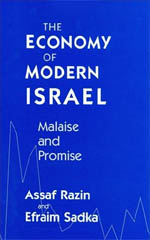 266 pages | 26 line drawings, 73 tables | 6 x 9 | © 1993
In this up-to-date study of the Israeli economy, Assaf Razin and Efraim Sadka cover the entire economic history of the state, focusing on links between Israel's economic growth, its integration into world markets, its tax and welfare systems, and the political conflicts in the Middle East.

The authors present the first detailed economic analysis of the Palestinian uprising, showing how the unrest has led to a fall in Arab employment in Israel and serious economic loss to the occupied territories with some loss to Israel. They also examine how the uprising has affected Israel's financial standing internationally and the inflow of foreign aid.

Razin and Sadka see promise for Israel's economy in the waves of immigration from the former Soviet Union, despite the current difficulties in absorbing the immigrants; in the coexistence of a flourishing and highly competitive private sector with a relatively large public sector, which is undergoing privatization; and in a tax structure that encourages long-term saving and business growth. By examining the interplay between the exchange rate, interest rates, and monetary and anti-inflation policies, the authors investigate the possibilities for renewed growth and conclude that the future of Israel's economy crucially depends on serious efforts to secure peace in the Middle East.
Table of Contents
Contents
Preface
Introduction
Part I. Historical Overview: 1920-85
1. From Rapid Growth to Standstill, Accelerating Inflation, and Debt Crisis
2. Stabilization
Part II. Poststabilization Recession
3. A Recovery That Faded Away
4. Anatomy of Recession
Part III. The Uprising in the West Bank and Gaza: Intifada
5. The Economies of the West Bank and the Gaza Strip
6. The Economic Effect of the Intifada
Part IV. Ascending to Israel: Aliya
7. The Current Aliya and Its Setting
8. Future Macroeconomic Paths
Part V. Contemporary Issues
9. Tax Structure
10. Tax Design: Static and Dynamic Efficiency
11. Israel and the World Market
12. Deregulation and Privatization
Epilogue
Selected Data
References
Index
For more information, or to order this book, please visit https://press.uchicago.edu
Google preview here