---
Cite Right, Third Edition
A Quick Guide to Citation Styles--MLA, APA, Chicago, the Sciences, Professions, and More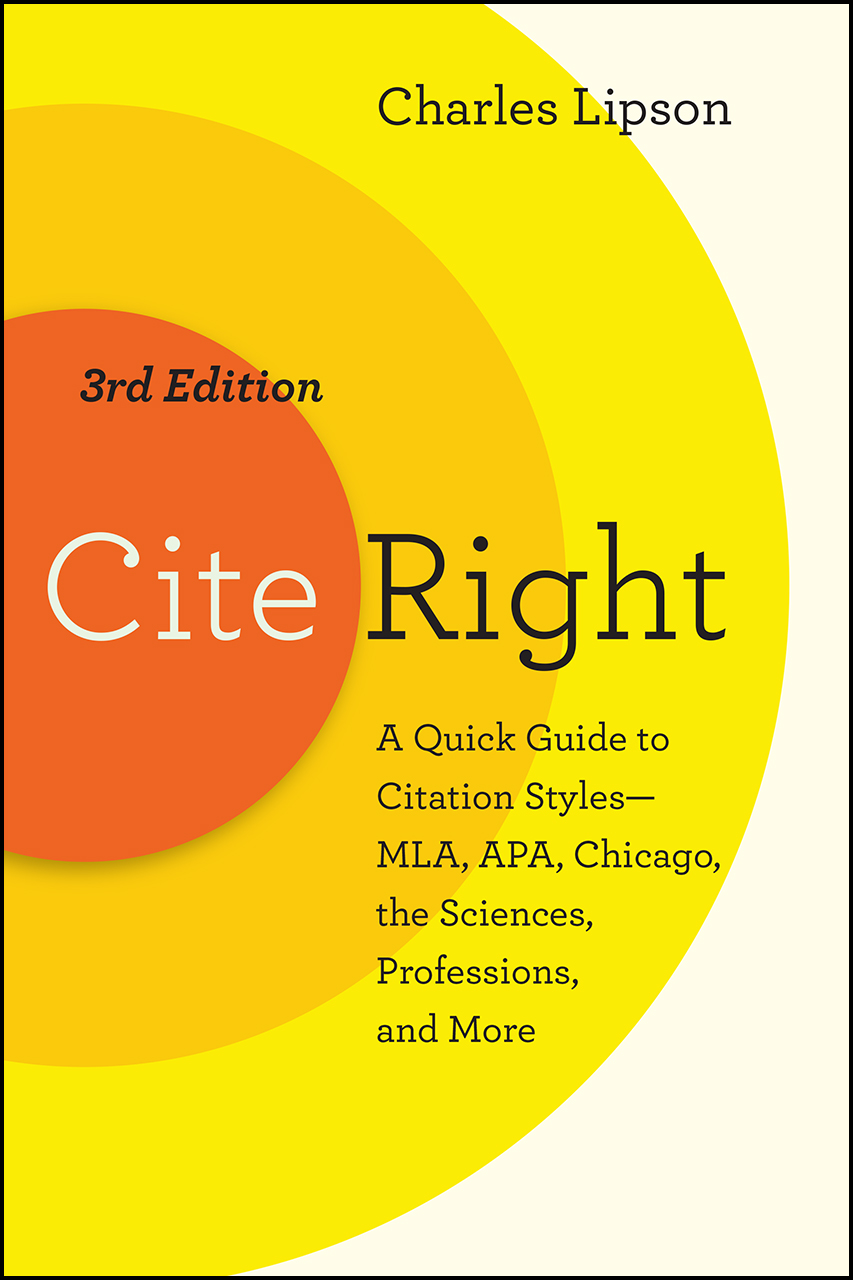 192 pages | 6 x 9 | © 2018
Cite Right is the perfect guide for anyone who needs to learn a new citation style or who needs an easy reference to Chicago, MLA, APA, AMA, and other styles. Each chapter serves as a quick guide that introduces the basics of a style, explains who might use it, and then presents an abundance of examples. This edition includes updates reflecting the most recent editions of The Chicago Manual of Style and the MLA Handbook. With this book, students and researchers can move smoothly among styles with the confidence they are getting it right.
Table of Contents
Contents
I. CITATIONS: AN OVERVIEW

1 Why Cite?

2 The Basics of Citation

II. CITATIONS IN EVERY FORMAT: A QUICK GUIDE

3 Chicago (or Turabian) Citations

4 MLA Citations for the Humanities

5 APA Citations for the Social Sciences, Education, and Business

6 CSE Citations for the Biological Sciences

7 AMA Citations for the Biomedical Sciences, Medicine, Nursing, and Dentistry

8 ACS Citations for Chemistry

9 Physics, Astrophysics, and Astronomy Citations

10 Mathematics, Computer Science, and Engineering Citations

11 FAQs about All Reference Styles

Thanks
Index
Review Quotes
Summer Cowley | BoldFace (Editors Toronto)
"Cite Right is a valuable resource for a varied readership. Secondary and post-secondary school instructors will find the book helpful as a resource when preparing lessons on the differences between various citation styles or on justifications for the use of citations at all. In chapter 11, Lipson addresses frequently asked questions about citing in general that may be particularly useful to instructors. Writers who must use a new citation style will also benefit from the ease with which this text can be read. For editors, this book is an invaluable tool for addressing issues of unfamiliar citation styles in authors' work."
Technical Communications
"Charles Lipson has again provided an invaluable tool for researchers who must cite sources in their writing. Although he directly addresses students, experienced practitioners will also find the summary tables of citation styles helpful, particularly because requirements within specific fields are continuously changing...If you've enjoyed consulting the second edition of Cite Right, it's time to get the affordable third edition. Like me, you'll want to keep it within easy reach of your keyboard."
For more information, or to order this book, please visit https://press.uchicago.edu
Google preview here