---
Critical Terms for the Study of Africa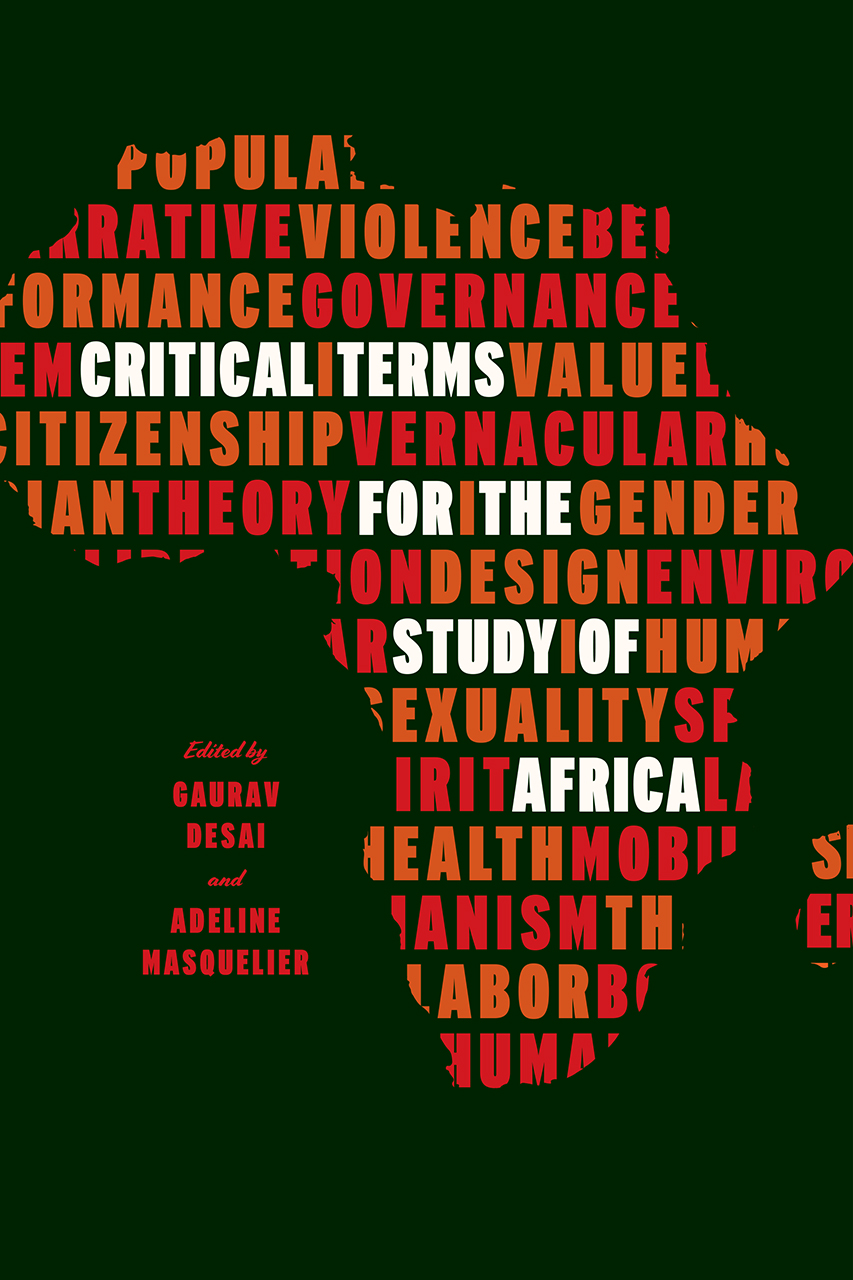 432 pages | 6 x 9 | © 2018
For far too long, the Western world viewed Africa as unmappable terrain—a repository for outsiders' wildest imaginings. This problematic notion has had lingering effects not only on popular impressions of the region but also on the development of the academic study of Africa. Critical Terms for the Study of Africa considers the legacies that have shaped our understanding of the continent and its place within the conceptual grammar of contemporary world affairs.
 
Written by a distinguished group of scholars, the essays compiled in this volume take stock of African studies today and look toward a future beyond its fraught intellectual and political past. Each essay discusses one of our most critical terms for talking about Africa, exploring the trajectory of its development while pushing its boundaries. Editors Gaurav Desai and Adeline Masquelier balance the choice of twenty-five terms between the expected and the unexpected, calling for nothing short of a new mapping of the scholarly field. The result is an essential reference that will challenge assumptions, stimulate lively debate, and make the past, present, and future of African Studies accessible to students and teachers alike.
Table of Contents
Contents
Introduction / Adeline Masquelier and Gaurav Desai

1. Africa/African / Jemima Pierre
2. Belonging / Peter Geschiere
3. Bondage / Gwyn Campbell
4. Citizenship / Francis B. Nyamnjoh
5. Colonialism / John L. Comaroff and Jean Comaroff
6. Design / Suzanne Preston Blier
7. Environment / Maano Ramutsindela
8. Evidence / Luise White
9. Gender and Sexuality / Marc Epprecht
10. Governance / Brenda Chalfin and Omolade Adunbi
11. Health / Susan Reynolds Whyte
12. Humanitarianism / Rogaia Mustafa Abusharaf
13. Labor / Jane Guyer
14. Liberation / Elisabeth McMahon
15. Mobility / Patrick Manning
16. Modernity / Simon Gikandi
17. Narrative / Stephanie Newell
18. Performance / Tsitsi Jaji
19. Population / Deborah Durham
20. Spirit / Matthew Engelke
21. Theory / Joseph Slaughter and Jennifer Wenzel
22. Value / Leonard Wantchekon and Paul-Aarons Ngomo
23. Vernacular / Derek R. Peterson
24. Violence / Kamari M. Clarke
25. Witchcraft / Adam Ashforth

List of Contributors
Acknowledgments
Review Quotes
CHOICE
"African studies is a field strongly influenced by deconstruction. Often, our use of language directs the boundaries of what we do and do not know. For an introduction to Africanist scholarship, one could hardly do better than to start with this volume. Desai and Masquelier have assembled 25 essays examining common topics—religion, politics, language, economics, and more. . . It moves beyond myth busting and challenges the reader to think more deeply. Highly recommended."
David William Cohen, emeritus, University of Michigan
"Critical Terms for the Study of Africa is an essential introduction to the fields of teaching and learning Africa. This book engages students more critically in the failures, limits, and values of a succession of 'critical terms', to help them understand the ways in which concepts can privilege certain ways of knowing, and to give them some particularly valuable concepts that might lead to growth in their knowledge and sophistication in the study of Africa."
Sasha Newell, Université libre de Bruxelles
"Critical Terms for the Study of Africa will serve as a sourcebook for connecting contemporary African Studies not only to the classical canon but also to the specific regional, global, and colonial history that forged the concept of Africa. This book will serve both as a crucial teaching tool in undergraduate and graduate classes and as required reading for Africanist scholars. The essays it contains deftly master a readable tone that makes a complex history and set of theoretical ideas accessible without dumbing down the material or making it redundant to those who are already well versed in the field. Perhaps most remarkable is that despite the great diversity of authors, perspectives, and disciplines present in this book, there remains an underlying unity of vision connecting the threads—a vision with the capacity to breathe new life into the domain of Africanist scholarship."
For more information, or to order this book, please visit https://www.press.uchicago.edu
Google preview here