---
Cycling Science
How Rider and Machine Work Together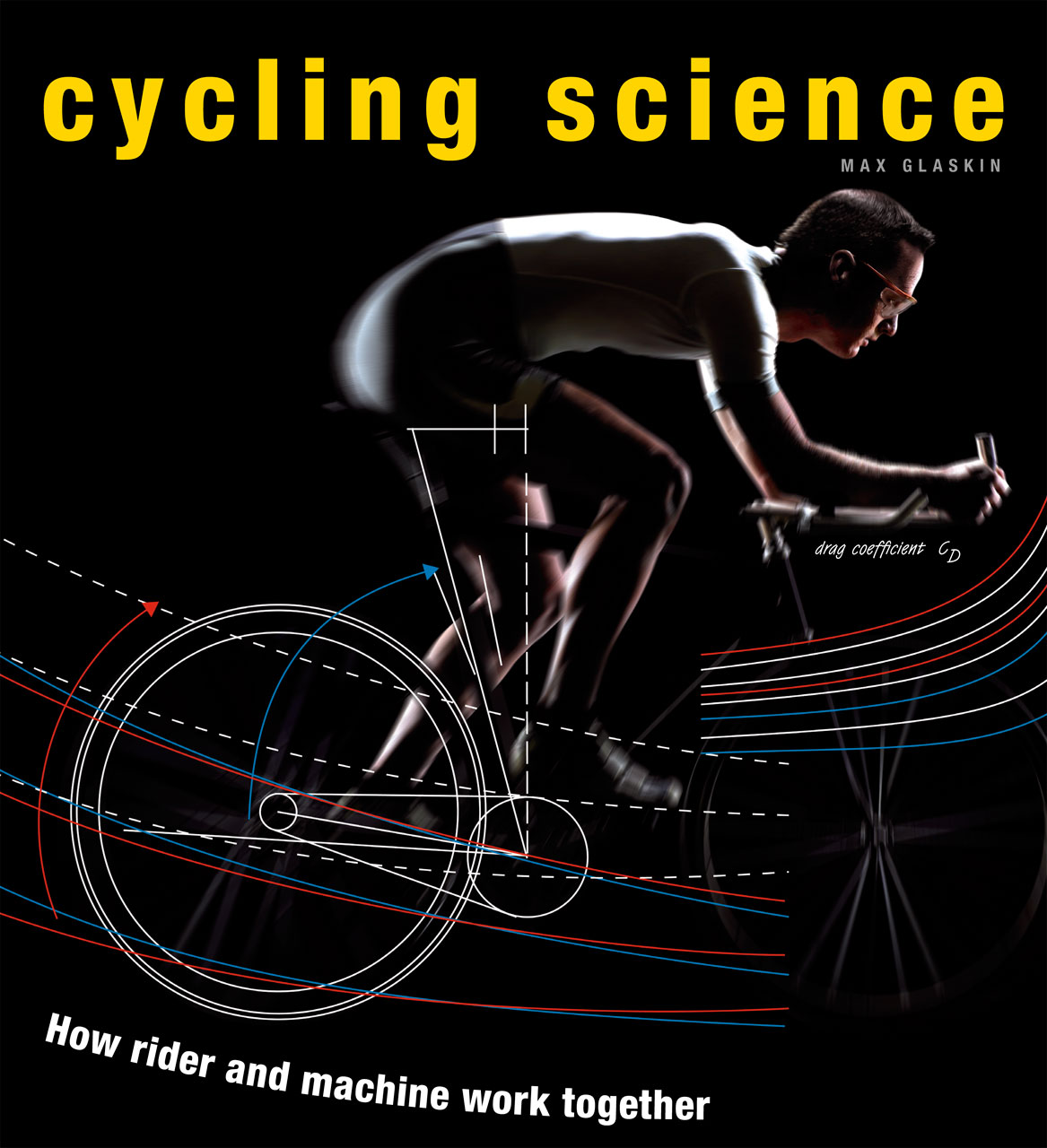 192 pages | 300 color plates | 9 x 9 3/4 | © 2012
Every July hundreds of thousands flock to the Champs-Élysées in Paris—and millions more to their televisions and computers—to witness the dramatic conclusion of the grueling three weeks of the Tour de France. There is no better measure of the worldwide love of the bicycle. But of the 1.2 billion cyclists traversing the world's roadways and trails, few of us take the time to consider the science behind the sport. The simple process of getting about on two wheels brings us in touch with a wealth of fascinating science, and here journalist Max Glaskin investigates the scientific wonders that keep cyclists in their saddles.
Cycling Science tours readers through a wide variety of topics, from tire rolling resistance and the difference between yield strength and ultimate strength, to the importance of aerodynamics and the impact that shaved legs have on speed. Each chapter explores a different subject—fundamentals, strength and stability, materials, power, aerodynamics, and the human factor—and is organized around a series of questions: What is the ideal frame shape? What is the biggest source of drag? What keeps a bicycle from falling over? How much power can a cyclist produce? Which muscles does cycling use? Each question is examined with the aid of explanatory diagrams and illustrations, and the book can be used to search for particular topics, or read through for a comprehensive overview of how machine and rider work together.
Athletes have much to gain from understanding the science of their sports, and Cycling Science will be a must-read for cyclists of all stripes—professionals, recreational riders, and anyone seeking to enhance their enjoyment of cycling.
Table of Contents
Contents
Introduction


Chapter 1: fundamentals
What are the forces acting on a bicycle?
Equipment: the bicycle
How efficient is cycling?
What is the most efficient design?
Photo feature: conservation of energy
How does bike geometry relate to gender?
What is the environmental impact of cycling?
How does cycling benefit the cyclist?
What are the risks in travelling by bike?
Equipment: suspension
How much power can a cyclist generate?
How can i compute the power output?
Does a tandem have scientific advantages?

Chapter 2: strength & stability
How can i calculate the stresses of riding?
How important is the elastic limit of materials?
Can a good young's modulus help give a better ride?
How important is ultimate tensile strength?
Equipment: the shape of the frame
Is there an optimum frame shape?
How can i calculate the perfect fit?
How much energy does a frame absorb?
Photo feature: controlling the forces
Does suspension make a significant difference to efficiency?
What are self-stabilising dynamics?
What are the forces that affect cornering?
Equipment: folding bicycles
What is the effect of an extra wheel on stability?

Chapter 3: materials
Which matter is used to make bicycles?
Why are metals strong?
What difference does alloying metals make?
Equipment: the frame
How is mechanical stiffness related to tube diameter?
How are solid metals joined?
Equipment: frame tubes
What is a polymer?
How are composites constructed?
What role do liquids play in cycling?
Photo feature: defeating the atmosphere
How do gases affect riding?
What's plasma – and could it make me faster?

Chapter 4: power on
How does a bike turn effort into speed?
What is the power interface between human and machine?
How does gearing help efficiency?
Equipment: derailleurs
How efficient is a bike chain? 
Is wheel weight important?
How do tensioned spokes make the wheel work?
Equipment: the wheel
What part does the tyre play in moving the bike forward?
Why do different brakes slow more or less effectively?
How does mechanical advantage aid braking?
Photo feature: mixing and matching
How do bearings reduce friction?

Chapter 5: aerodynamics
Why bother with aerodynamics?
How are aerodynamics assessed?
How does the air flow around a cyclist?
Equipment: recumbents
How can a rider reduce their own air resistance?
Can arms and hands affect aerodynamics?
Photo feature: descenders beat climbers
How does an aerodynamic helmet work?
Does an aero frame make a difference?
Equipment: track design
How do wheels affect aerodynamics? 
What is the advantage of riding in the slipstream of another bike?

Chapter 6: human factor
How does a cyclist's body work?
How does my brain help me ride?
How do a cyclist's muscles behave?
Equipment: clothing
How are muscles fuelled?
What is the fast and slow twitch?
Photo feature: it's all in the head
How does breathing affect cycling?
What are the effects of altitude training?
Is my heart critical for peak performance?
How does 'blood boosting' work?
Does skin really affect riding efficiency?
Equipment: the human body
Which is the most effective way to ride faster?

Endnotes
Glossary
Table of measurements
Index
Acknowledgments
Review Quotes
Boston Globe
"For Cycling Science: How Rider and Machine Work Together, British cyclist and journalist Max Glaskin mined hundreds of scientific studies and academic papers for findings that he explains in accessible language. The book is organized around a series of questions and answers framed to educate professional and recreational riders as well as the scientifically curious. The questions range from the practical (What is the most efficient bike design?) to the speculative (Why might plasma be the future of bike materials?). Each answer is accompanied by a terrific set of infographics."
Globe and Mail
"This book explores everything from the aerodynamics of bicycle helmets to reaction times to finding the perfect bicycle frame, drawing on studies from disciplines such as physics, brain science, and biology. Its accessible format and broad range of topics make it well suited to satisfy the curiosity of the casual recreational rider, or even the hard-core cycling enthusiast."
David Schoonmaker | American Scientist
"Max Glaskin's Cycling Science straddles the space between popular accounts typically found in cycling enthusiast magazines and the more academic treatments of David Gordon Wilson or Edmund Burke. It's a fairly large gap, but Glaskin spans it ably. Approaching its subject from the standpoints of both rider and machine, the book covers all the basics of human performance and how a two-wheeled conveyance converts that into the world's most efficient transportation system. Illustrations are perhaps the book's greatest strength: Prior to the back matter of notes, glossary and index, not a spread goes by without at least one."
N. Sadanand, Central Connecticut State University | Choice
"Usually, coffee-table books are for browsing and display. Here is an exception. This book has enough content to get the attention of readers—from those interested in bicycling as a mode of transportation to those who work out on bicycles to professional racers. . . . The excellent illustrations facilitate understanding of the operation of this least polluting of all mechanical systems of transportation. In six chapters, the author covers an enormous amount of material related to the materials, design, manufacture, and physics of the bicycle. There is nothing that is missing or out of place. . . . Highly recommended."
Cycling Shorts
"Max Glaskin presents his ideas in a straightforward, user-friendly, and consistently informative and entertaining way. . . . Reading this book, be it from cover-to-cover or dipping into it as the mood takes you, can only enhance the experience of cycling, in whatever form you may take it."
Bikebiz.com
"Cycling Science by Max Glaskin guides readers through a wide variety of topics, from tyre rolling resistance and the difference between yield strength and ultimate strength, to the importance of aerodynamics and any impact that shaved legs have on speed."—Bikebiz.com
For more information, or to order this book, please visit https://press.uchicago.edu
Google preview here