---
Beyond the Frontier
The Midwestern Voice in American Historical Writing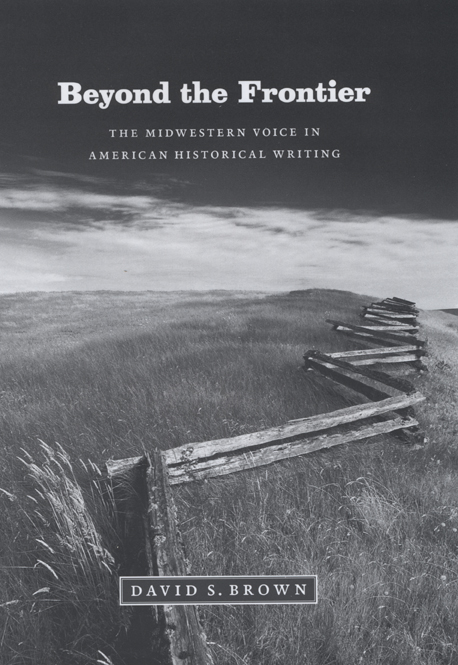 256 pages | 6 halftones | 6 x 9 | © 2009
As the world went to war in 1941, Time magazine founder Henry Luce coined a term for what was rapidly becoming the establishment view of America's role in the world: the twentieth century, he argued, was the American Century. Many of the nation's most eminent historians—nearly all of them from the East Coast—agreed with this vision and its endorsement of the vigorous use of power and persuasion to direct world affairs. But an important concentration of midwestern historians actively dissented. With Beyond the Frontier, David S. Brown tells their little-known story of opposition.
Raised in a cultural landscape that combined agrarian provincialism with reform-minded progressivism, these historians—among them Charles Beard, William Appleman Williams, and Christopher Lasch—argued strenuously against the imperial presidencies, interventionist foreign policies, and Keynesian capitalism that swiftly shaped cold war America. Casting a skeptical eye on the burgeoning military-industrial complex and its domestic counterpart, the welfare state, they warned that both components of the liberal internationalist vision jeopardized the individualistic, republican ethos that had long lain at the heart of American democracy.
Drawing on interviews, personal papers, and correspondence of the imoprtant players in the debate, Brown has written a fascinating follow-up to his critically acclaimed biography of Richard Hofstadter. Illuminating key ideas that link midwestern writers from Frederick Jackson Turner all the way to William Cronon and Thomas Frank, Beyond the Frontier is intellectual history at its best: grounded in real lives and focused on issues that remain salient—and unresolved—even today.
Table of Contents
Contents
Acknowledgments
Introduction: The Golden Meridian
Prologue: Chicago, 1893
PART I  The Progressive Age, 1890–1945
1 Midwestern Renaissance
2 Founding Father: Frederick Jackson Turner
3 Progressive Maximus: Charles Beard
PART II  The Liberal Age, 1945–1970
4 A House Divided
5 Remaking American Radicalism
6 Liberal Nemesis: William Appleman Williams
PART III  The Conservative Age, 1970–
7 Populist of the Heart: Christopher Lasch
8 New Century, Old Dreams
Notes
Sources: Archives, Interviews, and Correspondence
Index
Review Quotes
Paul Boyer, University of Wisconsin–Madison
"This wonderfully engaging book offers penetrating intellectual biographies of a memorable group of historians whose outlook reflected their Midwestern roots and perspectives. Drawing on a wealth of primary sources and writing with a storyteller's eye for the telling detail, David S. Brown entices the reader to share his own delight in the play of ideas and the unpredictable quirkiness of human experience. Critically acute yet generous in spirit, Beyond the Frontier illuminates some of the twentieth century's central ideological cross-currents as they played themselves out in his protagonists' lives and work."
Wilfred M. McClay, University of Tennessee at Chattanooga
"David Brown here sketches out, with a deft but sure hand, a distinctly Midwestern persuasion in American historical writing. Although firmly grounded in regional consciousness—or perhaps because of that fact—the body of work generated by this outlook has greatly enriched the general fund of American self-knowledge and self-criticism, and remains a source of fresh illumination today. Yet until now this persuasion has gone largely unnoticed in most accounts of American thought and American historiography. Thanks to David Brown, that should soon cease to be the case."
For more information, or to order this book, please visit https://press.uchicago.edu
Google preview here