---
Buffalo Bill in Bologna
The Americanization of the World, 1869-1922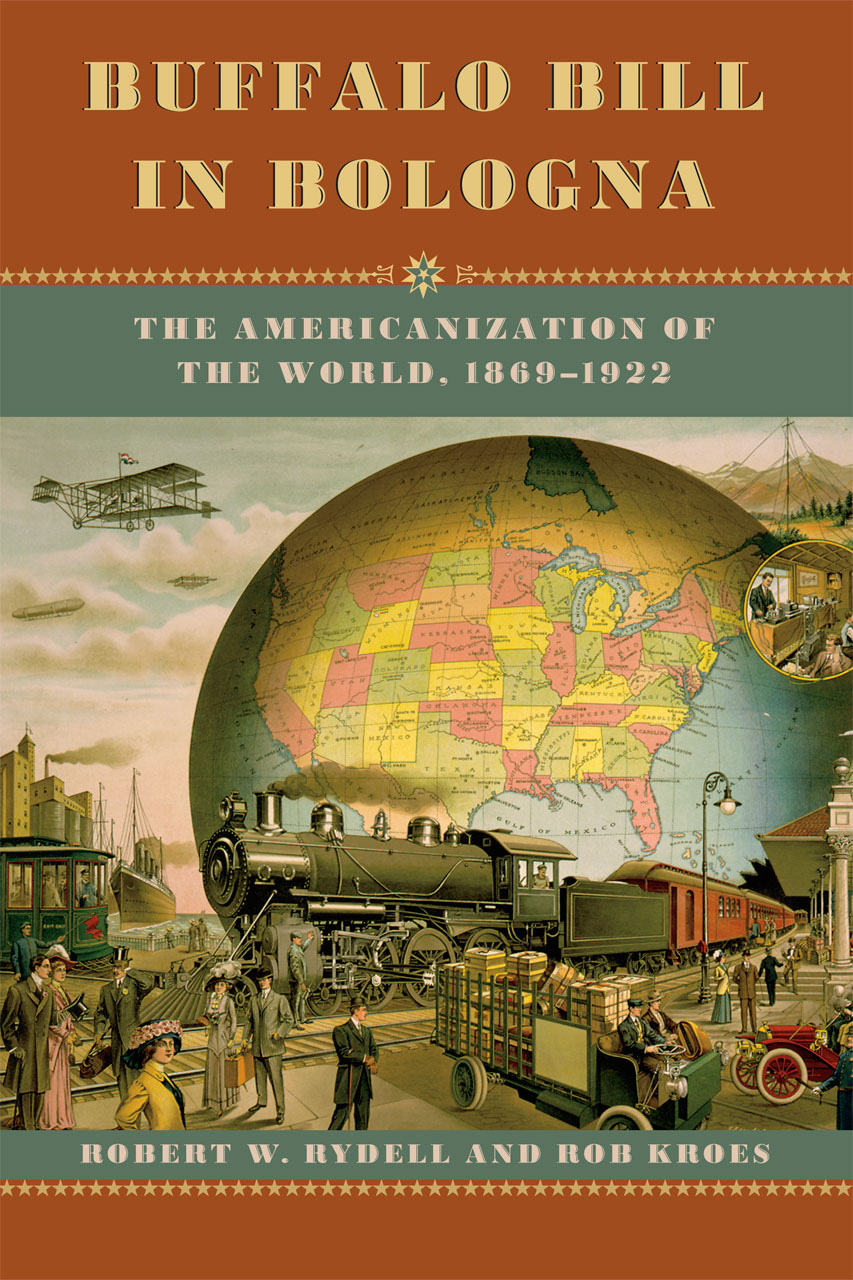 232 pages | 37 halftones | 6 x 9 | © 2005
When it comes to the production and distribution of mass culture, no country in modern times has come close to rivaling the success of America. From blue jeans in central Europe to Elvis Presley's face on a Republic of Chad postage stamp, the reach of American mass culture extends into every corner of the globe. Most believe this is a twentieth-century phenomenon, but here Robert W. Rydell and Rob Kroes prove that its roots are far deeper.

Buffalo Bill in Bologna reveals that the process of globalizing American mass culture began as early as the mid-nineteenth century. In fact, by the end of World War I, the United States already boasted an advanced network of culture industries that served to promote American values. Rydell and Kroes narrate how the circuses, amusement parks, vaudeville, mail-order catalogs, dime novels, and movies developed after the Civil War—tools central to hastening the reconstruction of the country—actually doubled as agents of American cultural diplomacy abroad. As symbols of America's version of the "good life," cultural products became a primary means for people around the world, especially in Europe, to reimagine both America and themselves in the context of America's growing global sphere of influence. Paying special attention to the role of the world's fairs, the exporting of Buffalo Bill's Wild West show to Europe, the release of The Birth of a Nation, and Woodrow Wilson's creation of the Committee on Public Information, Rydell and Kroes offer an absorbing tour through America's cultural expansion at the turn of the century. Buffalo Bill in Bologna is thus a tour de force that recasts what has been popularly understood about this period of American and global history.
Table of Contents
Contents
List of Illustrations
Acknowledgments
Introduction
1. American Mass Culture Takes Form
2. Harbingers of Mass Culture: World's Fairs
3. The Expanding Frontiers of American Mass Culture
4. "The Americanization of the World"?
5. The Triumph of American Mass Culture
6. Debating American Mass Culture in the United States and Europe
Conclusion
Bibliographical Essay
Notes
Index
Review Quotes
Choice
"This elegant synthesis of scholarship on US mass culture from the Civil War through the 1920s sheds new historical and interpretive light on the modern period."
Frederick J. Augustyn Jr. | Library Journal
"Everything has a history, sometimes more extensive than at first glance. Rydell and Kroes indicate that the export of American cultural forms was not a 20th-century innovation but commenced shortly after the Civil War. This interdisciplinary work moves from the transcontinental railroad's epochal completion in 1869, which produced a continuous market, to the patenting of ambient music transmission in 1922. The authors astutely distinguish between more uniform and marketed mass culture (their focus) and popular culture, which they define as more spontaneous and more diverse by region, class, and ethnicity. Tools of American cultural diplomacy, mass cultural vehicles such as circuses, amusement parks, and comic strips were not just incidental but transformative, allegedly helping first to unite a war-torn country by forging a national identity and then to make the world safe for free enterprise. This slim yet substantive volume will intrigue and enlighten the casual reader. . . . This is a gratifying entry into the marketplace of ideas."
Russell Baker | New York Review of Books
"In Buffalo Bill in Bologna, Robert W. Rydell and Rob Kroes are interested in the worldwide triumph of mass American culture, or, as their subtitle has it, 'The Americanization of the World, 1869-1922.' With its several triumphant European tours, Cody's Wild West, as he called the show, was pivotal in this history. The book tells a great deal . . . about Cody's origins and the mechanics of his show."
Neil Harris | American Historical Review
"The book illuminates its subject brilliantly. . . . The lively, absorbing, and unusually insightful text wears its learning gracefully and, perhaps unexpectedly, alludes to older notions of American exceptionalism in explaining the national talent for cultural entrepreneurship."
Stephen F. Mills | History
"Students of mass culture who have enjoyed Rydell's previous concerns with world fairs willnot be disappointed by this collaboration with Dutch historian Kroes. Any study of Americanization nust indeed aim to go beyond familiar concerns with our recent reception of American culture, and must go beyond merely English-speaking countries."
Joy S. Kasson | International History Review
"The book demonstrates decisively that American popular culture had a significant international presence well before the First World War and that its ideological meanings were always mediated by the ways in which it was apprehended, resisted, and appropriated by global audiences. . . . A deft and suggestive contribution to the emerging field of global cultural studies."
Tanner Mirriees | Communication Review
"Rydell and Kroes's work demonstrates how popular entertainment is not innocent and how consumer pleasure can be functional to the governmental agendas of the state and capital. Commodity culture is political, not only becuase people actively identify with it in different ways, but also because it is where the cultural technologies of imperial power flourish."
Popular Culture Association: Ray and Pat Browne Award
Won

View
Recent Awards
page for more award winning books.
For more information, or to order this book, please visit https://press.uchicago.edu
Google preview here