---
Around the Roman Table
Food and Feasting in Ancient Rome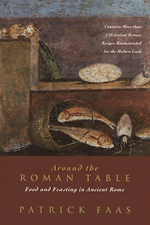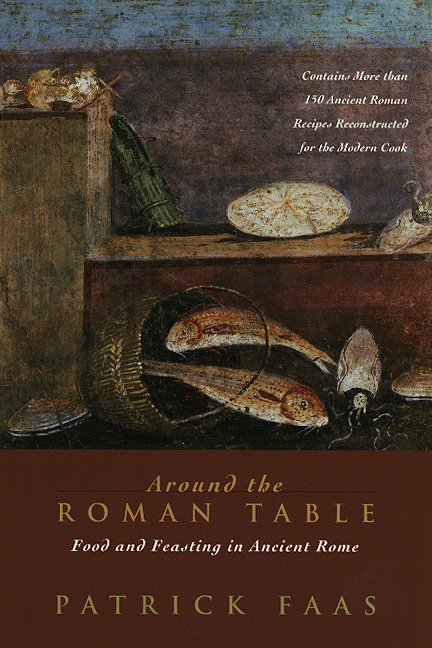 384 pages | 28 halftones, 29 line drawings | 6 x 9 | © 2003
Craving dolphin meatballs? Can't find a reliable restaurant for boiled parrot? Have a hankering for jellyfish omelettes, sows' wombs in brine, sheep's brain pate, or stuffed mice? Look no further than Around the Roman Table, a unique hybrid cookbook and history lesson. A portrait of Roman society from the vantage point of the dining table, kitchen, and market stalls, Around the Roman Table offers both an account of Roman eating customs and 150 recipes reconstructed for the modern cook.

Faas guides readers through the culinary conquests of Roman invasions—as conquerors pillaged foodstuffs from faraway lands—to the decadence of Imperial Rome and its associated table manners, dining arrangements, spices, seasonings, and cooking techniques. With recipes for such appetizing dishes as chicken galantine with lambs' brains and fish relish, Around the Roman Table is ideal for food aficionados who wish to understand how the desire for power and conquest was manifested in Roman appetites.

"There are many misconceptions about the food of ancient Rome that Faas sets out to correct. The result is half cookbook, half history book and is entirely fascinating to both chef and antiquarian alike."—Washington Times

Table of Contents
Contents
Foreword
Introduction
Part One
I. Culinary History
The Age of Kings (753 BC to 509 BC)
The Republic (509 BC to 7 BC)
The Empire (7 BC to AD 476)
II. The Meal
Table Manners and Etiquette
The Courses
The Menu
The Carousal
III. Wine and Other Drinks
Wine
The Orgy
Wine Production
Other Drinks
IV. The Cook and His Condiments
The Cook
Cooking
Medicinal Theory
Flavours - Sour
Flavours - Salt
Flavours - Sweet
Flavours - Bitter
Herbs
Spices
Other Ingredients
Part Two
V. From the Land
Cereals
Pulses
Vegetables
Fruit and Nuts
VI. From the Fire
Eating Meat
Sacrifice
Meat Distribution
Animal Suffering
Pork
The Sacred Bull
Sheep and Goats
Dogs
Game
VII. From the Air
The Farmyard
Wild Birds
VIII. From the Water
Appendix
Weights and Measures
Money
Prices
Glossary
Bibliography
Illustration Sources
Conversion Tables
Index

Review Quotes
David Johnson | Washington Times
"There are many misconceptions about the food of ancient Rome that Faas sets out to correct. The result is half cookbook, half history book and is entirely fascinating to both chef and antiquarian alike. . . . . To read Mr. Faas book is a pleasure, to put it to use requires a certain spirit. Many of the recipes he includes in the book are accessible to the adventurous cook and will definitely reward a curious mind and palate."
John F. Donahue | Bryn Mawr Classical Review
"The author has chosen a representative cross-section of ancient recipes and has provided adaptations and background material that will render the volume quite used friendly, especially for students who wish to try their hand at ancient cuiosine."
For more information, or to order this book, please visit https://press.uchicago.edu
Google preview here